Cherry Nut Eggnog Bread
We may earn money or products from the companies mentioned in this post.
Cherry Nut Eggnog Bread
Tis' the season for baking cookies, making holiday candy, and drinking eggnog. Well why not drink your eggnog and eat it too! Make a loaf or four of Cherry Nut Eggnog Bread and you can do just that. Today's eggnog is for the most part non-alcoholic but in my day, it definitely packed quite a wallop. Eggnog was and still is something you drink only during the holidays. It was usually homemade from tried and true family recipes that have been passed down through generations.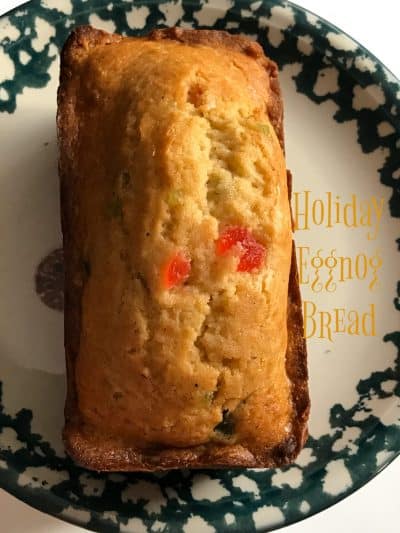 Non-Alcoholic
Today there are so many different brands of eggnog to choose from. I remember when the only brand of eggnog you could buy in the supermarket came in a can. Now there are oodles and oodles of eggnog cartons in the dairy case. Sandwiched somewhere between the gallons of milk, containers of coffee creamer and quarts of whipping cream. There are low-fat, fat-free and sugar-free versions also. Years ago, I wish someone would have told me to invest in the Eggnog business!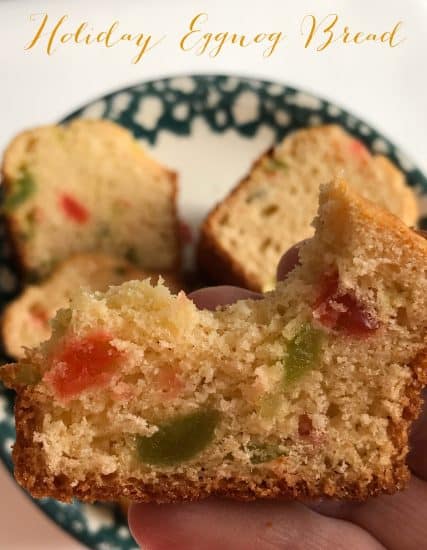 Made with
Not only is this delicious bread made with eggnog, it's packed full of candied fruit from Paradise Fruit Co. For this recipe we used both red and green candied cherries. Let me tell you, not only does eggnog bread smell super delicious while baking, it tastes even better. It's one of those sweet, delicious smells, that you can't wait to try as soon as it comes out of the oven. Like the smell of chocolate chip cookies or brownies baking, that good!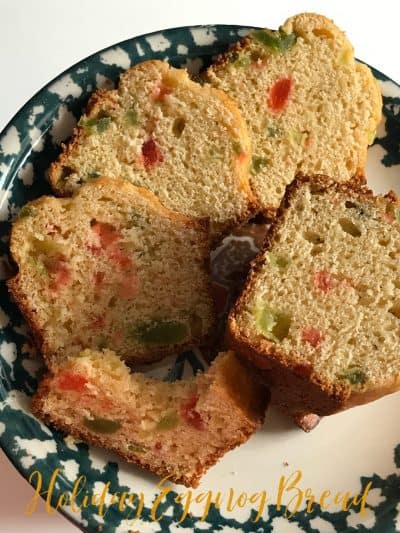 Four Loaves
When I make quick breads I like to use my non-stick mini loaf (4-cavity) pan. Any recipe that makes a 9 x 5-inch loaf pan works perfect. This is great because we love to give the gift of bread to our mailman, neighbors and Gary, who plows our road and driveway. Our dog groomer Becky enjoys the gift of bread too. So does her hubby Andy, who delivers our wood and supplies us with honey and maple syrup. It's surprising what a loaf of bread can 'buy' you:)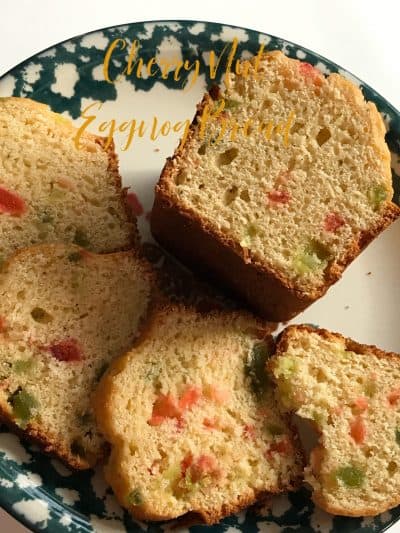 What Is Eggnog?
A homogeneous blend of milk or cream, beaten eggs, sugar, and nutmeg. Eggnog usually has liquor of some kind such as rum, brandy or whiskey. Back in the day, liquor-free eggnog had long been served to convalescents and growing children as a tonic. Some eggnog's are made by separating the eggs and stiffly beating the whites before adding them to the milk mixture, producing an airier eggnog. Commercial eggnog is available in cartons beginning in mid-October. Canned eggnog is available year 'round.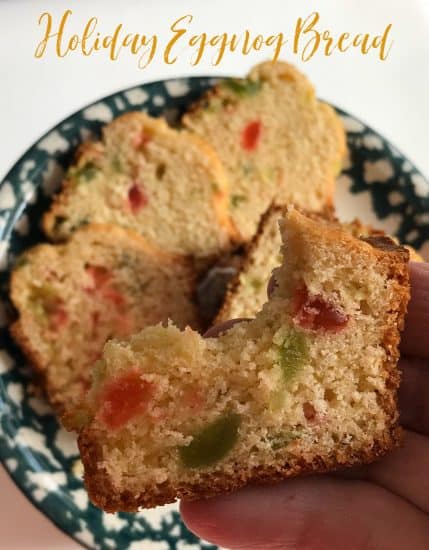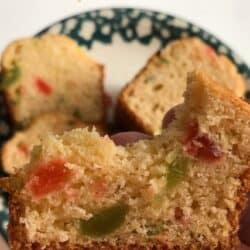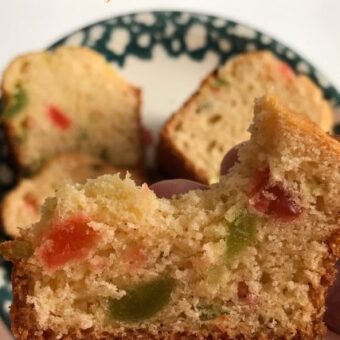 Cherry Nut Eggnog Bread
The perfect bread to serve over the holiday with glasses of eggnog.
Ingredients
1 1/4

cups

dairy eggnog

6

tablespoons

butter, melted

2

eggs

1

teaspoon

vanilla extract

2 1/2

cups

flour

3/4

cup

sugar

1

tablespoon

baking powder

1/2

teaspoon

ground nutmeg

1/2

cup

chopped walnuts

3/4

cup

chopped candied red and green cherries
Instructions
Blend eggnog, butter, eggs and vanilla; mix well. In separate bowl, combine flour, sugar, baking powder and nutmeg; add to mixture. Mix just until all ingredients are moistened. Stir in walnuts and cherries.

Spoon into greased 9 x 5-inch loaf pan. Bake 45 to 50 minutes or until wooden toothpick inserted in the center comes out clean.

Cool in pan for 15 minutes; remove from pan, then cool completely on wire cooling rack. Store at room temperature tightly wrapped in plastic wrap.
Here are more holiday recipes you will want to Holiday Eggnog Waffles and Eggnog Cherry Steel Cut Oatmeal. Don't forget to try these cool and refreshing Peppermint Meringue Kisses and Candy Cane Fudge. Recent Recipe: Mallo Cups and Non-Pareils with Ambrosia