Cherry Lime Fudge
We may earn money or products from the companies mentioned in this post.
Cherry Lime Fudge
I am a sucker for the dynamic flavor duo of Cherry and Lime. Here is a sample of our favorites: Cherry Limeade Ice Pops, Cherry Lime Bread and Bing Cherry Lime Scones. In this recipe, the duo is transformed into a mouth watering fudge. Yes, that's right, fudge and everyone knows how much we like fudge! When I announced that I was making Cherry Lime Fudge, the three family members that double as my fudge taste testers looked at me like I'd lost my mind again.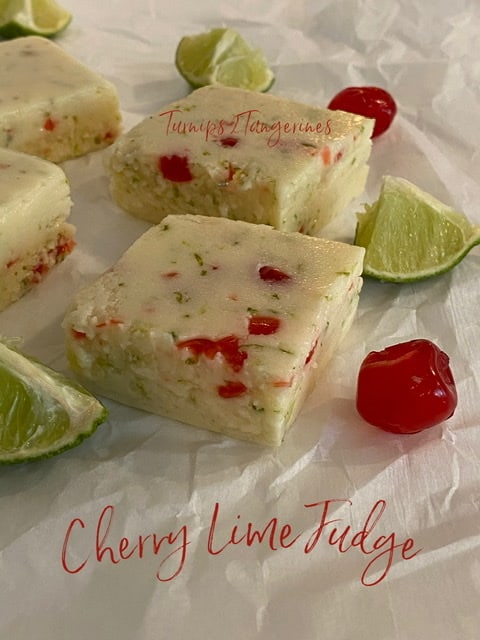 One flat out said, "No." So I had to rely on the opinions of the two remaining taste testers. Both agreed that while Cherry Lime Fudge might not be for everyone, both of my taste testers liked the refreshing taste from the fresh lime zest and the subtle flavor from the candied cherries. Cherry Lime Fudge was given two thumbs up.
Same Recipe, Same Ingredients
In this recipe for Cherry Lime Fudge, we used the same fudge recipe that we have made time and time again. This fast, easy and wonderful recipe turns out every single time. For that simple reason, we choose to use this recipe over and over again. As the old saying goes; "If it ain't broke, Don't fix it!" The base ingredients always remain the same; sugar, butter, evaporated milk, salt and mini marshmallows. You can substitute regular size marshmallows for the mini marsh-mallows but if you're old like I am, you might want to reconsider that idea. Here's why…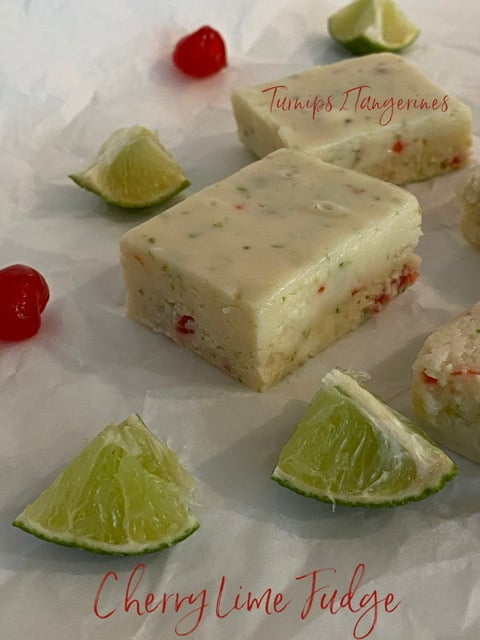 It's a definite possibility that with the amount of stirring involved when using regular sized marshmallows, it will most likely get the arthritis in your neck, shoulder, elbow and hand to roar it's ugly head. I made the mistake of using regular size marshmallows for the mini's, once. My arm was sore for a flipping week! On the other hand though, if you're young… Well heck then, get down to it! Put some music on, pour yourself a glass of wine and stir, stir, stir until the cows come home.
Chocolate
Obviously chocolate of some kind is always used to make fudge. Almost always an "add on" ingredient is stirred into the melted chocolate right before spreading the sweet concoction into the awaiting prepared pan. The two, chocolate and "add on," can be changed to produce many different fudge flavors. Any flavored chips can be used. For example, flavors such as white, mint, cherry or peanut butter chips can be used. Add-On ingredients can consist of different types of nuts; pecans, walnuts or macadamia nuts are my personal favorites. Dried fruit and candied fruit can be used as well.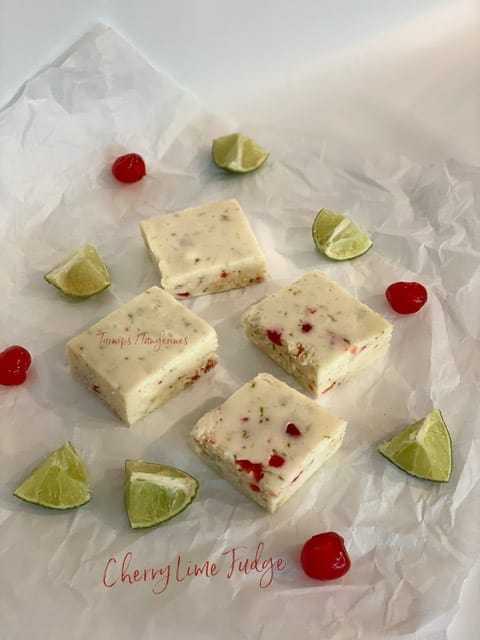 Dried blueberries, cherries or cranberries are top add-ons. Candied cherries, pineapple or crystallized ginger all work well in fudge recipes. Another add-on would be extracts. Common extracts used are vanilla, peppermint, maple and almond. Maraschino cherry juice, cream liqueurs or instant coffee granules are often added for that extra burst of flavor. Last but certainly not lest is added chopped or crushed candy. Hard candy such as; peppermint candies, root beer barrels, or butterscotch buttons. Any chopped mini candy bars work perfectly. Andes candies and toffee bits are at the top of my list.
Tried and True Recipe
Of course the fudge recipe I keep referring to is: NESTLÉ® TOLL HOUSE® Famous Fudge. The one and only. The original fudge recipe that has been made since the early 1950's. I tried to find more information on the origins of Toll House Famous Fudge but I couldn't find much. I decided to try the website What's Cooking America  which often has the answer to my question.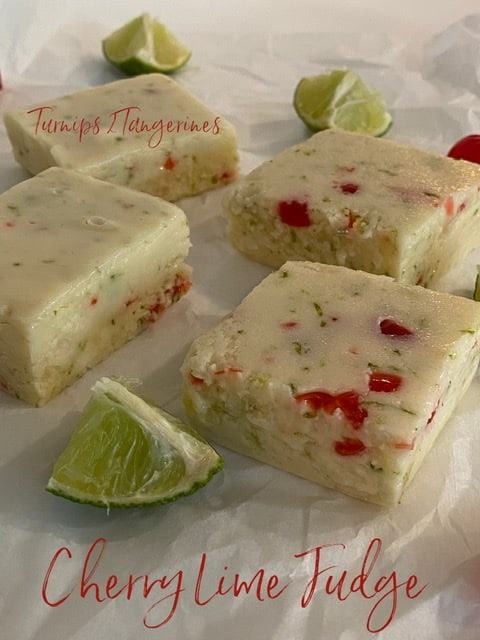 Sure enough, this easy to make No Fail Chocolate Fudge recipe is originally from the Nestle' Carnation Evaporated Milk Company. The recipe first appeared in the 1950's. It became popular no doubt because it was easy, delicious and it truly is a 'no fail' fudge recipe. Nestles Toll House Chocolate Chips  can transform cookies, fudge, pie and brownies into delicious desserts you and your whole family will love.
No Skimping on the Zest, Please!
You might think this recipe has a lot of lime zest in it. Well you'd be right, it does. But for good reason. It needs the full amount of lime zest called for to achieve exceptional lime flavor. If you skimp on the lime zest, you'll end up with a so so flavored cherry lime fudge versus a fudge that delivers a citrus punch. The lime is very subtle and smooth tasting in this fudge recipe. A good flavor comparison would be key lime pie. Or better yet, key lime pie with a cherry twist. Any type of limes can be used but we prefer the tiny key limes over the standard lime found in all supermarkets.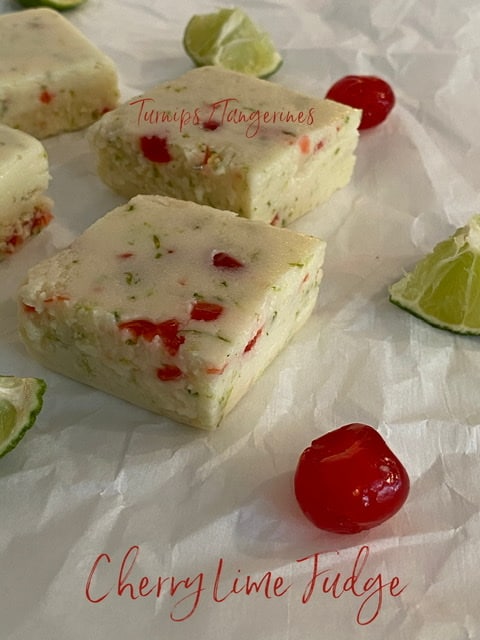 Fudge Talkin'
With all this talk about fudge, my sweet tooth is starting to wake up! I've been on a keto based diet for 5 weeks and have lost almost 10 lbs. Yee Haw! My need for sweets has subsided somewhat, now with only the occasional twinge for sometime sweet. I thought I'd share a few of my all time favorite and sometimes forgotten, fudge recipes with you. My way I guess, of talking about fudge and eating it too.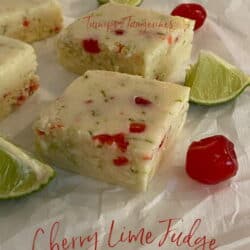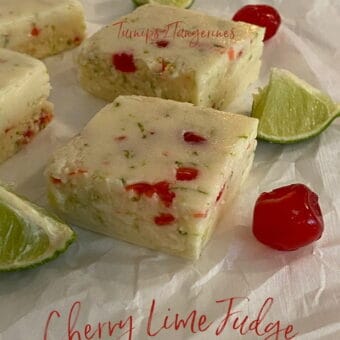 Cherry Lime Fudge
An easy and classic no-fail recipe.
Ingredients
1 1/2

cups

granulated sugar

2/3

cup

Carnation Evaporated Milk

2

tablespoons

butter or margarine

1/4

teaspoon

salt

2

cups

miniature marshmallows

2

cups

premier white chocolate chips

1/2

cup

chopped green or red candied cherries

1/4

cup

freshly grated lime zest

2

tablespoons

lime juice
Instructions
Line an 8-inch square baking dish with either aluminum foil or waxed paper. Lightly butter.

In a large saucepan, combine sugar, evaporated milk, butter, and salt. Over medium heat, bring to a full rolling boil, stirring constantly. Let boil, stirring constantly, for approximately 4 to 5 minutes. Remove from heat.

Stir in marshmallows, white chocolate chips, chopped candied cherries, lime zest and lime juice. Stir vigorously for approximately 1 minutes or until marshmallows are completely melted.

Pour the fudge mixture into the prepared baking pan. Refrigerate for at least 2 hours or until firm. When firm, lift from pan and remove foil. Using a sharp knife, cut the fudge into squares.