Cherry Grape Chicken Salad
We may earn money or products from the companies mentioned in this post.
Cherry Grape Chicken Salad on a Croissant
Cherry Grape Chicken Salad is hands-down my favorite chicken salad recipe. It's so easy, yet so good. This chicken salad recipe has all of our favorites wrapped into a yummy sandwich filling. Ingredients such as: chopped dried cherries, diced celery, fresh green grapes sliced in half and toasted pecans. Doesn't that sound like a delicious line-up of ingredients.
Rotisserie Chicken
The star of this recipe has to be the chicken. I like to make this salad using a rotisserie chicken. Rotisserie chicken can be purchased at any grocery store, supermarket or super shopping store such as Sam's Club or . For this recipe, stick to the unflavored or plain/original flavored rotisserie chicken. I made the mistake once of not looking before I grabbed a rotisserie chicken out of the warming case. When I got home, I realized I bought a barbecue flavored chicken but decided to make this chicken salad anyway. Though it was still good, it wasn't excellent, like it is when using the plain/original flavored chicken.
Recipe tip: Rotisserie chickens are made "fresh" daily. Many times, stores will reduce the price of chickens later in the day or reduced priced chickens can be found in the refrigerated section near the deli department. They make excellent chicken salad!!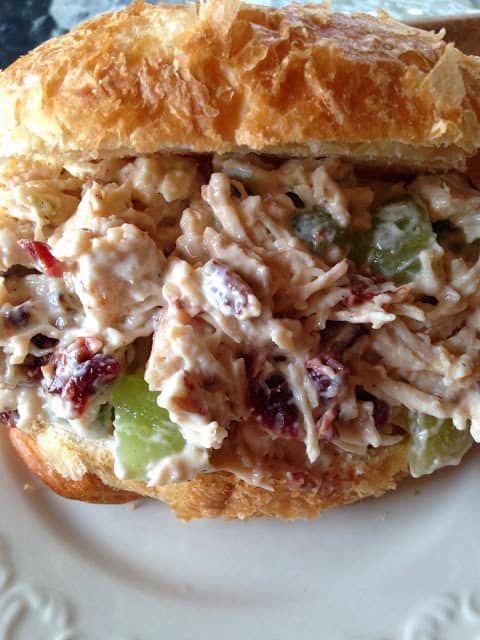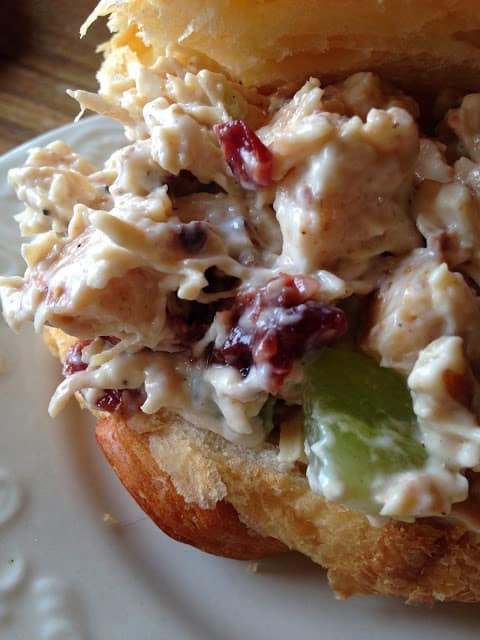 Serve on a Croissant
Croissant [kwah-SAHN; KWAH-sawn; kruh-SAHNT] is the French word for "crescent." Originally, the croissant was made from a rich bread dough. It wasn't until the early 1900's that a creative French baker had the inspiration to make croissants with a dough similar to puff pastry and a classic was  born. Croissants can be made with buttered layers of yeast dough or puff pastry. They're sometimes stuffed with chocolate or cheese before being rolled into a crescent shape and baked.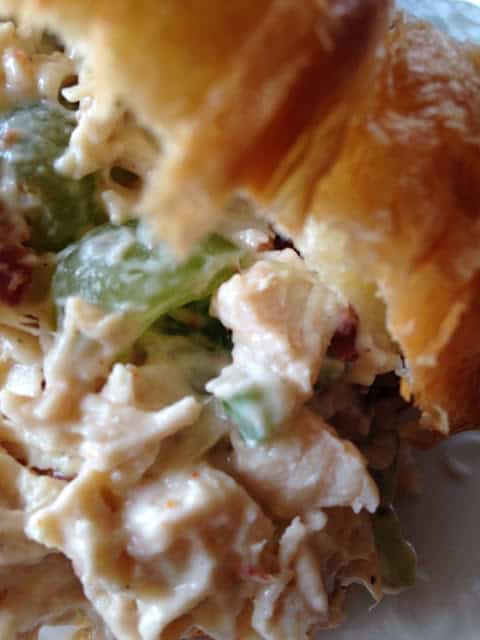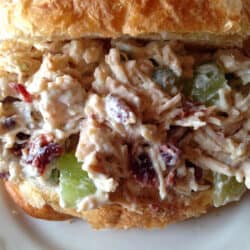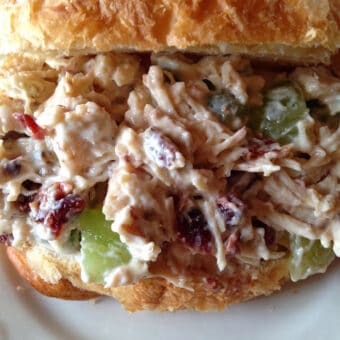 Cherry Grape Chicken Salad
Delicious chicken salad served on a crossiant
Ingredients
2 /2

cups

cubed cooked chicken, rotisserie

2/3

cup

dried cherries, chopped

1/3

cup

chopped celery

1/2

cup

grapes, sliced in half

1

green onion, thinly sliced

1/3

cup

chopped pecans, toasted

4

tablespoons

olive oil mayonnaise or mayonnaise, to taste

,

t

salt and pepper to taste

6

croissants
Instructions
In a large bowl, add all ingredients in order given.

Stir together

Serve on a Sliced Croissant.
Serve Cherry Grape Chicken Salad on Croissants with bowls of  White Cheddar Cheese Chili Popcorn for a super lunch.