Cherry Delight Cookies
We may earn money or products from the companies mentioned in this post.
Cherry Delight Cookies 
If you're looking for a light, crisp cookie reminiscent of your grandma's old fashioned sugar cookies then Cherry Delight Cookies are for you. My grandma always made the best sugar cookies! Round, light and crisp with a sprinkle of sugar on top. I'm pretty sure she used a glass dipped in sugar to cut out the cookies. I never got her recipe for sugar cookies but when I made this recipe, I thought of her crispy sugar cookies:)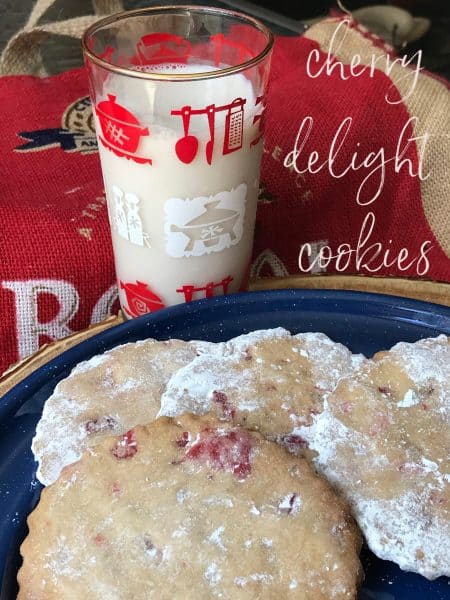 Tastes Like
Cherry Delight Cookies are very similar in taste to Russian Tea Cookies also known as Mexican Wedding Cookies. Instead of being packed full of pecans, they're packed with chopped candied cherries 🍒 from Paradise Fruit Co.  While warm the cookies are dipped in confectioners sugar, the excess sugar is tapped off and the cookies are allowed to cool on a wire rack. Made with both butter and vegetable shortening, these cookies are as light and crispy as a sugar cookie and as buttery as a pecan finger.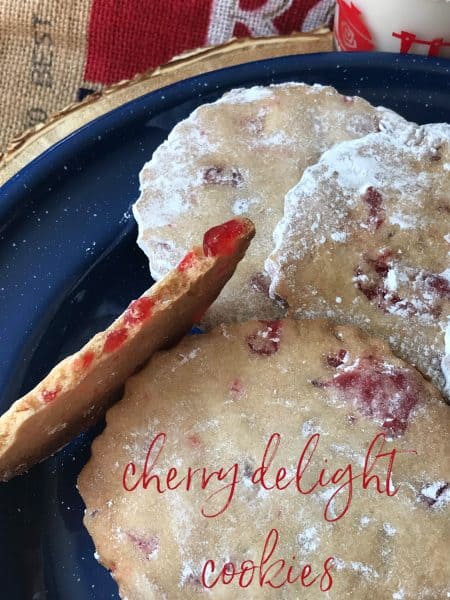 Cookies, Cookies, Cookies
Here at Turnips 2 Tangerines we love cookies. I mean love! Cindy my friend from Canada, recently asked me what my favorite cookie was. For the life of me I couldn't decide what my favorite cookie was! So my answer to Cindy was, "I'll eat any cookie you put in front of me!" My favorite homemade cookies from T2T are Chicago Crunchy Cookies, Cherry Garcia Chocolate Chip Cookies, Peanut Butter Cookies, and Cherry Winks.
Let's not forget all of the fantastic Christmas cookies:) Jam Ribbon Cookies , Chocolate Crinkle Cookies and Date Swirl Cookies This list can go on and on and on. Now on to store bought cookies which are in a category all by themselves.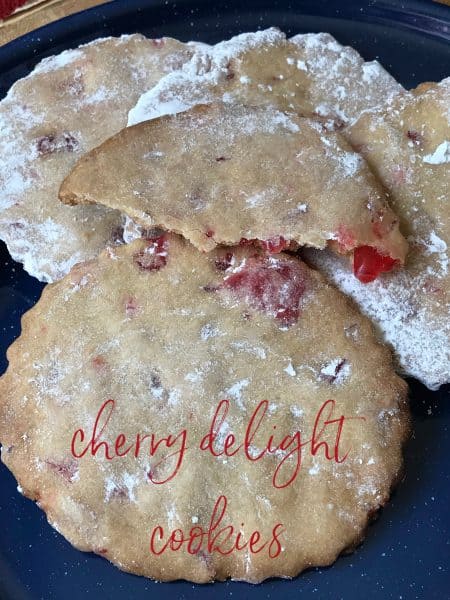 Store Bought Cookies
My favorite store bought cookies are Oreo cookies, and Fudge Strip Cookies. Then we have Girl Scout Cookies. My favorite of course are the Thin Mint Cookies. Next in line would be Peanut Butter Sandwich Cookies. I think years ago they were called "Savannah's." Cindy if you're reading this, and I know you are hehe, I really love that Canadian favorite cookie, the Maple Creme. The cookies are made in the shape of a maple leaf and a maple creme filling is sandwiched between two cookies. I've eaten the off brand of Maple Creme cookies but not the "true" kind. When I go on my visit, I plan on bringing home some 'authentic' Maple Creme Cookies. Another cookie I really love can be found at Aldi Torino Mint Chocolate Cookies are very similar to Pepperidge Farms Mint Milano Cookies. Another favorite cookie of mine are Triple Ginger Cookies, from Trader Joe's. They are beyond fantastic!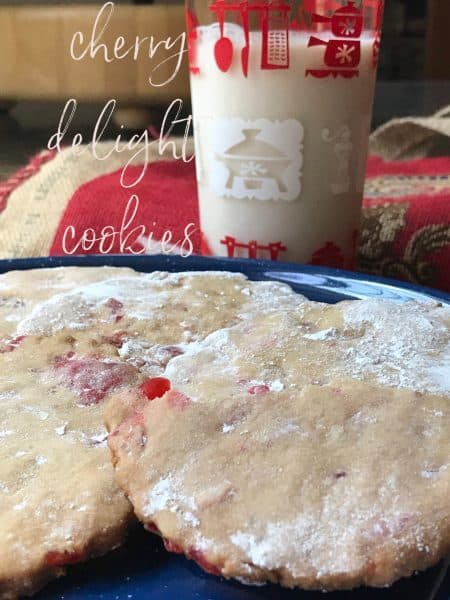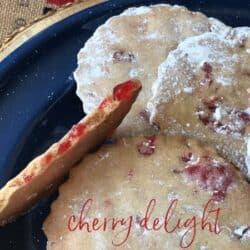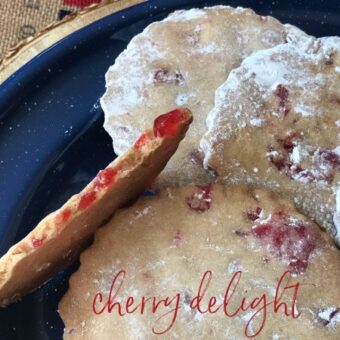 Cherry Delight Cookies
Ingredients
3/4

cup

butter, softened

3/4

cup

vegetable shortening

1 1/4

cups

brown sugar, packed

1

egg

1 1/2

teaspoons

vanilla extract

4

cups

flour

1/8

teaspoon

salt

1 1/2

cups

chopped candied cherries

1

cup

chopped pecans, optional

powdered sugar for dusting
Instructions
Preheat oven to 375 degrees F.

In a mixing bowl, cream butter, shortening and sugar. Add egg and vanilla extract; mix well.

In separate bowl, combine flour and salt. Add to creamed mixture. Stir in cherries and pecans, if using.

On floured surface, roll dough to 1/4-inch thickness. Cut with 2 1/4-inch round cookie cutter. Place on parchment paper-lined cookie sheets. Bake at 375 degrees for 8-10 minutes. Sprinkle with powdered sugar, if desired. Cool on wire cooling racks.
Featured Recipe: Lemon Crunch Pie