Cherry Date Sourdough Cinnamon Rolls
We may earn money or products from the companies mentioned in this post.
Cherry Date Sourdough Cinnamon Rolls
Cherry Date Sourdough Cinnamon Rolls are sweet and gooey but they also have a nice tangy flavor from the sourdough. I have made this recipe many times before with wonderful results. This time I wanted to try something different so I made a cherry date filling. The filling is made up of; dried cherries, chopped dates and a jigger or two of Brandy. Everyone seems to love cinnamon rolls. Personally, I have never meet a cinnamon roll I didn't like.
Sourdough and Cinnamon Rolls
This recipe for cherry date sourdough cinnamon rolls turned out fantastic. Wonderfully sweet, nice and tangy, and ooey, gooey from the filling. The glaze added yet another layer of yum. The key to good results is to make sure your sourdough starter is nice and active. This will result in cinnamon rolls that are light and airy. If you and your family love to sink their teeth into a cinnamon roll as much as mine does, get out your sourdough starter and get it nice and active, (nice and bubbly) get in the kitchen and start baking.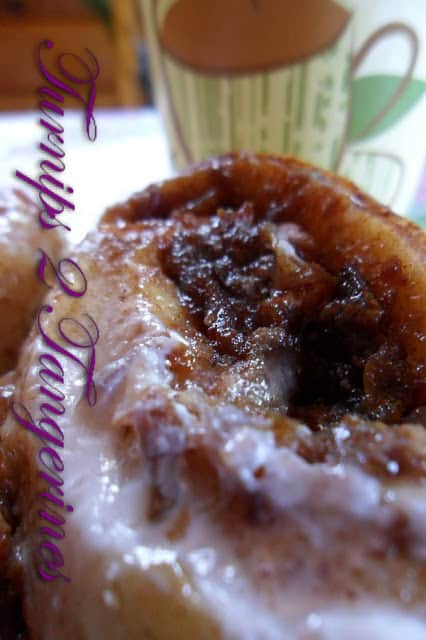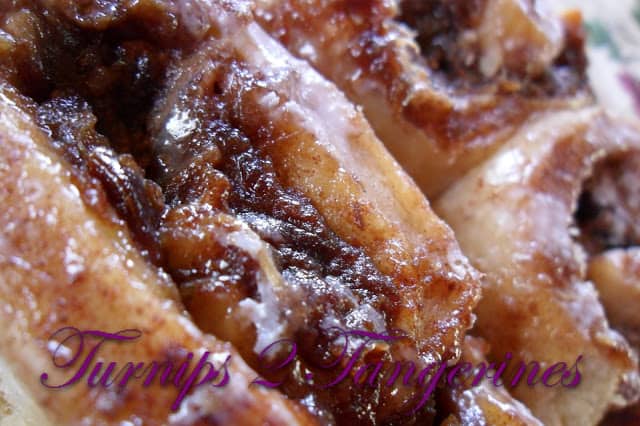 Hot Chocolate and Cinnamon
We love to serve cinnamon rolls with mugs of hot coffee or mugs of hot chocolate. There is something about the taste of hot chocolate and cinnamon that I just love. One of my secret treats is cinnamon-sugar sugar toast with lots of butter, served with a mug of hot chocolate. Yum! So simple, yet so comforting.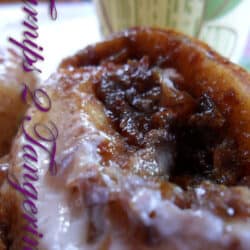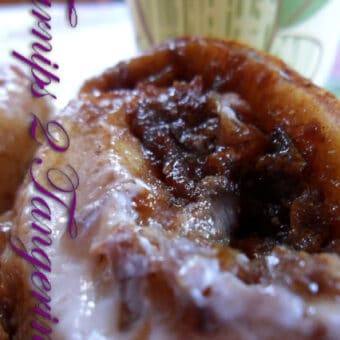 Cherry Date Sourdough Cinnamon Rolls 
A delicious sourdough cinnamon roll filled with a cherry date filling.
Ingredients
Cherry Date Filling:

10

ounces

pitted dates, chopped

5

ounces

dried cherries, chopped

2

tablespoons

sugar

1/8

teaspoon

salt

1

cup

water

1 or 2

jiggers

Brandy, optional

Sourdough Cinnamon Rolls

1 1/2

cups

fed sourdough starter, stirred down

2/3

cup

milk

2

tablespoons

sugar

1/1/2

teaspoons

vanilla extract

1

tablespoon

butter, melted

1

teaspoon

salt

2 to 3

cups

unbleached white bread flour

1/2

teaspoon

baking soda

Cinnamon Filling:

2

tablespoons

melted butter

1/3

cup

sugar

1 1/2

teaspoons

ground cinnamon

Make Icing:

1/4

cup

confectioners' sugar

1 to 2

tablespoons

milk

1/4

teaspoon

vanilla extract
Instructions
In a small saucepan combine chopped dates, dried chopped cherries, sugar, salt, water and brandy, if using. Bring to a boil, reduce heat and simmer uncovered for 10 minutes or until dates and cherries are very soft and mixture has thickened. Set aside to cool. Transfer mixture to a small bowl when cool and refrigerate overnight. Take mixture out of refrigerator and allow to come to room temperature before using as filling in sourdough cinnamon rolls.

Baking Day:

Measure out stirred down sourdough starter into a large bowl. Add milk, vanilla extract, melted butter, salt and 2 cups flour. Stir/knead this together to make a very sticky dough. Add up to 1 cup more flour if needed. Turn out onto a floured surface and knead by hand. Sprinkle in the baking soda and make sure it is thoroughly incorporated. Roll dough into a ball and place it in the bottom of a greased bowl. Cover the bowl with plastic wrap and place in a warm area to rise. This rise should take 2 to 3 hours. The dough should double in size. When the dough has risen, turn it out onto a floured surface. Pressing all the air bubbles out as you go. Roll the dough into a rectangle, roughly 9 x 18.

Mix together sugar and ground cinnamon. Brush the rolled dough with 2 tablespoons melted butter. Sprinkle with 1/2 of the cinnamon/sugar mixture. Spread cherry/date filling over cinnamon/sugar mixture. Sprinkle with rest of cinnamon/sugar mixture. Starting on one of the long sides, roll the dough into a long log. Slice log into 12 rounds and place rounds, cut side down in buttered glass 2 quart baking dish. Cover with plastic wrap and let rise for 2 hours or until doubled in size. Bake rolls at 350 for 20 minutes and top is golden brown.

Make Vanilla Icing: Whisk together all icing ingredients. Remove rolls from oven. Drizzle icing over rolls in pan while rolls are still hot. Serve warm.
Cinnamon Butter
Here is a super sourdough bread recipe you won't be able to resist. Cinnamon Raisin Sourdough bread is super toasted and smeared with fresh creamy cinnamon butter. Cinnamon butter can be easily made by stirring ground cinnamon into room temperature butter. The end result is delicious on this bread or anything really. Cinnamon Raisin Sourdough Bread.
For this recipe we used dried cherries from Door County Cherries