Cherry Crumble Bars
We may earn money or products from the companies mentioned in this post.
Cherry Crumble Bars
Cherry Crumble Bars are heavenly delicious. The minute I took a bite, I was in love. Don't get me wrong, I like a ooey, gooey chocolaty brownie or bar any day but sometimes I want something ooey, gooey and fruity. This recipe definitely hits the mark. Made with frozen or canned, red tart cherries that you make into a filling and an almond flavored buttery crust that is made with Solo Almond Paste. Sounds wonderful, doesn't it?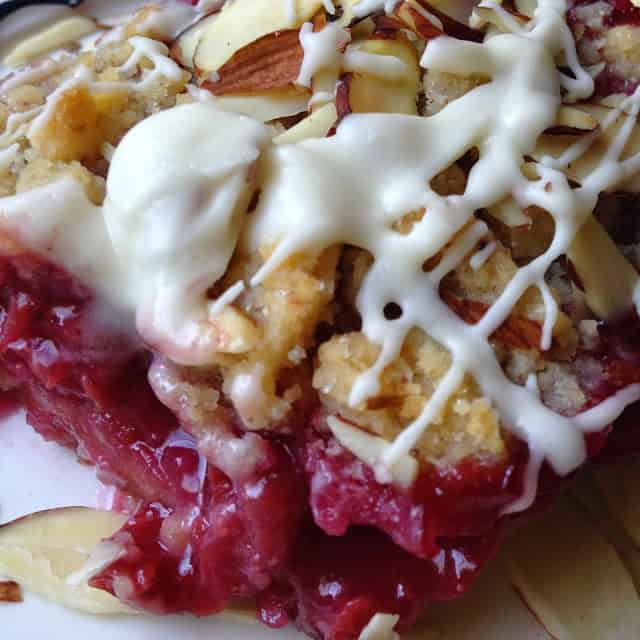 What is Almond Paste?
Good Question! Almond Paste is a mixture of blanched ground almonds, sugar and Glycerin or other liquid.  Sometimes Almond extract is added to intensify the almond flavor. Used in a variety of confections, almond paste is less sweet and slightly coarser than Marzipan. If should be firm but pliable before use in a recipe. If it becomes hard, it can be softened by heating for 2 to 3 seconds in the microwave.
Almond Extract
Once opened, it should be wrapped tightly and refrigerated. Almond paste is available in most supermarkets in cans and plastic packages. Usually sold under the 
Solo
Brand. Bitter-almond paste is used to flavor the famous and super delicious Amaretti Cookies. Almond Extract is a flavoring produced by combining bitter-almond oil with ethyl alcohol. This produces an intense almond flavor, which means a little goes a long way.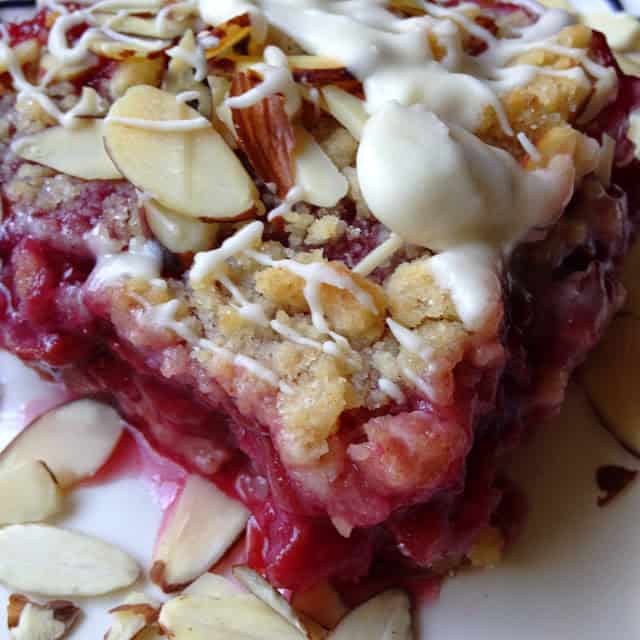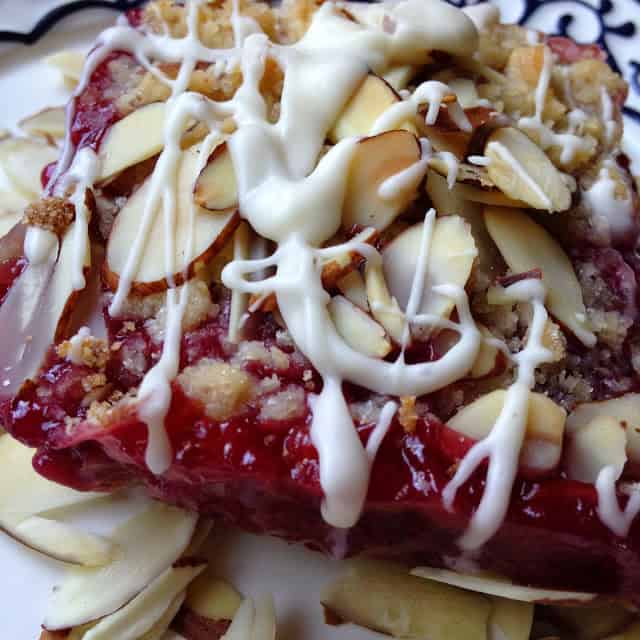 Cherries
In my humble, culinary opinion Almonds and Cherries are made for each other. Almond extract just seems to bring out the flavor of cherries. There are two main groups of cherries, sweet and sour. The larger of the two are the firm, heart-shaped sweet cherries. They're delicious for eating out of hand and can also be cooked. The most popular varieties range from dark red to purplish black; Bing, Lambert and Tartarian.
Sour Cherries
The smaller sour cherries are more globular than the sweet varieties. Most are too tart to eat raw, but make excellent pies, preserves and the like. The best-selling sour cherry varieties are the bright red Early Richmond available first in the late Spring, the Montmorency cherry and the dark mahogany red Morello. Most fresh cherries are available from May (June for sour cherries) through August. Stemmed cherries are a better buy because those with stems last longer. Store unwashed cherries in a plastic bag in the refrigerator.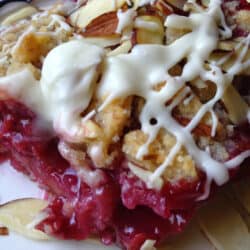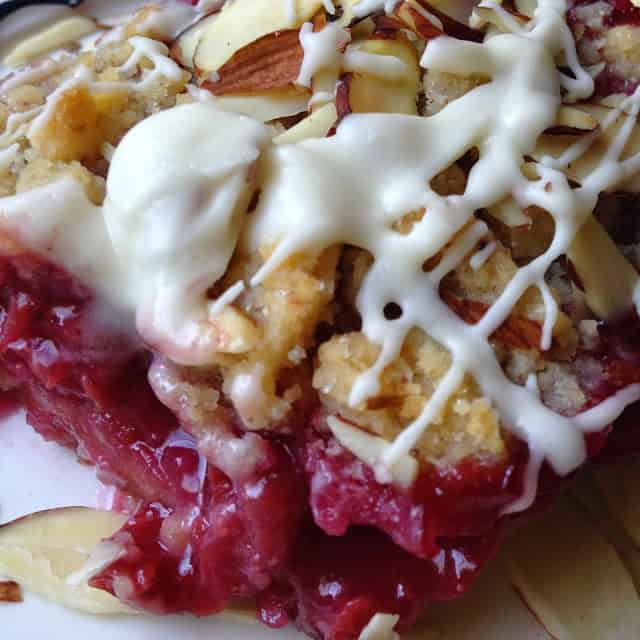 Cherry Crumble Bars
Delicious mix of cherries, almonds and a sweet icing.
Ingredients
1 1/2

cups

all-purpose flour

1/2

cup

sugar

1/2

teaspoon

salt

1/2

teaspoon

baking powder

1/3

cup

almond paste, not marzipan

1/4

teaspoon

almond extract

1

stick

cold unsalted butter, cut into piece

1/2

cup

sliced almonds, for topping

Icing

1/2

cup

powdered sugar

2 to 4

tablespoons

heavy cream

1/4

teaspoon

almond extract

Filling

2

14.5 oz cans

red tart cherries, packed in water. Drain juice from one can.

3/4

cup

sugar

3

tablespoons

water

2

tablespoons

cornstarch

1

tablespoon

fresh lemon juice

1

tablespoon

unsalted butter

pinch

of salt
Instructions
Heat oven to 350 degrees.

Line a 9-inch square pan with foil and grease lightly with vegetable oil.

In a large bowl, whisk together flour, sugar, salt and baking powder. Add almond paste and almond extract. Stir to combine. Add cold butter, cut in with a pastry blender, until crumbly. Remove 1 cup of the mixture and set aside for topping. Put rest of ingredients into prepared pan, spread out evenly, and press with the bottom of a measuring cup to make a crust.

Bake for 15 to 17 minutes or until crust starts to brown slightly around the edges. Remove and leave the oven on.

Meanwhile, dump all the filling ingredients into a saucepan and cook on medium high heat until thickened and translucent. About 8 to 10 minutes. Spread the filling over the crust.

Sprinkle the top with the reserved crumb mixture and top with the sliced almonds.

Bake for about 28 to 30 minutes or until the filling bubbles and the top is golden brown.

Let cool completely in the pan on a cooling rack.

Whisk or beat together the icing ingredients and drizzle over bars.
Nutrition
Serving:
1
g
,
Calories:
639
kcal
,
Carbohydrates:
87
g
,
Protein:
7
g
,
Fat:
31
g
,
Saturated Fat:
15
g
,
Cholesterol:
66
mg
,
Sodium:
338
mg
,
Potassium:
181
mg
,
Fiber:
3
g
,
Sugar:
57
g
,
Vitamin A:
750
IU
,
Vitamin C:
1
mg
,
Calcium:
79
mg
,
Iron:
2
mg
Looking for more cherry recipes? Here's one you'll want to try. Cherry Pie Bars