Cherry Cranberry Pie Filling
We may earn money or products from the companies mentioned in this post.
Cherry Cranberry Pie Filling
Cherry Cranberry Pie Filling is really not difficult at all to prepare. The idea of adding cranberries came to me while I was making cherry pie filling. I had already canned 8 quarts of "plain" cherry pie filling and during pear season I had canned pear-cranberry pie filling, which turned out excellent. So why not use up my last bag of cranberries and add it to a batch of cherry pie filling and that's exactly what I did.
Homemade Cherry Cranberry
Homemade Cherry Cranberry Pie Filling turned out fantastic! The flavor from the cranberries was subtle enough that it didn't take over, yet the cranberries added just the right amount of tartness with the sweetness coming from the cherries. One bite of Cherry Cranberry Pie Filling and you'll be asking yourself, hmm what is that. Homemade Cherry Cranberry Pie Filling is the Crème de la Crème of cherry pie fillings.
Cherrylands Best
I recently bought a ten pound tub of Door County Cherries from Cherrylands Best located off highway 41 in Little Chute Wisconsin. If your driving down Highway 41, you can't miss it. It's the building with the huge Cherry out front! The cherries came already blanched and pitted, so half the work was already done for me. Someday I would love to take a drive to Door County during cherry picking season and pick some cherries.
Until then though, the cherries from Cherrylands Best are The Best. The cherries came frozen so I let them thaw in my refrigerator for a few days. Let the cherries come to room temperature before using them. We recently made Pear Cranberry Pie Filling which turned out excellent. Still having an extra bag of cranberries in the freezer, it only made sense to add a bag to a batch of cherry pie filling too. Once you start making homemade pie filling, you'll never go back to canned.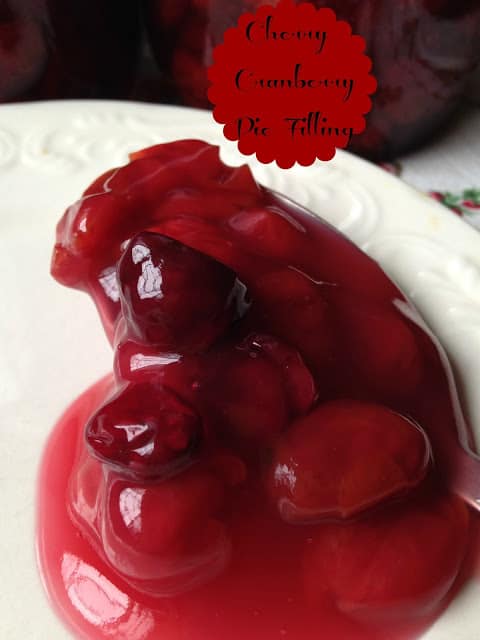 Door County Wisconsin
There is plenty to do in Door County Wisconsin. With it's pristine beaches, abundance of cherry and apple orchards, and quaint cities doted with shops filled with local artists wares, Door County is the place to visit. In the spring local orchards are in full bloom, summer offers camping, fish boils, walks on the beach and beautiful sunsets. Fall is packed full with harvest festivals, beautiful fall colors and wine tasting. Winter is a slower time but offers ice art, snow shoe trails and plenty of hot chocolate to sip by a roaring fire.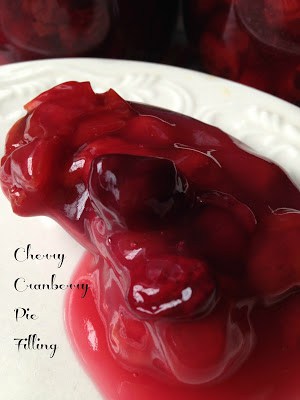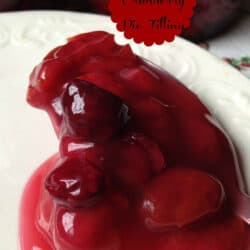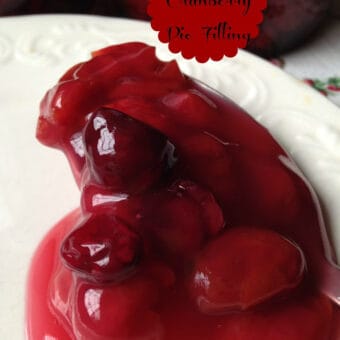 Cherry Cranberry Pie Filling
The combination of cherries and cranberries is super!
Ingredients
10

cups

cherries, thawed if frozen

2

cups

cranberries, fresh or frozen

3 1/2

cups

sugar

1/2

cup

plus 1/4 cup plus 2 tablespoons clear jel

4 1/2

cups

plus 3 tablespoons cold water, cherry juice, cranberry-cherry juice or a combination of all three

1/4

cup

lemon juice, bottled
Equipment
canner, jars, lids and rings
Instructions
Select cherries, fresh or frozen.

Wash canning jars, bands and lids in hot soapy water. Rinse well.

Wash and sort cherries.

Pit cherries with a cherry pitter.

Wash and sort cranberries.

Blanch cherries and cranberries, (up to 7 cups at a time) in a large pot with at least one gallon of boiling water.

Boil each batch 1 minute after water returns to a boil.

Drain, keep hot cooked fruit in a covered boil.

Make liquid for filling;

Mix clear jel with sugar. Add water or cherry juice. Stir together. Stir and cook over medium-high heat until mixture thickens and begins to bubble. Add lemon juice, boil one minute, stirring constantly.

Fold the cherries and cranberries into the hot liquid.

Fill the jars with cherry/cranberry mixture, removing air bubbles.

Fill to within one inch of top of jars. Wipe any spilled filling off the top, seat lid and tighten ring.

Process the filled jars in canner, keeping them covered with at least one inch of boiling water.

Process for 25 minutes.

Lift jars out of the canner, let cool undisturbed for 24 hours.
Recipes On Tap
Cherry Cheesecake Pretzel Dessert, and Cherry Berry Doughnut Holes.