Cherry Berry Doughnut Holes
We may earn money or products from the companies mentioned in this post.
Cherry Berry Doughnut Holes
Cherry Berry Doughnut Holes are made in a cake pop maker. I purchased a Bella cake pop maker on one of my thrift shopping adventures. I paid $1.00 for the cake pop maker. What a bargain! It makes great cake pops and fantastic doughnut holes too. Cherry doughnut holes are the perfect sweet to make for your sweetheart this Valentine's Day.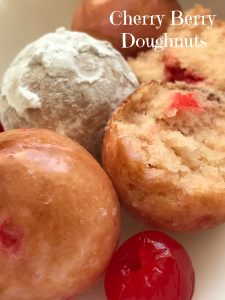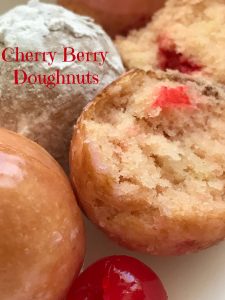 Baked Not Fried
I'm thinking that since these doughnut holes are baked and not deep fried in hot oil, they would have to be "not too bad" for you. With that thought in mind, I had no problem popping a couple of these yummy doughnuts into my mouth, one at a time of course. I decided to use maraschino cherries, left-over from Christmas, just make sure to drain the cherries well, before and after you diced them.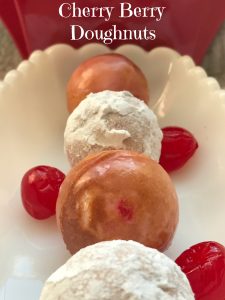 What are Maraschino Cherries?
Maraschino Cherry [mar-uh-SKEE-noh] This specially treated fruit can be made from any variety of cherry, though the Royal Ann is most often used.  The cherries are pitted and then Macerated in a flavored sugar syrup, usually almond flavor for red cherries, mint for green. Maraschino cherries can be purchased with or without stems. They're used as a garnish for desserts and cocktails, as well as in baked goods and fruit salads.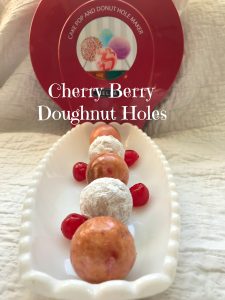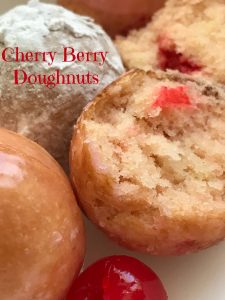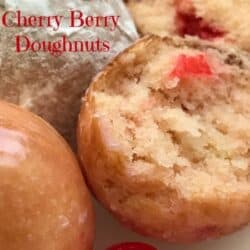 Cherry Berry Doughnut Holes
This recipe is made in a cake pop maker. I purchased a Bella cake pop maker on one of my thrift shopping escapades for $1.00. What a bargain! Plus it makes fantastic doughnuts too.
Ingredients
1⅓ 

cups 

all-purpose flour

⅓ 

cup 

sugar

1 

tablespoon 

baking powder

½ 

teaspoon 

salt

½ 

cup 

milk

¼ 

cup 

vegetable oil

¼ 

cup 

strawberry yogurt

1 

egg

1 

teaspoon 

vanilla extract

1/4

cup

finely diced maraschino cherries

1

cup

powdered sugar

2

tablespoons

milk

1

teaspoon

maraschino cherry juice

1/2

teaspoon

raspberry extract
Instructions
Combine dry ingredients in a mixing bowl.

In a separate bowl whisk together milk, oil, strawberry yogurt, egg, and vanilla extract.

Pour liquid ingredients into dry ingredients. Using a mixer on medium speed, blend until smooth. Fold in diced maraschino cherries.

Fill each cooking reservoir with about 1 teaspoon/1 tablespoon of batter.

Bake about 2 to 3 minutes (or until a toothpick inserted into doughnut comes out clean) Remove doughnuts from cake pop maker and place on wire rack set over a sheet of waxed paper.

Make glaze: In a small bowl whisk together powdered sugar, milk, maraschino cherry juice and raspberry extract until smooth. Drizzle glaze over doughnut holes.
Here is another yummy sweet made with cherries. Cherry Coconut Chews.