Cheesy Broccoli Soup
We may earn money or products from the companies mentioned in this post.
Cheesy Broccoli Soup
Cheesy Broccoli Soup is always a favorite in my house but then again, any soup is a favorite in my house. A small bowl of soup paired wit  a small garden salad is perfect for lunch. Top bowls of cheesy broccoli soup with flavored oyster crackers. We have several different flavors to choose from such as chicken noodle soup flavored crackers, original ranch oyster crackers  and taco flavored oyster crackers.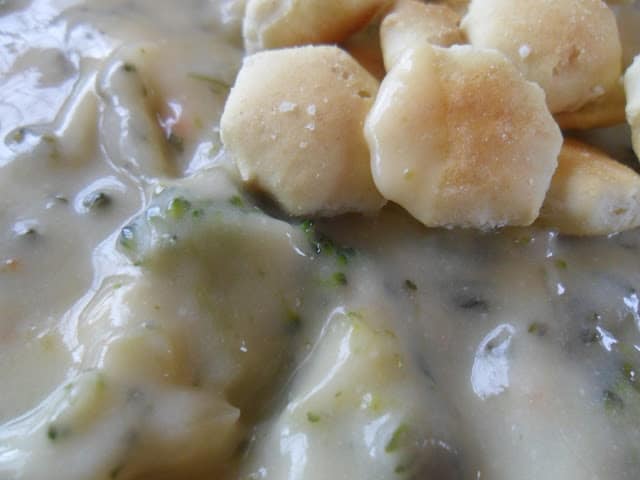 A Word About Broccoli
The name broccoli comes from the Italian word for "cabbage sprout" and indeed, broccoli is a relative of cabbage, Brussels sprouts and cauliflower. This deep emerald-green vegetable comes in tight clusters of tiny buds that sit on stout edible stems. It's available year-round, with a peak season from October through April. Look for broccoli with a deep green color, the buds should be tightly closed and the leaves crisp.
Keep the Stalks
Refrigerate stalks, washed and patted dry with paper towels. Store in an airtight bag for up to 4 days. If the stalks are tough, peel before cooking. Personally speaking, I think broccoli stalks have just as much, if not more flavor than the florets. Don't throw them away! When I make broccoli soup, most of the broccoli used is the stalks. Broccoli, a member of the cruciferous family, is an excellent source of vitamins A and C, as well riboflavin, calcium and iron.
When making any soup that calls for milk and sometimes even cream, substitute Carnation Evaporate Milk for a richer and creamier soup.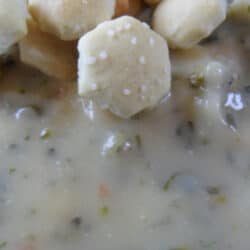 Cheesy Broccoli Soup
A delicious and cheesy broccoli soup. Serve with flavored oyster crackers.
Ingredients
3

carrots, peeled and shredded

2

celery ribs, chopped

1/2

cup

chopped onions

2

garlic cloves, minced

2

tablespoons 

oil

1/4

cup

butter

1/4

cup

flour

4

quarts

water

4

cups

chicken broth

2

chicken bouillon cubes

1

teaspoons

Worcestershire sauce

1/2

teaspoon 

dried thyme

salt and pepper to taste

1

cup

milk or evaporated milk

6

cups

fresh broccoli florets Or

3

10 oz package

frozen broccoli chopped, thawed

2

cups

shredded cheddar cheese

1

cup

shredded Mexican-style taco cheese

1/2 

pound

bacon, fried until crisp, drained and crumbled
Instructions
In Dutch oven, saute' carrots, celery, onions and garlic in hot oil. Cook until tender. Stir in butter until melted. Whisk in flour until bubbly. Stir in water, chicken broth, bouillon cubes and Worcestershire sauce; heat to a boil, reduce heat to simmer. Add dried thyme, salt, pepper to taste and milk. Stir in broccoli, cheeses and bacon. Stir until cheese is melted and soup is heated through.
If you like soup as much as we do you'll love this soup too. Old Fashioned Ham Bean Soup.