Cheery Cherry Coconut Chews
We may earn money or products from the companies mentioned in this post.
Cheery Cherry Coconut Chews
Cheery Cherry Coconut Chews are the perfect sweet to make your sweetie on Valentine's Day. Super sweet from the maraschino cherries 🍒 yet nice and chewy from the coconut. An easy bar that is perfect to serve any time of the year. If your sweetie loves cherries and coconut, he or she will love these💕 I saw this recipe floating around Pinterest during the holidays. The minute I saw this recipe, I thought of Valentine's Day.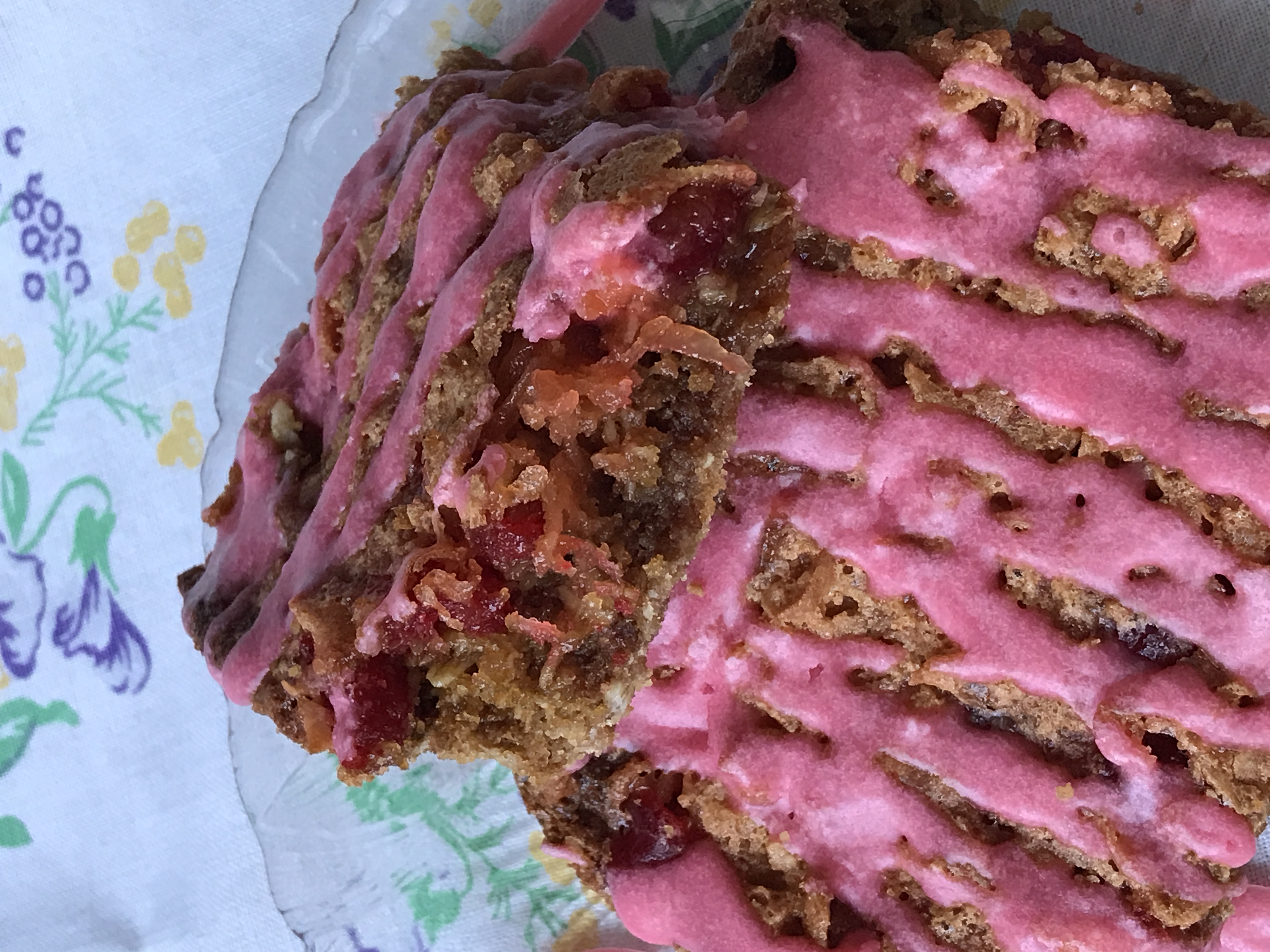 Happy Valentine's Day
February and Valentine's Day for me, always conjures up memories of my mom Aggie and cherries. My mom Aggie was born on Valentine's Day. It wasn't until years later that I realized what a special day that was to be born on. After all, how many people do you know who were born on Valentine's Day? And cherries. I always think of cherries. Why? The old George Washington cutting down the cherry tree thing. Or maybe because  George's birthday was but isn't anymore I think, on February 22nd. The same day that my brother has a birthday and my sister also had a birthday on, even though they were born 8 years apart. (I know weird but true.)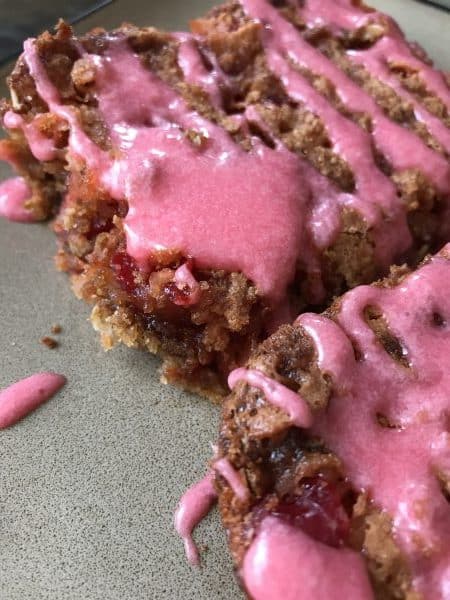 Cherry Desserts
Every year my mom would make, mainly for my brother, one of two cherry desserts. Either a cherry 🍒 pie or a cake. Aggie would make a boxed white or chocolate cake mix, bake it in a 13 x 9-inch pan. When the cake was cooled, she would cut it in half. Aggies ingenuity because we probably didn't have round cake pans. Aggie would 'frost' the entire bottom half with cool-whip or dream whip, (I haven't used Dream Whip in years) then place the second half on top and frost the entire cake with more cool-whip or dream whip. The crowning touch would be a can of cherry 🍒 pie filling spooned over the top. Now that I think about it, it really was good! Happy Valentine's Day and Happy Birthday Mom:)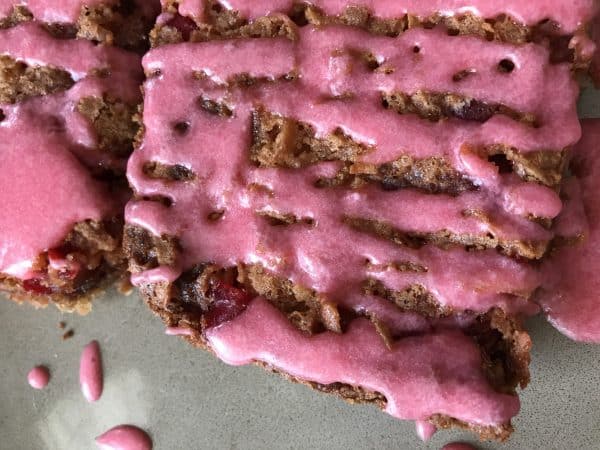 Winter Weather
The weather here in Wisconsin has been horrible over the last few weeks. I can't remember the last time we had this much snow. Living at the end of a private drive has its advantages and disadvantages. The advantages out number the disadvantages, which is good. The only big disadvantage is that in the winter you're responsible for plowing. This means you have to hire someone to plow for you. That's not normally a big deal but when you have gotten as much snow as we have, it becomes a big deal.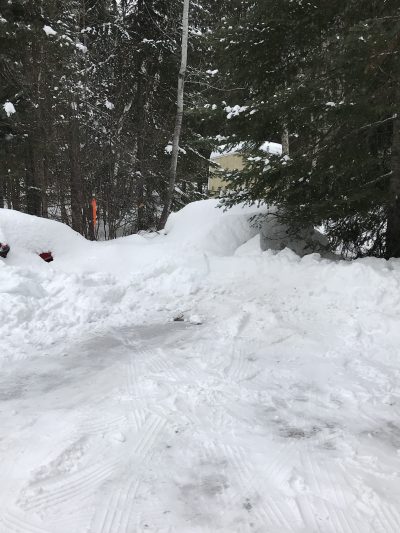 Valentine's Day not Valentime's Day
Which brings me to the point I'm trying to make here. This is the first year that I am unable to get out on Valentine's Day, which makes me sad. Not because I can't get out to buy my hubby a Valentine's Day gift, we gave up all that lovey dovey stuff years ago, (he usually picks me up a box of candy at Walgreens on the day after Valentines Day, when it's half price) but I'm sad because this will be the first year I won't be able to bring my grandkids cupcakes on Valentine's Day. It's amazing how your priorities change once you have grandkids. Now, Valentine's vs Valentime's?? Don't even get me started….
Like cherries? So do I. This is the best recipe for cherry bars you will ever sink your teeth into. Trust me on this..Cherry Crumble Bars
Cherry Chews
Ingredients
For Crust:

1

cup

all purpose flour

1

cup

rolled oats

1

cup

brown sugar

,

lightly packed

1

teaspoon

baking soda

1/4

teaspoon

salt

1/2

cup

butter

For Filling:

2

eggs

1

cup

brown sugar

1/2

teaspoon

almond extract

2

tablespoons

flour

1

teaspoon

baking powder

1/2

teaspoon

salt

1

cup

coconut

1

cup

well drained maraschino cherries

,

quartered (reserve juice)

1/2

cup

chopped pecans

For Frosting:

1 1 /2

tablespoons

soft butter

1

cup

confectioners sugar

4 to 5

tablespoons

cherry juice

1/8

teaspoon

almond extract
Instructions
For Crust:

Mix flour, oats, brown sugar, baking soda and salt in a large bowl. Cut in butter until mixture is crumbly. Press into greased 9 by 13 pan and bake at 350 degrees for 10 minutes.

For Filling:

In a large bowl beat eggs, stir in brown sugar and almond extract.

Mix flour, baking powder and 1/2 tsp salt and stir into egg mixture.

Add coconut and cherries, stir until combined.

Spread mixture over prepared crust using an off set spatula.

Sprinkle with chopped pecans.

Bake at 350 degrees for 25 minutes, until lightly brown.

Remove from oven and allow to cool while preparing frosting.

For Frosting:

Combine all ingredients and stir until smooth and well blending, adding addition cherry juice for desired consistency.
This recipe is adapted from Red Cottage Chronicles