Carrot Raisin Sourdough Muffins
We may earn money or products from the companies mentioned in this post.
Carrot Raisin Sourdough Muffins
Carrot Raisin Sourdough Muffins are simply delicious. Shredded carrots add a nice healthy taste, raisins add sweetness and sourdough starter adds a wonderful tangy flavor to these muffins. I have made made muffins using my sourdough stater and these are by far one of my favorites. The other muffin I love using sourdough starter is Apple Sourdough Walnut Muffins. That recipe uses shredded apples whilst this recipe uses shredded carrots. If you aren't a fan of raisins you can substitute chopped dates, prunes or figs. Nuts can also be added if you'd like.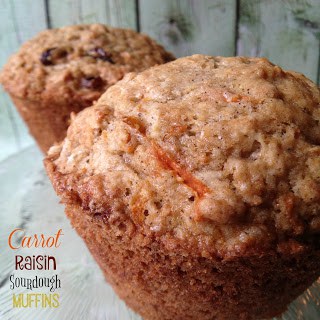 Perfect for Breakfast
Serve Carrot Raisin Sourdough Muffins for breakfast with coffee, a small glass of orange juice and a 6 oz. container of low-fat yogurt. A fast and easy breakfast that you can easily eat on the run. I like to eat my muffins plain or with a spoonful of jam or jelly spread on top. My hubby likes to top his muffins with a pat of butter. If I'm at home, muffins are always topped with honey and washed down with a hot cup of Joe.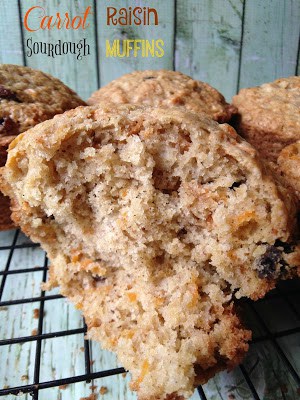 Muffins
Muffins are a small, cake-like bread that can be made with a variety of flours and often contains fruits, vegetables and nuts. Most American-style muffins fall into the quick bread category. They're leavened with either baking powder or baking soda. The yeast-based type, such as the English muffin, are generally finer in texture. These small breads or muffins are made in a muffin pan. Muffins can be sweet or savory and though once considered breakfast or tea fare, are now served with lunch and dinner.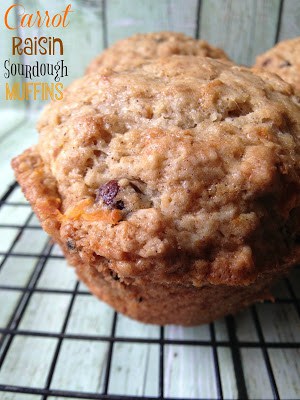 Recipe Note: This recipe can also be made with golden raisins, chopped prunes or dried cranberries.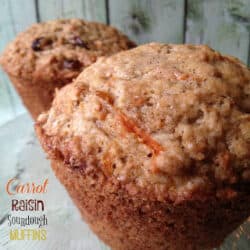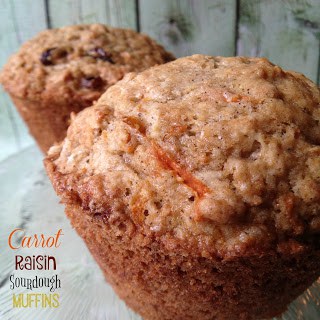 Carrot Raisin Sourdough Muffins
Super Delicious and not too bad for you either.
Ingredients
1/4

cup

butter, room temperature

1/2

cup each

sugar and brown sugar, lightly packed

1

egg

1/4

cup

milk

1

cup

active sourdough starter

1 1/2

cups

flour

2

teaspoons

baking powder

1

teaspoon

baking soda

1/2

teaspoon

ground cinnamon

1/4

teaspoon

ground nutmeg

1/4

teaspoon

ground allspice

1/4

teaspoon

salt

1

cup

finely grated carrots

1/2

cup

raisins

1/4

chopped nuts

,

optional
Instructions
Preheat the oven to 350º

Spray a jumbo (6) muffin tin with non-stick spray.

In a large bowl, cream butter and sugars together until it becomes pale. Add egg and milk, mix well. Add the starter, flour, baking powder, baking soda, spices and salt. Stir just until combined. Do not overmix the batter. Gently stir in the carrots, raisins and nuts, if using. Half fill your muffin cups with batter. Bake at for 20 to 25 minutes or until toothpick inserted in the center comes out clean.
Recipes On Tap
Sweet Berry Muffins and Sourdough Blueberry Muffins
Carrot Raisin Sourdough Muffins are made with Sun Maid Raisins.