Cantaloupe with Honey Balsamic Dressing
We may earn money or products from the companies mentioned in this post.
Cantaloupe with Honey Balsamic Dressing
Cantaloupe with Honey Balsamic Dressing is made with two jumbo cantaloupe that I recently purchased at the Piggly Wiggly. I mean these beauties are huge. This recipe easily makes enough for 8 servings, with the jumbo size cantaloupe. If you can't find jumbo cantaloupe, used what ever size (medium or large) that you can find. With that in mind though, you might want to cut back on the ingredients by a tablespoon or so. Taste the dressing, and decide for yourself. Add more honey or balsamic vinegar to taste.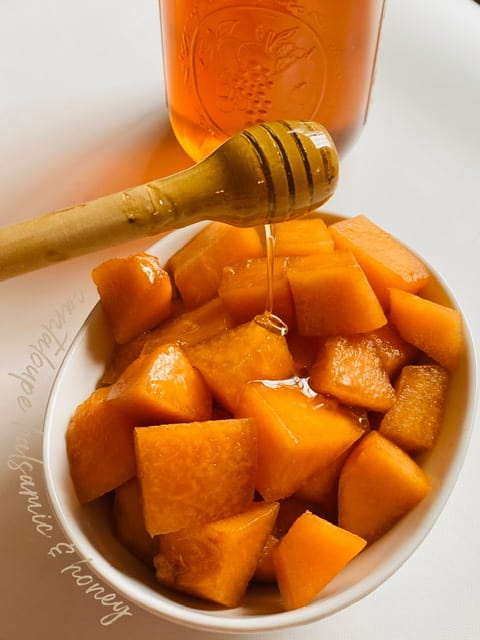 Honey Balsamic Dressing
If there is one thing we like here on T2T is honey, (I could literally drink the stuff) and balsamic vinegar. All of the honey we use here on T2T is from our friend down the road, Andy. In fact, all of the maple syrup we use is from Andy as well. His wife Becky is our dog groomer so it's a one stop shopping:) They no longer sell eggs but that's an easy find for us up here in the woods. When making honey balsamic dressing, or any recipe that calls for honey or balsamic vinegar, try to use local honey and try to purchase the best balsamic vinegar you can find and afford. You will be able to taste the difference.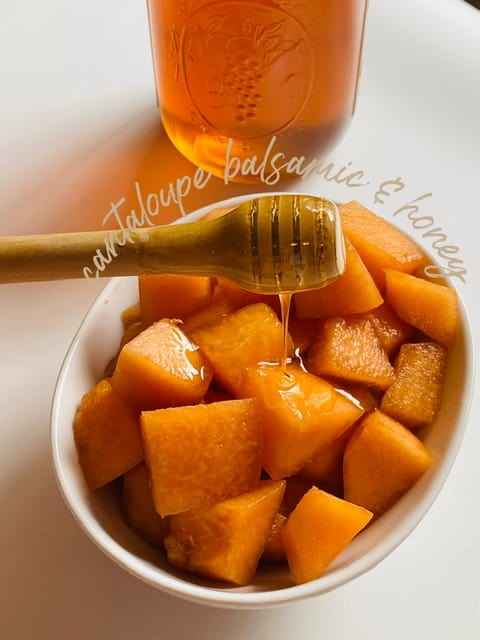 Paradise Fruit
Another ingredient in this super easy salad is crystallized ginger. Add a slightly sweet, peppery bite to your fruit salads and baked goods by adding a few tablespoons of diced crystallized ginger. We have been a recipe developer for Paradise Fruit for over two years now and we're still finding fun and delicious new ways with Paradise Fruit. Dried fruit isn't just for holiday  baking! Dried fruit can be added to anything.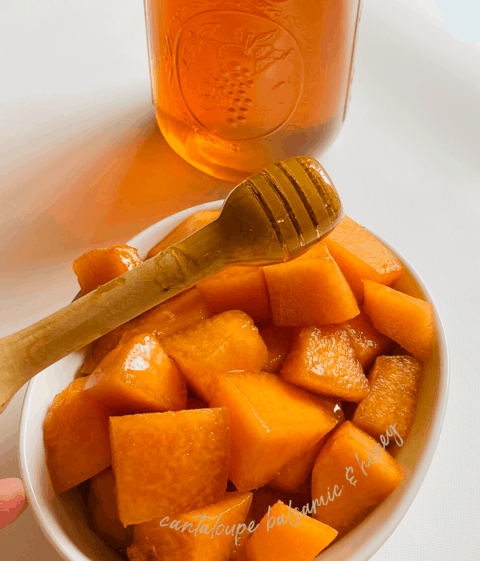 Fresh Mint
This recipe calls for fresh mint as an optional ingredient. If you happen to be lucky enough to live in an area where fresh mint (fresh herbs in general) grow year round, consider yourself very fortunate. Where I'm from, fresh mint grows outside, roughly from May through July. I've grown mint inside many times but it tends to get scraggly looking after awhile. When mint is in its full growing season here in Northern WI, I put mint in everything. Iced tea, sparkling water, fruit salads, smoothies and vanilla ice cream shakes. In my humble culinary opinion, fresh mint isn't as strong as artificially flavored mint, mint extracts or mint syrups. Use your taste buds when it comes to mint and let them be the judge:)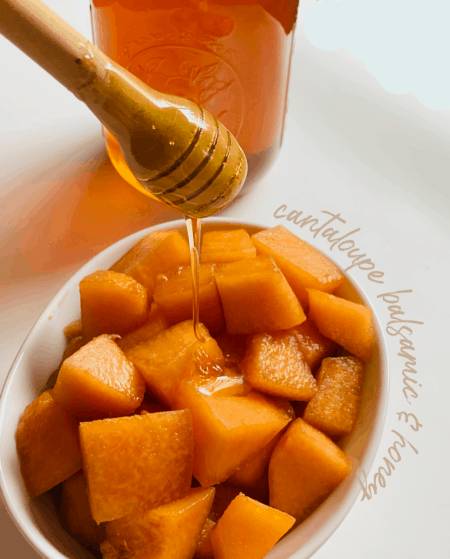 Cantaloupe with Honey Balsamic Dressing
Ingredients
2

jumbo or large

cantaloupe, cubed

1/3

cup

grape juice

2

tablespoon

honey

2

tablespoon

balsamic vinegar

2

tablespoons

minced crystallized ginger

mint leaves, sliced into thin ribbons, optional
Instructions
In a large bowl, place cantaloupe cubes, crystallized ginger and mint leaves if using.

In a small bowl, whisk together dressing ingredients. Pour dressing over cantaloupe; toss gently to coat. Place in the refrigerator for 2 hours. Serve.
Recipes on Tap
Cantaloupe Berry Salad and Honey Mustard Dipping Sauce and Watermelon with Balsamic Reduction.