Cantaloupe Berry Salad
We may earn money or products from the companies mentioned in this post.
Cantaloupe Berry Salad
Now that the calendar has officially turned to summer, that means warmer weather and lighter meals are on the menu once again. Cantaloupe Berry Salad will get you started. We have yet to reach any record highs here in Wisconsin but that's alright by me. I'm enjoying the 70 degree daytime temperatures and the low 60's at night. It's almost July and I still have my down comforter on my bed, which has to be a first for me.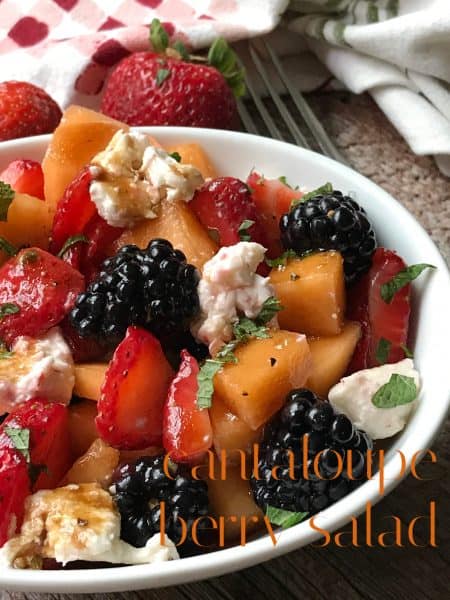 Fresh Fruit and Mint
When you're making a simple salad like this one, it's important to make it with the freshest ingredients possible. When making a fresh fruit salad or any salad for that matter, try to use the freshest fruit or vegetables you can possibly find. This particular recipe is super fantastic when made with fresh picked strawberries, blackberries and farm fresh cantaloupe. Fresh mint is another must have in this salad. Fresh mint adds a minty burst of flavor that I love in a fruit salad. I always keep a small mint plant on my window sill and snip off what I need.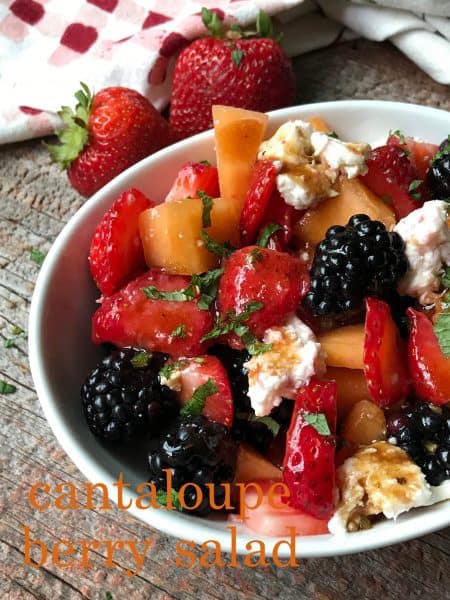 Mozzarella Balls
On to the mozzarella. This salad is best made with fresh mozzarella. You can pretty much purchase fresh mozzarella or mozzarella balls at any grocery store. Look for fresh mozzarella in the dairy or specialty foods section and is sometimes called mozzarella 'pearls' or 'balls' For this recipe we used fresh mozzarella by BelGioioso , a Wisconsin cheese company. The texture is soft, moist and can be easily torn into bite-size pieces. Living in America's Dairyland, I can get in my car, head in any direction and find cheese:)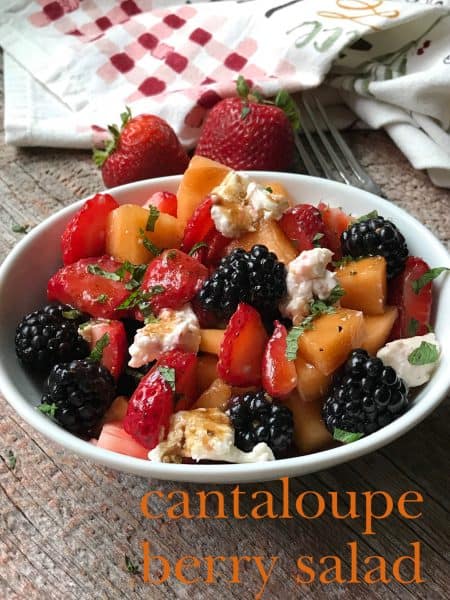 Balsamic Vinaigrette
Now, this may seem like a contradiction of the fresh is best theory but for this recipe I used a bottled balsamic vinaigrette. Personally I feel there are times when a bottled dressing/vinaigrette/marinade works best in a recipe and then there are those times when only a homemade dressing, vinaigrette or marinade will do. This recipe only calls for two tablespoons balsamic vinaigrette, that's why I used bottled.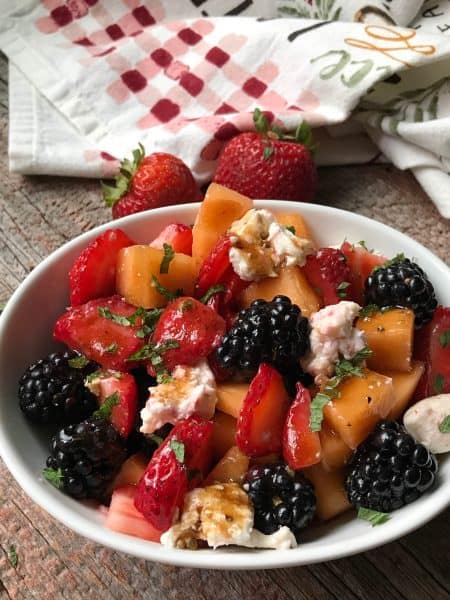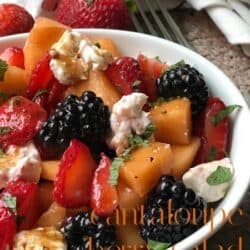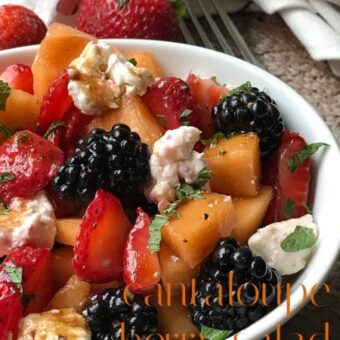 Cantaloupe Berry Salad
Cantaloupe, Strawberry, Blackberry and Fresh Mozzarella Cheese are combined to make for a memorable salad.
Ingredients
1

cup

sliced fresh strawberries

1

cup

cubed cantaloupe

1/2

cup

fresh blackberries

1/2

cup

cubed or torn fresh mozzarella

2

tablespoons

balsamic vinaigrette

1

tablespoon

cashew halves, optional

1

tablespoon

thinly sliced fresh mint leaves
Instructions
In a large bowl, combine the strawberries, cantaloupe, mozzarella, blackberries, balsamic vinaigrette, cashews if using, and mint leaves. Toss together gently. Serve immediately.
Recipes On Tap
Balsamic Steak-Cut Mushrooms , Honey Dijon Balsamic Brussels Sprouts and Brown Sugar Balsamic Glazed Pork Tenderloin