Cannellini Bean Salad
We may earn money or products from the companies mentioned in this post.
Cannellini Bean Salad
Take a break from the usual baked beans this summer and try this easy recipe for Cannellini Bean  Salad. It can be made ahead of time and served chilled. You won't have to heat up your kitchen making baked beans! Even though old fashioned baked beans are a picnic favorite, the long hours of baking required to make baked beans isn't always an option. Especially on a hot summer day.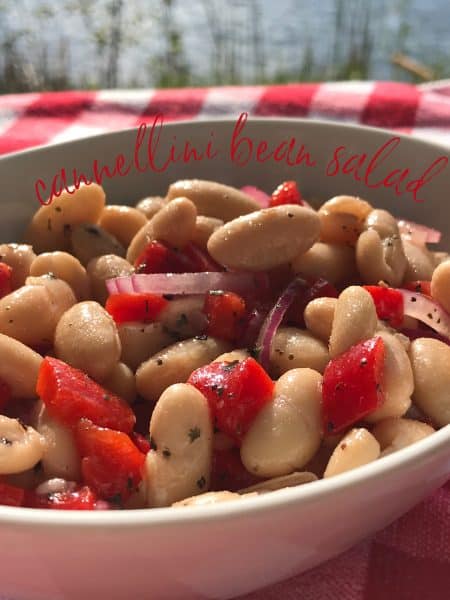 What are Cannellini Beans
Cannellini beans are white Italian kidney beans, available both in dry and canned forms. They're particularly popular in Italian-style salads and soups. Cannellini beans, often referred to as white kidney beans, lack the robust flavor of their red cousins. Therefore, white kidney beans aka cannellini beans are used in bean salads, pasta dishes or when a milder bean is needed. Cannellini beans have a creamier texture and flavor than their red counterparts. Red kidney beans are an enthusiastic producer of flatulence, where as white kidney beans aren't quite as enthusiastic:)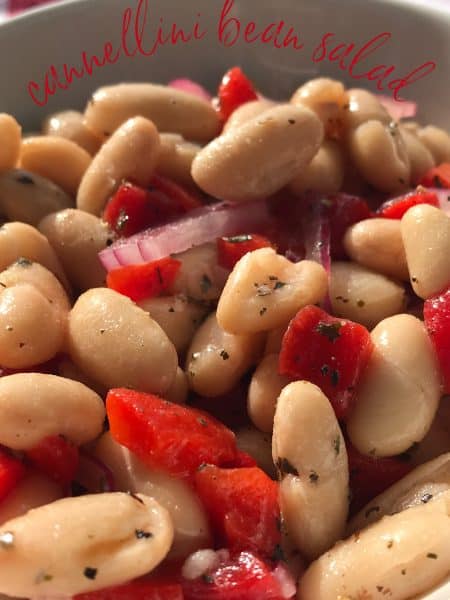 Love Beans
Here at Turnips 2 Tangerines we love our beans! Baked beans, canned baked beans, dried beans, refried beans, you name it we love them. This wasn't always the case for me. I never liked baked beans until I married my hubby some 20+ years ago. My mother-in-law made the absolutely best baked beans. She's the one that thankfully changed my mind on baked beans. I don't remember my mom Aggie ever making homemade baked beans. We had canned baked beans, which I didn't like but never homemade. My first husbands family never made homemade baked beans either. In fact, I don't think they even served baked beans. When Carlene made real homemade baked beans and insisted I try them, it was love at first bite. My only regret is I don't have her recipe. Unfortunately, she never wrote her recipes down.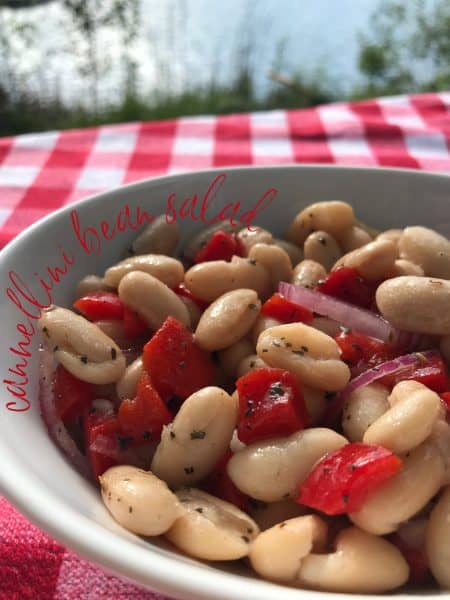 Dried Beans
Dried beans are available prepackaged or in bulk. Beans are economical and can really stretch a family's food budget. So many recipes can be made with dried beans. Everything from soups, stews and casseroles. Dried beans are rich in protein, calcium, phosphorus and iron. Their high protein content make them a staple in many parts of the world where animal protein is scarce or expensive. Dried beans need to be soaked in water before using.
Soaking Methods
Dried beans must be soaked in water for several hours or overnight to rehydrate them before cooking. All packages of dried beans have soaking directions located on the package. Follow the directions that you prefer to use for "quick soaking" or "overnight soaking." Personally I soak my beans overnight, preferring this method verses the quick soak method. I feel that the beans have a better "bite" when soaked overnight.
This is how I go about soaking my beans:) Open the package of dried beans, pour into a colander. Rinse beans under running tap water. Dump beans into a Dutch oven, remove any undesirable beans or material. Cover with room temperature or lukewarm water. Stir in 2 teaspoons baking soda and let sit 8 hours or overnight. Don't refrigerate or cover. When you're ready to use the beans, bring the water and beans to a boil over medium-high heat. Boil 3 minutes, cover and turn off heat. Let beans  sit in water for 10-15 minutes. Drain beans, do not rinse. The beans are ready to go. *A word of caution; when boiling the soaked beans in the water, the water will foam up due to the added baking soda.*
Lentils
Lentils are popular in parts of Europe and a staple throughout much of the Middle East and India. This  tiny "pulse"  has long been used as a meat substitute. There are three main varieties of lentils. The French or European grayish-brown lentil, the reddish orange Egyptian lentil and the yellow lentil. None of these varieties are used fresh but are dried as soon as they're ripe. Lentils do not require pre-soaking. A quick rinse is all that is needed. Lentils require a minimal amount of cooking time, which makes them a great way to add protein to your diet. Beans, lentils, peas, peanuts and soybeans are all legumes. A large group of thousands of plant species that have seed pods that split along both sides when ripe.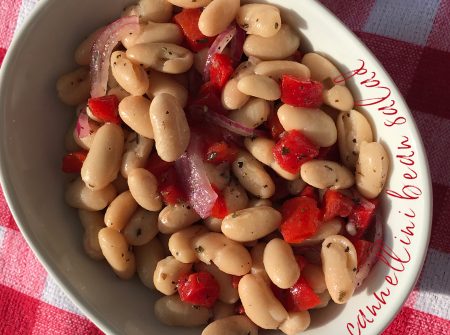 For this recipe we used Bush's Beans.  Recent Recipe: Clubhouse BLT Sandwich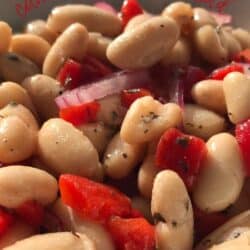 Cannellini Bean Salad
A popular bean salad to serve at your next picnic or potluck.
Ingredients
1/2

cup

roasted sweet red pepper strips, chopped (jarred)

2

cans (15 oz each)

white kidney or cannellini beans, rinsed and drained

1

medium

red onion, thinly sliced

1/4

cup

minced fresh basil

3

tablespoons

red wine vinegar

2

tablespoons

olive oil

1/4

teaspoon

salt

1/4

teaspoon

black pepper
Instructions
In a large bowl, combine peppers, beans, onion and basil.

In a small bowl, whisk together the vinegar, oil, salt and pepper. Pour over bean mixture; toss to coat.

Refrigerate for one hour or longer before serving.
Here on Turnips 2 Tangerines we love our beans. Here is a taste of some of our favorites. Old Fashioned Baked Beans, Cannellini Beans with Bacon and Spinach, Restaurant Style Refried Beans and Old Fashioned Ham Bean Soup