Candy Corn Waffles
We may earn money or products from the companies mentioned in this post.
Candy Corn Waffles
Candy Corn Waffles are fun to make, fun to eat and kids love them. To make these candy corn waffles, use plastic squirt bottles, the ketchup/mustard variety to evenly distribute waffle batter. You can find squirt bottles at any discount stores, usually for under $1.00. Make a large batch of waffle batter, the full box recipe. This will make sure you have enough batter to allow for mistakes or mishaps.
Made Easy
Using a boxed pancake/waffle mix is the secret to making these easy waffles. You can use any pancake waffle mix that you just add water too. Or you can use the kind of mix that calls for eggs and/or milk. The only other ingredients needed are food coloring. I like to use "gel" food coloring, only because "gel" coloring comes in just about any color you will ever need, including white. As you can see from the photos, the candy corn waffles din't turn out 'perfect' but that didn't stop my grandson from gobbling them down.
Extra Thick
For extra thick waffles make them Belgian style. We have both a regular size waffle maker and a Belgian style waffle maker. We tend to use the Belgian waffle make more often. Belgian Waffles are so much more tastier than regular waffles, my family thinks anyway:) They're larger and fluffier inside too. We made our candy corn waffles using our regular waffle maker but next time, we're bringing out the big guns:)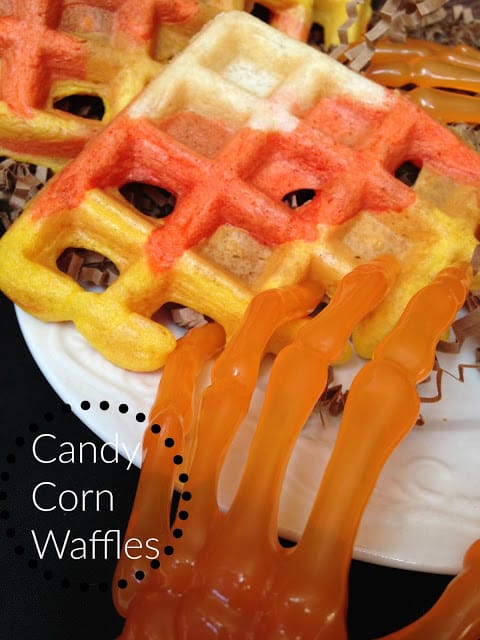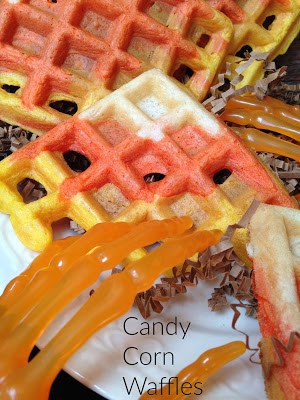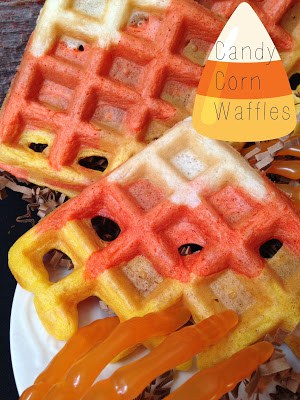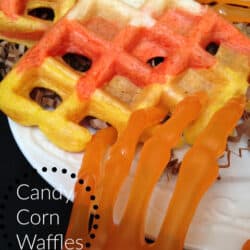 Candy Corn Waffles
Easy and Delicious. Fun For Kids!
Ingredients
1

box of your

favorite pancake/waffle mix, prepared per package directions

1

tube each

yellow, orange, and white food coloring

waffle toppings of your choice
Instructions
Prepare waffle mix according to package directions.

Divide batter between three bowls.

Use food coloring to turn the batter in one bowl yellow,

one orange and the third bowl tint batter white.

Divide the colored batter between three plastic squirt bottles.

Pour the colored batter onto the waffle maker layering for a candy corn effect.

The center should be white, then yellow, and the outside orange.

Cook according to waffle maker directions.

Serve with the toppings of your choice.
For this recipe we used Krusteaz
Recipes On Tap
White Chocolate Candy Corn Fudge is a must make recipe. It's super delicious. Another super recipe Apple Pie with Oatmeal Granola Crumble