Calico Bean Bake
We may earn money or products from the companies mentioned in this post.
Calico Bean Bake
A great side dish to serve at any party or it's even great served as a main dish. What exactly is calico bean bake? I've mentioned calico bean bake many time here on Turnips 2 Tangerines but what does Calico mean. Calico basically means a mix or combination of several different kinds of beans. In cowboy days they used the word calico to refer to a casserole, which resembled a calico quilt.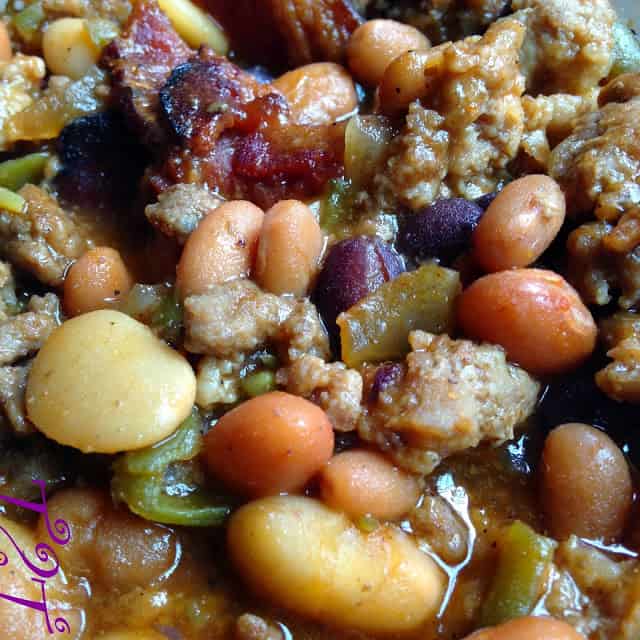 Lima Beans
Lima Bean [LY-muh] This New World bean was named for Lima, Peru where is was found as early as 1500. There are two distinct varieties of lima, the baby lima and the Fordhook, (which are not adult baby limas.) Both are pale green, plump-bodied and have a slight kidney-shaped curve. The Fordhook, is larger, plumper and fuller flavored than the baby lima.
Fresh Lima Beans
Fresh limas are available from June to September. They're usually sold in their pods, which should be plump, firm and dark green. The pods can be refrigerated in a plastic bag for up to a week. They should be shelled just before using. Frozen lima beans are available year-round and are labeled according to variety, Fordhook or baby lima.
Canned and Dried Lima Beans
Canned and dried limas are usually labeled "jumbo," "large" or "small." In the South, dried limas are frequently referred to as butter beans. When mottled with purple they're called calico or speckled butter beans. A traditional way to serve limas is with corn succotash. They're also used alone as a side dish, in soups and sometimes in salads. Lima beans contain potassium and iron.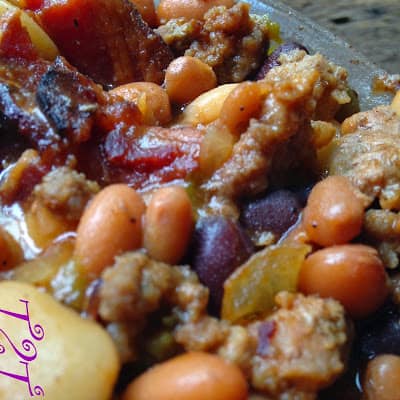 Ingredients
1/2 pound




ground beef

1/2 pound




ground pork

12 slices




bacon

1/2 cup




diced onion

1/2 cup




packed brown sugar

1/2 cup




ketchup

1/2 cup




cherry jalapeno barbecue sauce or barbecue sauce of your choice

1 tablespoon




dry mustard

2 1/2 teaspoons 16 

spice smokey seasoning blend divided or seasoing blend of choice

1 (16 oz) can




butter beans

1 (28 oz) can




Bush's original baked beans

1 (15.5 oz) can




pinto beans

1 (15.5 oz) can




great northern beans, drained

1 (14.5 oz) can




French-style green beans, drained

1 (15 oz) can




black beans, drained
Cooking Directions
Fry ground beef and pork in a medium skillet, add 2 teaspoons 16 spice smokey seasoning blend. Brown meat until no longer pink inside. Drain off fat and set aside.
Fry bacon in a large skillet until crisp; remove bacon from skillet, drain on paper towels and set aside. Drain off fat in skillet, add chopped onion and cook until tender.
To skillet add: brown sugar, ketchup, cherry jalapeno barbecue sauce or sauce of your choice, 1/2 teaspoon 16 spice smokey seasoning blend or blend of your choice and ground mustard. Simmer for 15 minutes. Chop bacon.
In a large oven proof bowl or baking dish, add all drained cans of beans, browned meat and chopped bacon. Stir in ketchup mixture. Mix well. Cover dish with foil.
Bake at 350º for 1 hour. Uncover.
Bake for 30 minutes longer.
*Use your favorite smoked spice seasoning blend.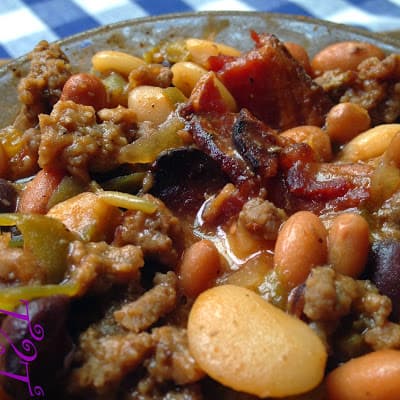 Recipes On Tap
Hearty Bean Bake, Aggies Favorite Bean Hash  and Restaurant Style Refried Beans
For this recipe we used Bush's Beans