Cajun Fettuccine
We may earn money or products from the companies mentioned in this post.
Cajun Fettuccine
This recipe is from Jackie Turnage, from New Iberia, Louisiana via Taste of Home, Pasta Cookbook 1991. Oh how I wish I could take credit for this recipe! I really, really do. Every now and then you come across a recipe that you just fall in love with and this is one of those recipes. It's tasty, spicy, comforting and super delicious. There are a few steps to this recipe, but each and every one of them is worth it. The end result is fantastic.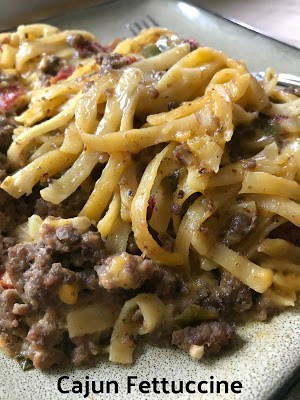 Over and Over Again
I can't tell you how many times I have made Cajun Fettuccine. Many, many, many, times and for many, many, years. Everyone who has tried Cajun Fettuccine, has loved it.  I have never had one complaint, never ever. In my family, that is a miracle in itself. This being said, I would like to thank Jackie Turnage from the bottom of my heart for this fantastic recipe. If I ever meet you Jackie, I will give you a great big hug from myself and my whole family. Thank-you for sharing your fantastic recipe for Cajun Fettuccine.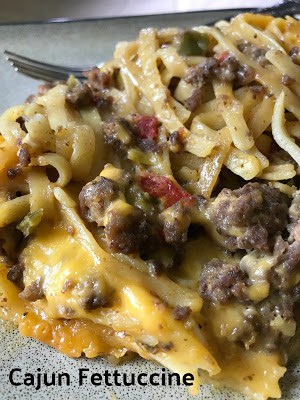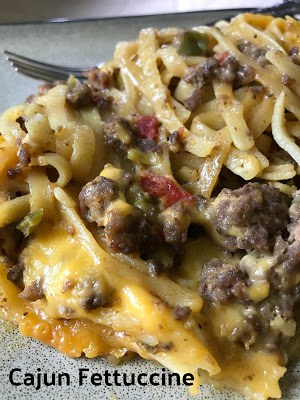 A Casserole You Can't Pass On
If you're looking for a delicious, filling, satisfying, casserole-type pasta dish, give this recipe a try. You will not be disappointed, I promise. Jackie's recipe called for using regular Velveeta cheese but in my house, we like to spice things up a bit so we went with the Mexican Velveeta. This spicier version of Velveeta definitely gave this dish a spicy edge. The recipe also calls for using Cajun or Creole seasoning. We always have Tony Chachere's Original Creole Seasoning in the house, so that's what we used. Love this stuff! You can find Cajun and/or Creole seasoning anywhere, so pick yourself up some if you haven't already.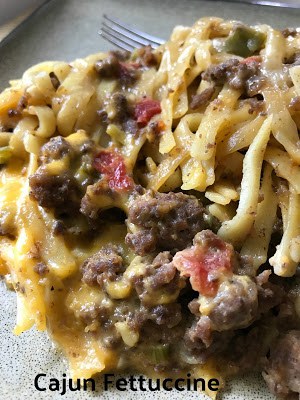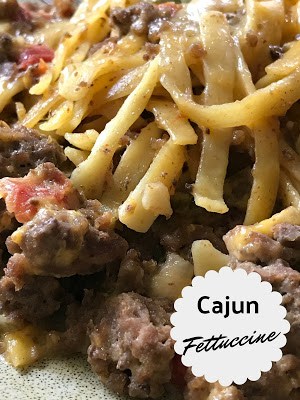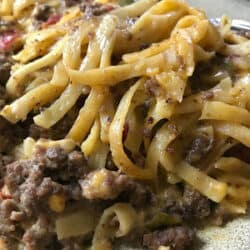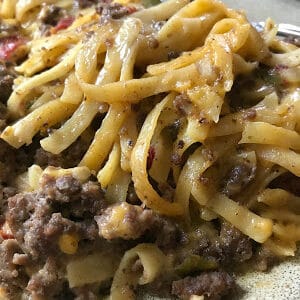 Cajun Fettuccine
Ingredients
1 1/2

pounds

ground beef

1

cup

chopped green onions

1

medium onion, chopped

1

medium green pepper, chopped

1

celery rib, diced

1

garlic clove, minced

1/4

cup

butter

1

tablespoon

all-purpose flour

8

ounces

Mexican Velveeta, cubed

1

can (10 oz)

tomatoes with green chilies, undrained

1

can (5 oz)

evaporated milk

3/4 to 1

teaspoon

Cajun or Creole Seasoning

8

ounces

fettuccine, cooked and drained

1/2

cup

grated Parmesan cheese
Instructions
In a large skillet, cook beef over medium heat until no longer pink; drain and set aside. In the same skillet, saute' the onions, green pepper, celery and garlic in butter until crisp-tender. Stir in flour until blended. Return beef to the pan.

Cook, uncovered, over medium heat for 15 minutes, stirring occasionally.

Add cubed Mexican Velveeta, tomatoes, milk, and Cajun or Creole seasoning. Simmer, uncovered, for 15 minutes longer, stirring occasionally.

Add fettuccine; mix well.

Transfer mixture to a lightly greased 3-quart baking dish.

Sprinkle with Parmesan cheese.

Bake, uncovered, at 350º for 25 to 30 minutes or until heated through.
Always a fall favorite when fresh green peppers can be found at the farmers market or farm stand. Stuffed Green Peppers