Cactus Canyon Style Nachos
We may earn money or products from the companies mentioned in this post.
Cactus Canyon Style Nachos
This recipe is my version of some delicious nachos I recently had the pleasure of eating at the Milwaukee Brewer Game. At the Brewer game nachos are served in a large helmet or a smaller portion is served in a small bowl. I opted for the smaller serving size which was more than plenty. After I got home, I keep thinking about those nachos! I knew it might be some time before I went to another game so..I decided to make my own version of the popular nachos I devoured at the game. I'm not sure why I gave the name Cactus Canyon-Style Nachos to these fast and easy nachos, I guess the name just suited the nachos.
Nachos Anytime
Cactus Canyon-Style Nachos turned out fantastic. Now we can have delicious nachos at home, anytime. Even though these nachos are delicious, there is something about eating nachos at the big game..everything just seems to taste better while watching a baseball game like hot dogs, popcorn, pop and beer. Nacho Chips are smothered with seasoned ground beef, then topped with warm ro-tel velveeta cheese dip, piled high with fresh pico de gallo and finished with a dollop of sour cream. (sliced pickled jalapenos are optional.)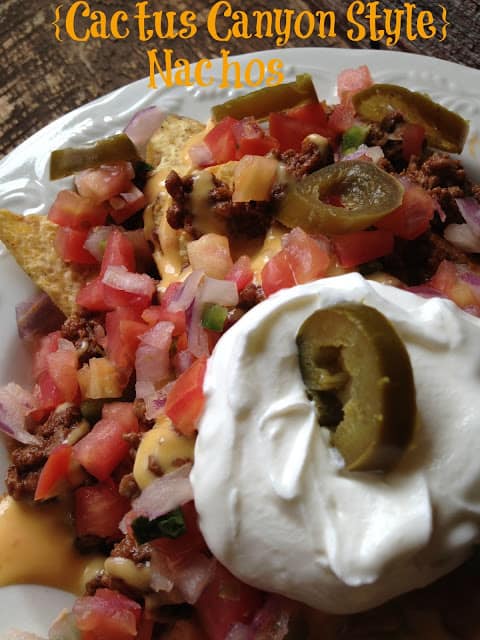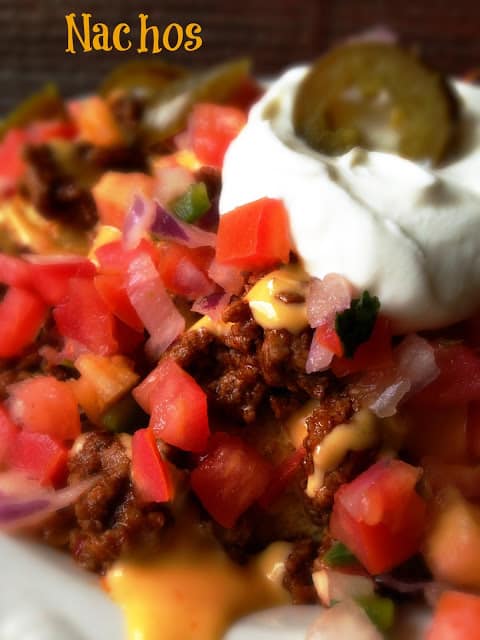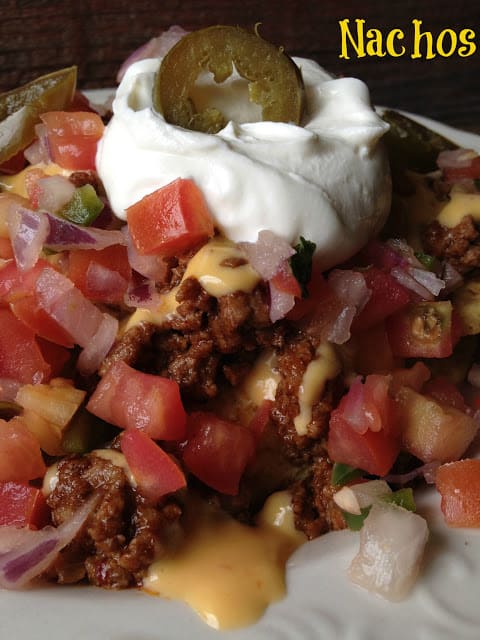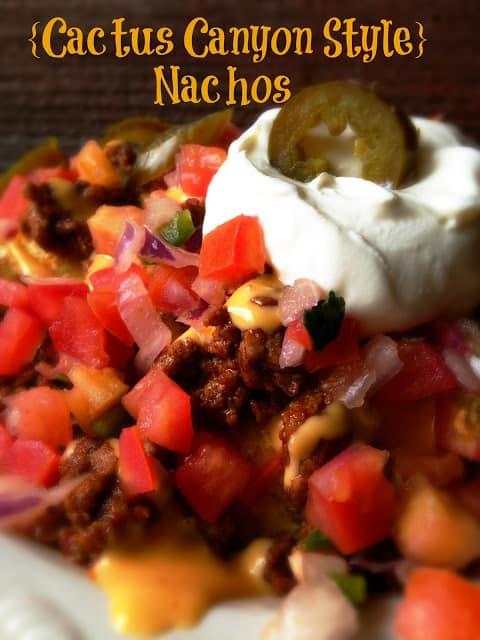 Make Them Your Own
Cactus Canyon-Style Nachos look and are delicious. Believe it or not, there are tortilla chips buried somewhere underneath all that goodness. Nachos are very forgiving, meaning that you can add ingredients or subtract and no matter what you do to these nachos, they will taste good. Make this recipe as is or make this recipe your own with the ingredients that you and your family love. Serve cactus canyon style nachos as an appetizer or as a meal. Either way, don't forget the Tequila!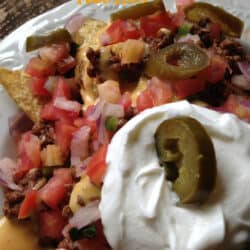 Cactus-Canyon Style Nachos
Ingredients
1 1/2

pounds

ground beef

1

envelope

taco seasoning mix

2/3

cup

water

8

ounces

Velveeta cheese, cubed

1

10 oz can

diced tomatoes with diced green chilies, drained

1

container

pico de gallo

,

available in the produce section of most grocery stores or make your own

1

cup

pickled sliced jalapenos

1

cup

sour cream

1

bag

tortilla chips or strips
Instructions
Brown ground beef in skillet on medium heat. Drain fat.

Stir in seasoning mix and water. Bring to a boil, reduce heat and simmer 5 to 10 minutes, keep warm.

In a microwavable bowl, combine cubed Velveeta cheese and diced tomatoes with green chilies. Microwave on high 30 to 40 seconds. Stir until smooth.

Microwave 25 seconds longer or until cheese is melted and dip is smooth. (keep warm)

To assemble:

Fill individual serving bowls with tortilla chips.

Top chips with seasoned ground beef, cheese dip, pico de gallo, sour cream and sliced pickled jalapeno
 Recipes On Tap
Cinnamon Tortilla Treats, Guacamole Salad, and Cinco de Mayo Dinner Night, Ole.