Butternut Squash Ravioli
We may earn money or products from the companies mentioned in this post.
Butternut Squash Ravioli
Butternut Squash Ravioli with Apple Cider Bourbon Butter Sauce may sound complicated but I assure you, it's really quite easy. We've taken the difficulty out of this recipe and saved that for the weekend when you have extra time to spend in the kitchen. Convenient products are used to make a sensational supper, one that tastes like you spent all day in the kitchen. Stock up on these ingredients so you can make this meal anytime.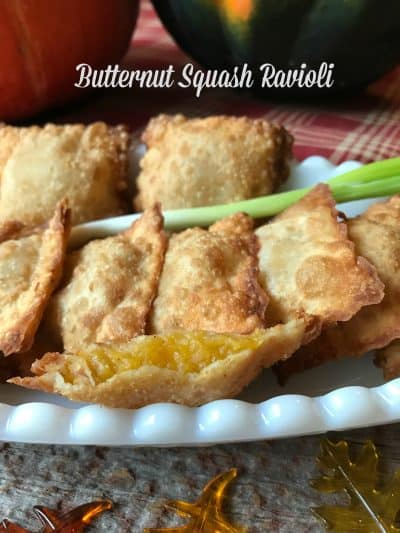 Made to be Fast and Easy
This recipe and the meal suggestions are meant to be fast and easy. To get a restaurant quality meal on the table in record time. When you walk in the door after a long day at work, your extra tired because you worked late, traffic was insane and your feet hurt because you wore the wrong shoes, the last thing you want to do is stand at the stove and make a complicated meal. That's where this recipe comes in.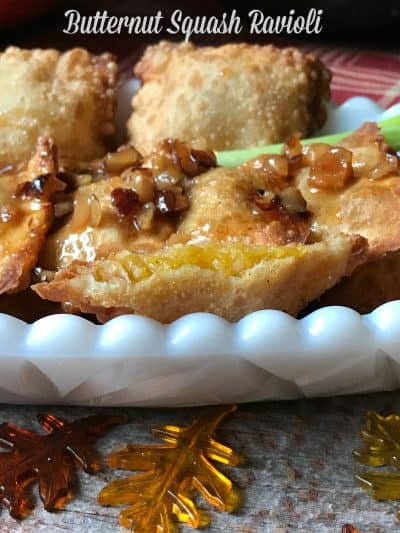 Make a Complete Meal
Pour yourself a glass of wine or not, open a jar of your favorite store bought butternut squash pasta sauce or make this recipe for apple cider bourbon butter sauce and heat up your favorite brand of frozen cooked winter squash to make the filling. While the oil is getting hot, make the ravioli using Twin Dragon egg roll wrappers, divide a green salad mix among salad bowls and sit down to a fast, easy and affordable supper.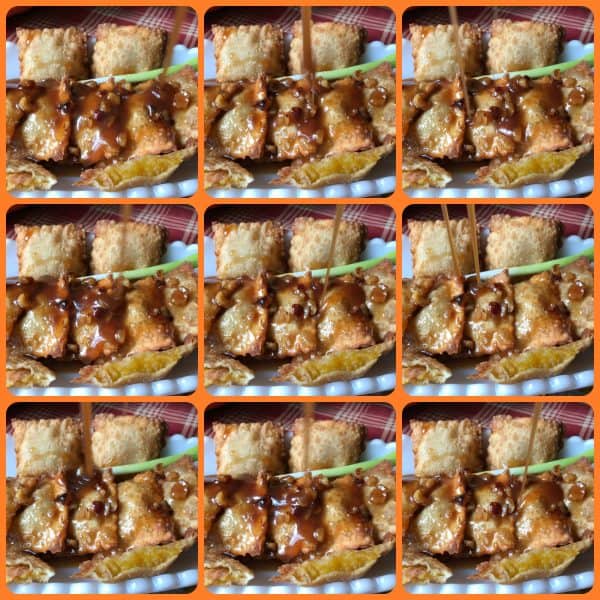 On the Weekend
On the weekend, when you have the extra time, you can certainly make this meal from scratch. Roast your favorite winter squash in the oven until tender, make the simple ravioli filling and your favorite homemade winter/butternut squash pasta sauce recipe. Make a garden salad with all the extras, including a homemade vinaigrette and homemade croutons. Top the ravioli with fresh grated Parmesan cheese and dinner is served.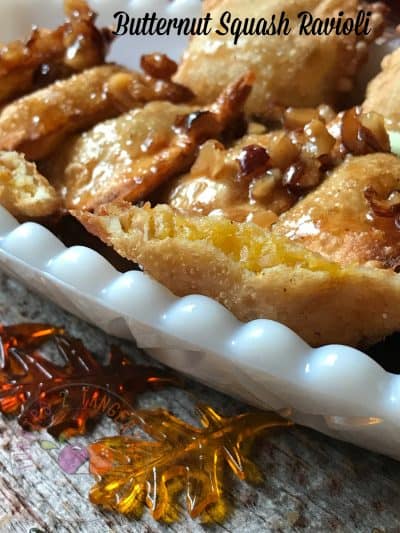 Twin Dragon Egg Roll Wrappers
This recipe is the last and final recipe that I have entered in the Twin Dragon Asian Wrapper Blogger Recipe Contest. Using egg roll wrappers instead of making ravioli dough makes this recipe cinch to make. Twin Dragon Egg Roll Wrappers are easy to work with and since they can be frozen or kept unopened in the refrigerator for several weeks, homemade ravioli is always within reach.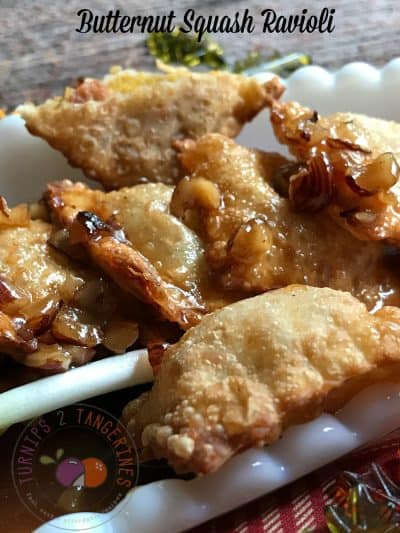 Metal Ravioli Maker
For this recipe I dug out my old metal ravioli maker that I bought at a thrift store for $1.00. I've used it before so it was no surprise to me how easily and quickly this recipe came together. Use a ravioli maker to add and seal one teaspoon of filling in between each egg roll wrapper. Moisten the edges before adding second wrapper to allow for nicely sealed ravioli. Use a roller to seal them. See photos directions below.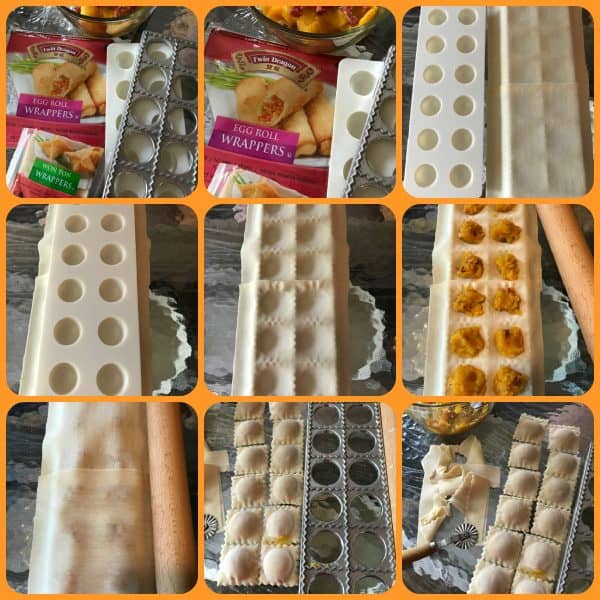 No Ravioli Maker??
Don't have a ravioli maker?? No problem. You can make these delicious ravioli without using a metal ravioli maker or any ravioli maker. Simply lay sheets of egg roll wrappers on floured work surface, place about 1 teaspoon of your filling in the middle of the wrapper, moisten the edges, lay a second egg roll wrapper over the filling and lightly press the edges together to seal. Use a decorative pastry wheel and cut along the edges.
Brown Butter and Sage Sauce
Here is another fast and easy sauce recipe idea. Make a simple Brown Butter and Sage Sauce. Boil ravioli for 2-3 minutes. In medium frying pan, melt one stick of butter over medium high heat. Cook until it becomes golden brown, about 2-3 minutes. Do not let it scorch. Add 6 sage leaves, salt and pepper to taste. Mix for a few seconds. Add cooked ravioli, toss to coat. Serve hot. (Frozen ravioli works great for this recipe:)
Fried Not Baked or Visa Versa
I'm sure you can bake ravioli in the oven, which we didn't do, instead we fried the ravioli in our trusty cast iron, deep sided skillet, which I would strongly advise everyone to think about purchasing for deep frying. Even if you don't fry often, I would recommend one. We deep-fry maybe twice or three times a year and when we do, out comes the cast iron skillet. We purchased our cast iron skillet over ten years ago at St. Vinny's for $5.00.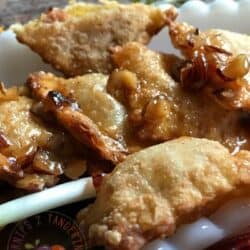 Butternut Squash Ravioli
Butternut Squash Ravioli is easy and delicious!
Ingredients
1

12 oz

box frozen winter squash

2

cups

apple cider

4

tablespoons

butter

1/2

cup

brown sugar

2

tablespoons

bourbon

1

tablespoon

honey

1/2

teaspoon

ground cinnamon

1/4

cup

chopped hazelnuts

1

teaspoon

butter

1

tablespoon

maple syrup

2

tablespoons

dried cranberries, coarsely chopped

1/4

teaspoon

ground cinnamon

salt and pepper to taste

1

package

egg roll wrappers

oil

1

25 oz

jar butternut squash pasta sauce

1/3

cup

fresh grated parmesan cheese
Instructions
Prepare frozen winter squash according to package directions. Set aside.

Meanwhile prepare apple cider sauce: In a medium saucepan combine apple cider, 4 tablespoons butter, brown sugar, bourbon, honey and ground cinnamon. Heat to a boiling over medium heat stirring constantly. Boil gently over medium heat until reduced by half or until thickened and syrupy, 8 to 10 minutes. Stir in chopped hazelnuts. Set aside.

If not making the apple cider bourbon butter sauce, heat your favorite butternut squash pasta sauce according to label directions.

Prepare squash filling: In a large bowl combine cooked squash, 1 teaspoon butter. maple syrup, dried cranberries, ground cinnamon, salt and pepper. Set aside.

Heat oil in large saucepan or deep cast iron skillet to 350 degrees.

Make Ravioli: Lay sheets of egg roll wrappers over lightly floured metal portion of ravioli maker. Take the plastic section and place on top of egg roll wrappers. Lightly press down to form indentations. Remove plastic portion. Fill indentations with 1 or 2 teaspoons of butternut squash filling. Lay egg roll wrappers on top of filling. Using a rolling pin, gently press down and roll rolling pin across the top of the ravioli maker. This will cut out the filled ravioli. Use a pastry cutter if necessary to cut any un-cut sections.

Boil the ravioli in plenty of lightly salted water, until just done. This will only take a few minutes. The ravioli will float on the surface of the water when they have finished cooking. Carefully remove with a slotted spoon and drain.

Serve with Apple Cider Butter Bourbon Sauce or Brown Butter and Sage Sauce or your favorite Butternut Squash Pasta Sauce.
Products used in this recipe are: Bird's Eye Cooked Winter Squash, Dave"s Gourmet Butternut Squash Sauce and Fresh Express Salad Greens, Twin Dragon Asian Egg Roll Wrappers
*Did you make this recipe for ravioli? Did you bake them instead of deep frying? We'd love to hear how they turned out. Let us know how they turned out in the comments section below or Make, Snap, Post on Instagram #lynnturnips Thanks, Lynn