Buffalo Chicken Bites
We may earn money or products from the companies mentioned in this post.
Buffalo Chicken Bites
Welcome Back to Football Friday and the Game Day Recipe. Today's recipe: Buffalo Chicken Bites with Blue Cheese Dressing. Always a hit whenever served. The first time I had anything "buffalo" style was on Christmas, a few years ago. My son Bob had made this delicious dip, which he found on the back of a bottle of Franks Hot Sauce. This recipe is from the fantastic blog Copykat Recipes.
Buffalo Chicken Dip
I'm pretty sure by now everyone has either made this dip, sampled this dip at a party or has heard of this dip. It's been around for a few years now, and it has become a fast family favorite in my house. This recipe comes to you via copycat recipes and is a take on the very popular and delicious Franks Red Hot Buffalo Chicken Dip. Serve with blue cheese dressing and celery sticks.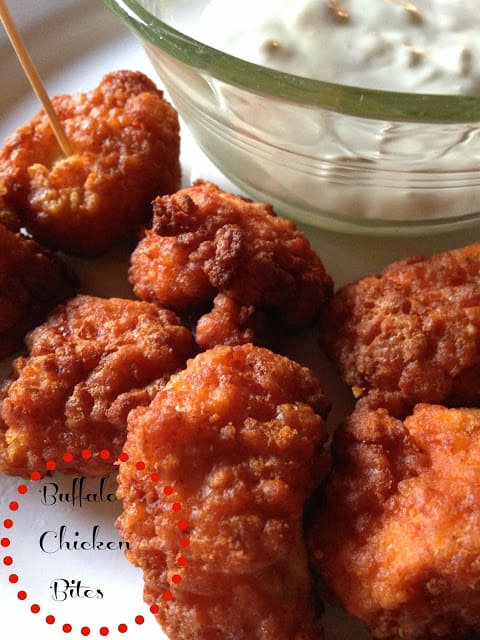 History of Buffalo Wings
Every good sports bar needs three things to be super successful: beer on tap, a big screen TV hanging on a wall and a menu that offers Buffalo wings, or something close to it! Buffalo wings the finger-staining bar food, is roughly 45 years old. The Buffalo wing was invented in 1964. There are at least two different versions of the Buffalo wing's origin, even though both version are very similar.
The first plate of wings were served in a family-owned establishment in Buffalo called the Anchor Bar. The wings were the brainchild of Teressa Bellissimo, who covered them in her own special sauce and served them with a side of blue cheese and celery because that's all she had available. In 1980, Teressa Bellissimo's husband, Frank, told the New Yorker that the wings had been invented out of necessity.
How The Story Goes
The story goes, that the bar had accidentally received a shipment of wings and didn't know what to do with them. His wife Teressa came up with the wing recipe out of necessity. However, Bellissimo's son Dominic, disputed hos father's story. Dominic claimed that the wings were an impromptu midnight snack his mom Teressa created in his request. He had been drinking with friends and asked his mom to whip up something for them to eat.
The stories don't necessarily contradict each other-but maybe Teressa decide to serve her son some left-over chicken wings from the mistaken shipment but since all three family members have since passed away, it's impossible to verify any of the versions. With all this being said, it doesn't seem to matter to the people of Buffalo. The northern New York town has celebrated Chicken Wing Day every July 29 since 1977.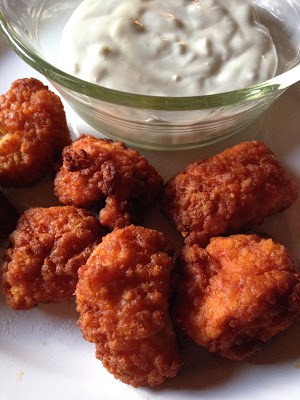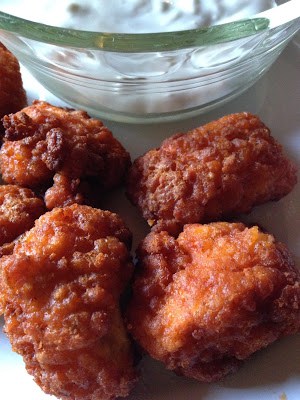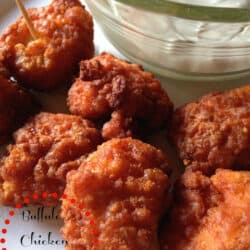 Buffalo Chicken Bites
Ingredients
2 1/4

cups

flour

1

tablespoon

seasoned salt

1/4

teaspoon

celery seed

1/4

cup

cornstarch

1/4

teaspoon

black pepper

1

tablespoon

smokey paprika

1 1/2

teaspoons

chili powder

1

teaspoon

salt

2 1/2

pounds

boneless, skinless, chicken tender, cut into thirds

1

cup

buttermilk

1

egg

1

cup

water

1

cup

hot sauce

2

tablespoons

butter

celery sticks, optional

chunky blue cheese salad dressing, optional

vegetable oil for frying
Instructions
In a small saucepan melt butter. Add hot sauce and stir. Keep warm on low heat.

In a medium bowl, combine flour, seasoned salt, celery seed, cornstarch, pepper, paprika, chili powder, and salt.

In another bowl whisk together buttermilk, egg and water.

Dredge chicken pieces in flour mixture, dip in buttermilk and egg mixture and then dredge the chicken bites again in the seasoned flour. Shake off excess flour and deep fry in hot oil until golden brown. Drain on paper towels.

Drop fried chicken bites into butter/hot sauce mixture, place on serving plate and serve.

Serve with chunky blue cheese salad dressing and celery sticks.
Recent Recipe: Onion and Chive Crescent Rolls
Recipe lightly adapted from: Copy Kat Recipes