Buckwheat Sourdough Pancakes, 70's Cereal
We may earn money or products from the companies mentioned in this post.
Buckwheat Sourdough Pancakes, 70' Cereal 
Buchwheat Sourdough Pancakes are made with buckwheat flour. A relatively new to me flour. I went on a quest to find more information on buckwheat and was pleasantly surprised. Buckwheat grouts and buckwheat in general, is not only good for you, it is packed full of delicious flavor.
Bulk Foods Store
I recently went to The Bulk-Priced Food Shoppe located in Greenville WI. While there, I bought some Buckwheat Flour. I have never used Buckwheat Flour before so I was anxious to make something using Light Buckwheat Flour. The first thing that came to my mind was pancakes. I'm not really sure why. It might be because when I was growing up, I had buckwheat pancakes for the first time at a friends house or maybe it was because my favorite cereal was growing up was called "Buc Wheats"
Pancakes It Is
I decided to make Sourdough Buckwheat Pancakes
with the light buckwheat flour I picked up. I have to admit, they were really delicious. Actually sourdough buckwheat pancakes far exceeded my expectations. We really liked the buckwheat and sourdough flavor combination that the pancakes had. We enjoyed the pancakes with sliced banana's, maple syrup and whipped cream. Delicious!!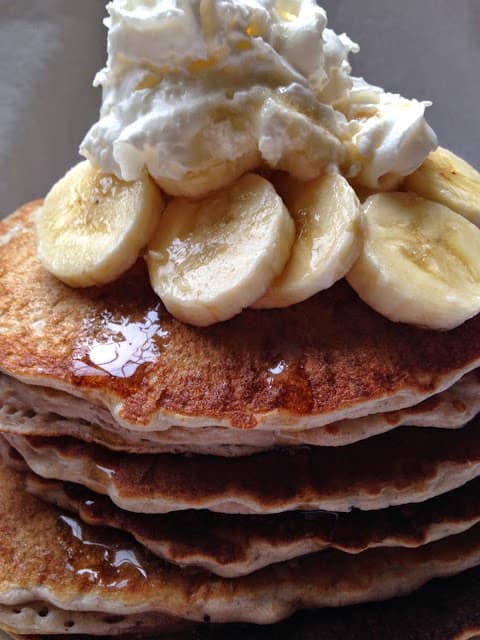 BucWheats Cereal
Buc Wheats was a cereal made by General Mills in the '70's. I'm not sure how much "Buckwheat Flour" or "Buckwheat" was in Buc Wheats Cereal but loved I loved them. On the box of Buc Wheats cereal is claims that they're made "With a Snap of Maple Flavor"  I sure loved that cereal and was so sad to see it go.
Do you Remember?
Do You Remember Buc Wheats Cereal? What was your favorite kind of cereal when you were growing up? Was it: Clackers, Sugar Jets, Kaboom, Cookie Crisp, Waffelos, Quisp, Ice Cream Cone Cereal, Donutz Cereal, Sir Grapefellow, or Crispy Critters Cereal!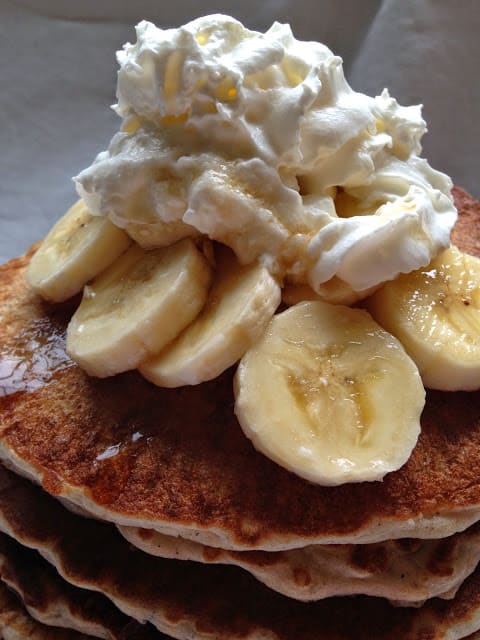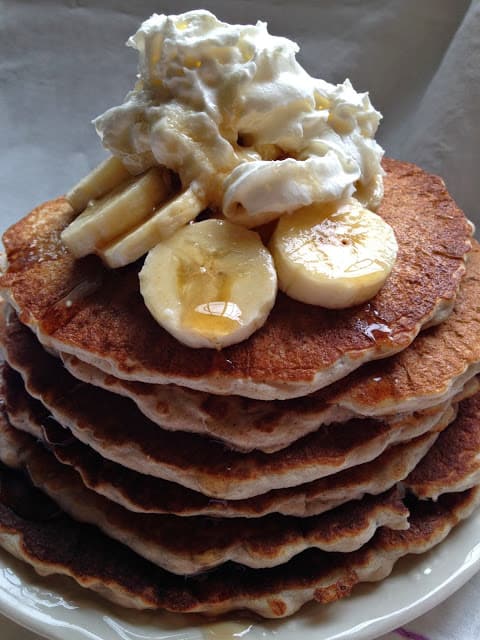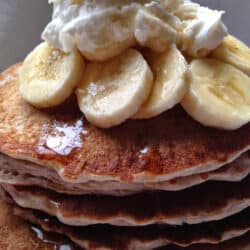 Buckwheat Sourdough Pancakes
Ingredients
1

cup

sourdough starter

1

cup

buckwheat flour

1

cup

milk or buttermilk

1

teaspoon

baking soda

1

tablespoon

warm water

1

egg

pinch

of salt

1

tablespoon

sugar
Instructions
In a large bowl, mix together sourdough starter, buckwheat flour, and milk or buttermilk. Leave on counter top, covered, overnight until bubbly.

To the batter add: baking soda mixed with 1 tablespoon water, egg, pinch of salt and sugar. Stir together. Make pancakes asap after mixing in the baking soda mixture and other ingredients.

Heat griddle until hot, lightly grease.

Pour batter onto hot surface, cook until bubbles appear on the surface and edges of pancakes look dry, flip over and cook until lightly browned.

Serve with sliced fruit of your choice, maple syrup and whipped cream, if desired.
Nutrition
Serving:
1
g
,
Calories:
148
kcal
,
Carbohydrates:
26
g
,
Protein:
6
g
,
Fat:
3
g
,
Saturated Fat:
1
g
,
Cholesterol:
32
mg
,
Sodium:
785
mg
,
Potassium:
180
mg
,
Fiber:
2
g
,
Sugar:
4
g
,
Vitamin A:
105
IU
,
Calcium:
58
mg
,
Iron:
0.9
mg