Buckwheat Blueberry Pancakes
We may earn money or products from the companies mentioned in this post.
Buckwheat Blueberry Pancakes
Serve delicious Buckwheat Pancakes with Blueberry Syrup, Honey Butter and Fresh Fruit. Top your Buckwheat Blueberry Pancakes with this super simple blueberry syrup.
Make a Super Simple Blueberry Syrup
Here's what you'll need: 2 cups fresh blueberries, 1/2 cup sugar or honey, 1 cup plus 2 tablespoons water and 1 tablespoon cornstarch. Here's how you'll make it: Combine 2 tablespoons water with cornstarch in a small dish, set aside. Bring water, sugar or honey and blueberries to a boil in a medium saucepan. Reduce heat and simmer for 10 minutes. Add the water/starch mixture and blend well. The sauce will begin to thicken. Use an immersion blender to make a smooth syrup, adding an additional 1/4 water if sauce becomes too thick.
What is Buckwheat?
A native of Russia, buckwheat is thought of as a cereal, but is actually an herb of the genus Fagopyrum. The triangular seeds of this plant are used to make buckwheat flour. Buckwheat flour has an assertive flavor and is used for pancakes and as an addition to some baked goods. The famous Russian Blini are made with buckwheat flour.
Buckwheat Grouts
Buckwheat grouts are the hulled, crushed kernels, which are usually cooked in a manner similar to rice. Grouts come in coarse, medium and fine grinds. Kasha, which is toasted buckwheat grouts, has a toastier, more nutty flavor.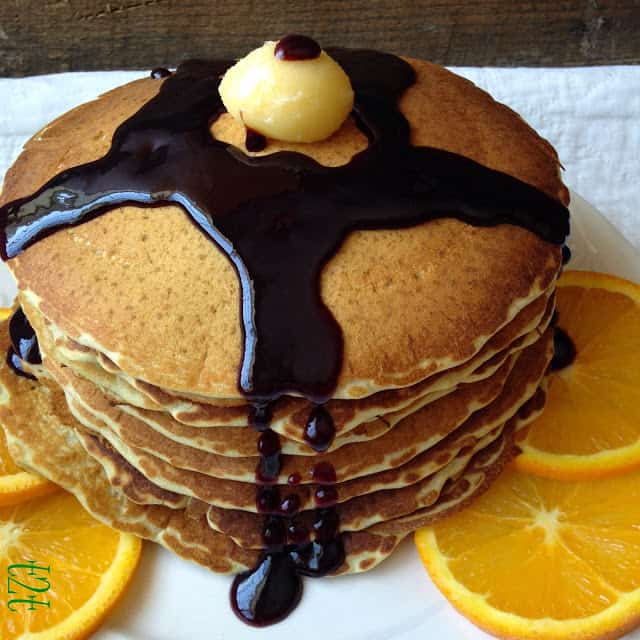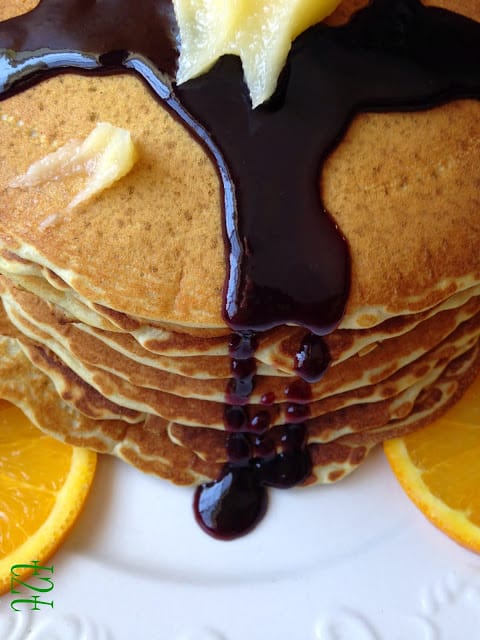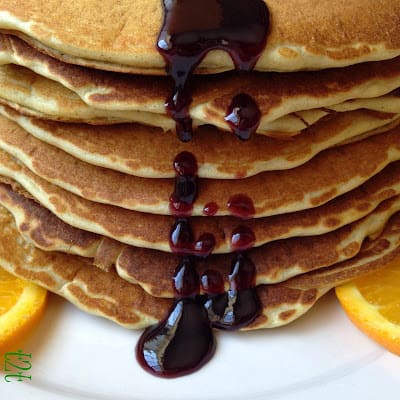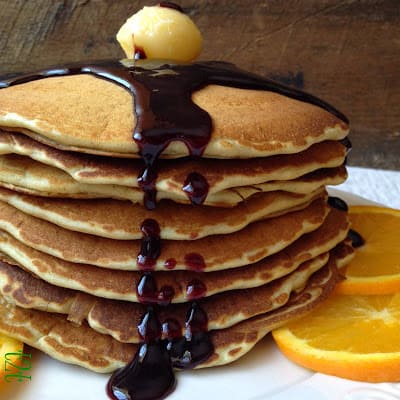 Buckwheat Blueberry Pancakes
Ingredients
1 cup

buckwheat flour

2/3 cups

all-purpose flour

2 teaspoons

baking powder

1 teaspoon 

baking soda

1/8 teaspoon

salt

4 large

egg whites

2 cups

buttermilk or soured milk

4 tablespoons

vegetable oil

2 tablespoons

brown sugar

1 cup

fresh blueberries, optional
Cooking Directions
In a medium size bowl, stir together the buckwheat flour, all-purpose flour, baking powder, baking soda, and salt.
In another medium size bowl, combine the egg whites, buttermilk, oil, and brown sugar.
Add to the flour mixture all at once and stir until combined. Let stand 5 minutes. Gently fold in blueberries if using. Let stand for 10 minutes. Stir before using. *Recipe Note: If you don't want to fold the blueberries into the batter, simply scatter a few fresh blueberries on top of each pancake and flip when surface is covered with bubbles.
Heat a large griddle to 350° Brush surface with a little vegetable oil.
Using about 1/4 to 1/3 cup batter for each pancake, pour the batter onto the griddle.
Cook for 3 minutes or just until the surface is covered with bubbles.
Flip over and cook for 2 minutes more or until brown.
Serve with blueberry syrup and honey butter.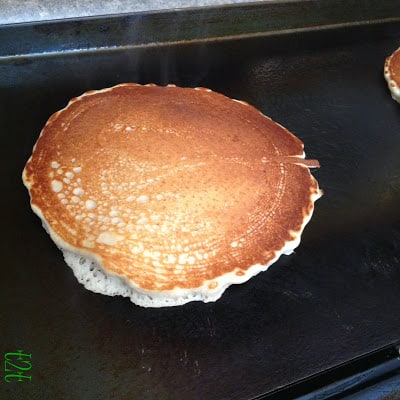 Kitchen Tip~How to make Honey Butter
Makes roughly 1 cup honey butter
3/4 cup room temperature butter
1/4 cup honey
Cream ingredients together.
Store in the refrigerator.
Kitchen Tip~How to Sour Milk
If you don't have buttermilk, mix up some sour milk to use as a substitute.
To make 1 cup soured milk
Add 1 tablespoon lemon juice or vinegar in a 1 cup glass measuring cup.
Add enough milk to measure 1 cup, stir until mixed.
Let the mixture stand for 5 minutes before using.