Brown Sugar Balsamic Glazed Pork Tenderloin
We may earn money or products from the companies mentioned in this post.
Brown Sugar Balsamic Glazed Pork Tenderloin
Hey Everyone, how is the New Year treating you? Sticking to your diet?? Yep, me too. It seems longer than one week that we rang in the New Year and made New Years resolutions. I feel like I've been dieting for one month, not eight days. I'm not really on a diet per say, I'll call it, eating healthier. That not only sounds better but in a sense it's true. Brown Sugar Balsamic Glazed Pork Tenderloin is a great recipe to start with.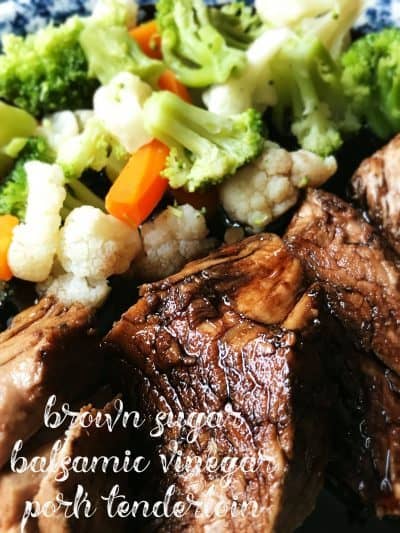 Eating Healthier
Portion control, limiting evening snacks and cutting out sweets is all I really need to concentrate on. Incorporating more vegetables, fruits and proteins in my diet is key also. However, one thing I won't give up is my Diet Coke. I limit myself too two cans a day and I'm not giving that up. Ever. Period. I've given up smoking, drinking and limit my intake of coffee but I'm not giving up my diet coke. So there:)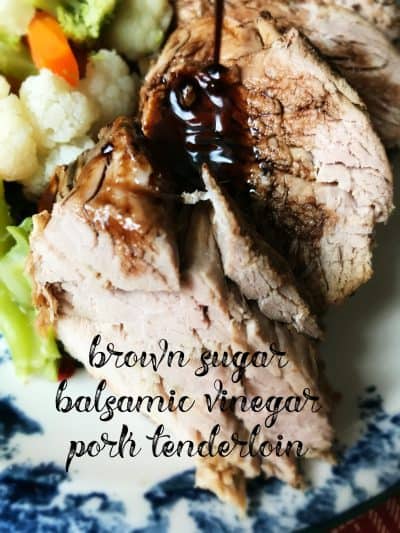 Balsamic Vinegar
This recipe calls for using balsamic vinegar. I love balsamic vinegar and have been using it in recipes for years now. I love the added flavor it gives to meat and vegetables. Especially pork, chicken and mushrooms. But what exactly is balsamic vinegar? Balsamic vinegar is an exquisite vinegar that hails from Italy. It's made in the Modena and Reggio Emilia regions. It's produced from white Trebbiano grapes.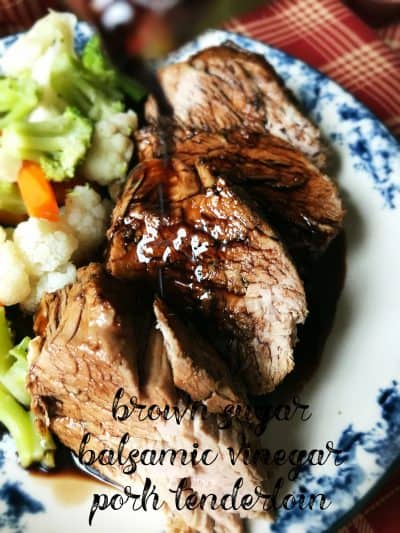 How's It Made?
The 'must' of the Trebbiano grapes are cooked and concentrated until deep, dark and rich. The vinegar continues to gain its dark color and pungent sweetness from a lengthy period of aging in barrels of various woods such as chestnut, juniper and mulberry. The vinegar ages over a period of years. Balsamic vinegar can range in age from young (3 to 5 years), middle age (6 to 12 years), to older versions that can range from 12 to 100 years.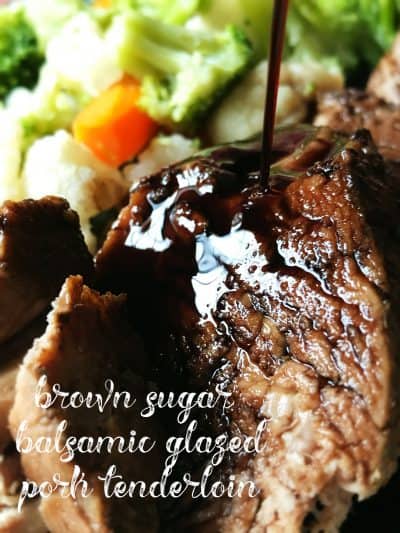 Aging Laws
By law, a vinegar labeled 'Aceto Balsamico Tradizionale di Modena' must have been wood-aged for a minimum of 12 years. The word stravecchio on the label tells you the balsamic's been aged at least 25 years. White Balsamic vinegar also comes from Modena, Italy but is made by an entirely different process than classic balsamic vinegar. White balsamic vinegar is aged 1 year in uncharred barrels, assuring both color and flavor will remain light.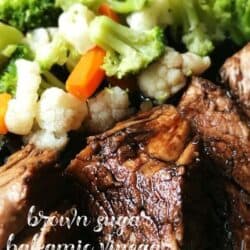 Balsamic Brown Sugar Glazed Pork Tenderloin
A delicious way to make pork tenderloin in the slow cooker.
Ingredients
1/2

tsp 

ground cumin

1/2

tsp 

garlic powder

1/2

tsp 

chili powder

1/2

teaspoon

salt

1/4

teaspoon

pepper

2

tablespoons

brown sugar

1/2

cup 

low sodium chicken broth

2

cloves

garlic, minced

2

lbs 

lean pork tenderloin

1/4

cup 

brown sugar

1

tablespoon

cornstarch

1/4

cup 

balsamic vinegar

2

tbsp 

soy sauce
Instructions
Mix together the seasonings; ground cumin, garlic powder, chili powder, salt, pepper and 2 T brown sugar. Rub over the tenderloin.

Place 1/2 cup chicken broth in slow cooker, followed by the minced garlic and pork tenderloin. Cook on low for 6 to 8 hours.

2 hours before pork tenderloin has finished cooking, whisk together in a small saucepan; brown sugar, cornstarch, balsamic vinegar, soy sauce and 2 T water from slow cooker.

Heat over medium and stir until mixture thickens, about 4 minutes.

Brush tenderloin with glaze every 15 minutes during last 1-1/2 hours of cooking.

Serve with remaining glaze on the side or drizzle over tenderloin before serving.
Balsamic Vinegar used in this recipe:  Antica Aged Balsamic Italian Balsamic Vinegar