Broiled Grapefruit with Honey
We may earn money or products from the companies mentioned in this post.
Broiled Grapefruit with Honey, Vanilla and Cardamom
This recipe for broiled grapefruit with honey, vanilla and cardamom is super delicious. If you have never tried broiled grapefruit before you are in for a real treat when you make this recipe. I really like the flavor of this grapefruit. Honey and vanilla pair together beautifully when drizzled over the grapefruit. Substitute ground cinnamon for the cardamom if you like. I just so happened to have cardamom on hand, leftover from my holiday baking.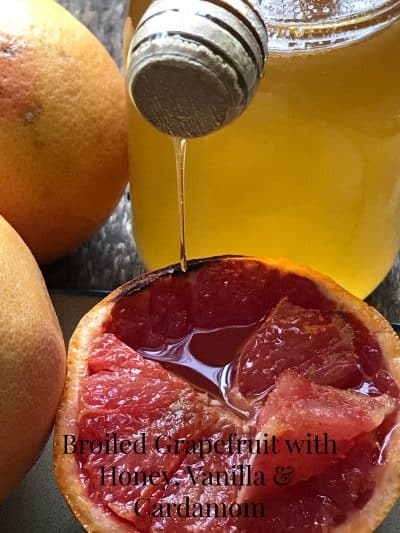 Under the Broiler
It doesn't take long under the broiler for grapefruit to get good and delicious. Broiling grapefruit brings out more juice, in my humble culinary opinion, and the grapefruits natural sweetness seems to shine through. Even without the addition of honey or sugar, grapefruit benefits from its stay under the broiler. The grapefruit we used for this recipe are of the ruby red variety. Broiled Cinnamon-Honey Grapefruit is a delicious recipe also.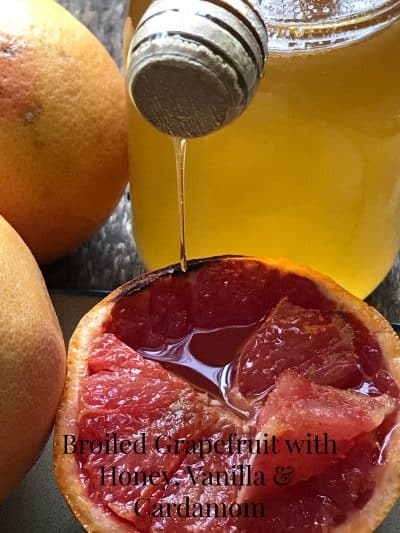 Grapefruit Facts
This tropical citrus fruit grows in great abundance in Arizona, California, Florida and Texas. Its name comes from the fact that the grapefruit grows in grape-like clusters. There are two main categories of grapefruit, seeded and seedless. Grapefruit are also broken into color classifications. White, which has a yellowish-white flesh and pink. The flesh of pink grapefruit can range from yellow-pink to brilliant ruby red.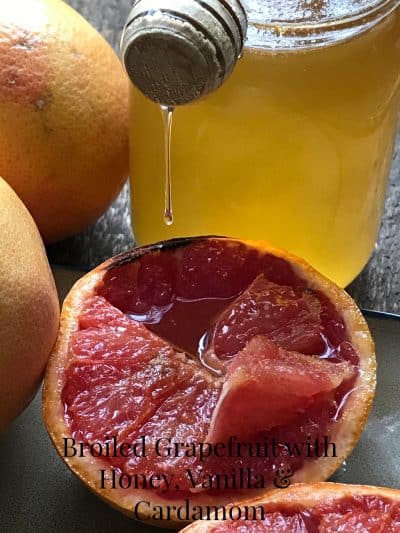 Pink Grapefruit
Pink grapefruit has a higher amount of vitamin A than the white variety. The skins of all grapefruit are yellow with a pink blush. Fresh grapefruit are available year-round. Those from Arizona and California are available from January through August; Florida and Texas grapefruit are available around October and last through June. I prefer the ruby red grapefruit, for no particular reason except I like the color and I do think they're sweeter.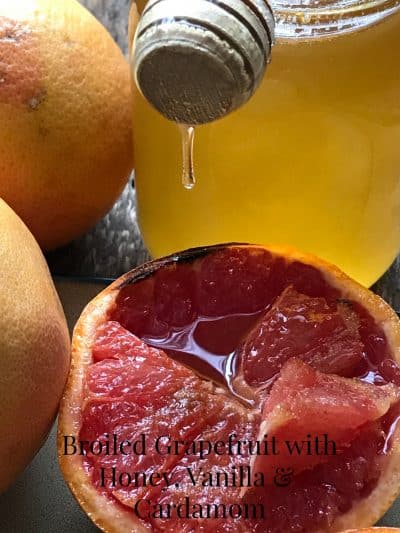 Grapefruit Knife
A grapefruit knife comes in handy when cutting grapefruit into sections. A grapefruit knife is a a small knife with a curved, flexible blade that is serrated on both sides. It's used to free grapefruit flesh from both rind and membrane. Another utensil that comes in handy when serving grapefruit is a grapefruit spoon or fruit spoon.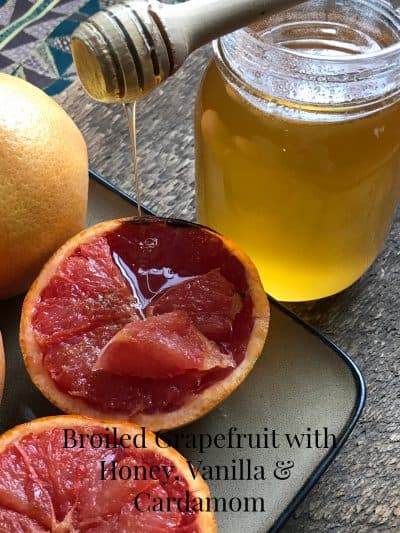 Grapefruit/Fruit Spoon
A grapefruit spoon is similar in design to a teaspoon but tapers to a sharp edge or teeth. The  purpose of the front serration is to separate the flesh of a grapefruit from its rind. Also called an orange spoon, citrus spoon and fruit spoon. It can also be used for other citrus fruits as well a kiwifruit and melons but not to be confused with the ever popular melon baller.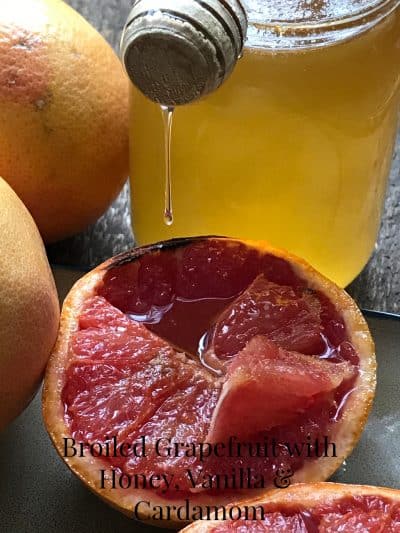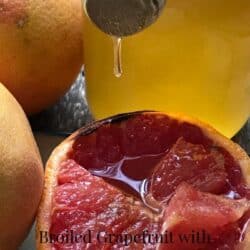 Broiled Grapefruit with Honey, Vanilla and Cardamom
A delicious recipe to start your day.
Ingredients
2

large grapefruit

2

Tbs.

honey

1

tsp.

pure vanilla extract

pinch

of ground cardamom or cinnamon
Instructions
Position oven rack about 4 inches below the broiler and heat the broiler on high. With a serrated knife, cut the grapefruit in even halves. Using a small paring knife or a grapefruit knife, cut each section away from the surrounding membrane. Set the grapefruit halves in a shallow, heat proof baking dish.In a small bowl, stir together the honey and the vanilla extract. Drizzle the honey mixture over the grapefruit halves. Dust each with a bit of cardamom. Broil until bubbling and lightly browned in spots, 4 to 6 minutes. Remove from the oven and let cool slightly. Serve warm.