Broiled Cinnamon-Honey Grapefruit
We may earn money or products from the companies mentioned in this post.
Broiled Cinnamon-Honey Grapefruit
Cinnamon-honey grapefruit served alongside a piece of buttered toast is a sure-fire way to start day off your busy or not-so-busy day. A simple yet satisfying breakfast. Honey adds the perfect sweetness to grapefruit. If you have never tried warm grapefruit with honey and cinnamon you don't know what you're missing. You'll fall in love with grapefruit all over again. Here is another recipe for broiled grapefruit you will love; Broiled Grapefruit with Honey, Vanilla and Cardamom.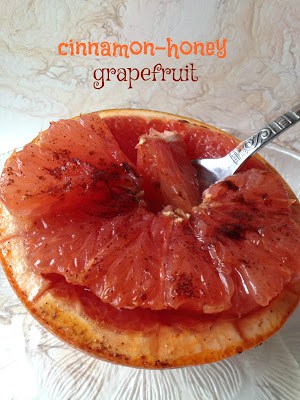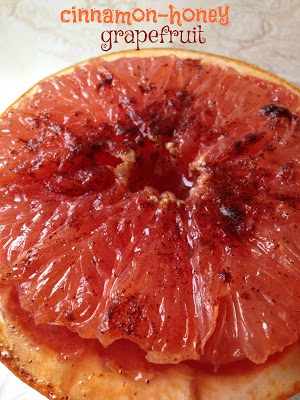 Not Aggie's
When I was growing up, grapefruit appeared often on our breakfast table. My mom Aggie would cut the grapefruit in half, cut around the inside, section the grapefruit and breakfast was served. As per usual with Aggie, it wasn't difficult and it was fast. I imagine that we ate grapefruit during the winter months when grapefruit would most likely have been in season and on sale. Aggie was notorious for this. Whatever was in season we pretty much had for a meal. If apples were in season, we had baked apples for dinner, corn on the cob in season, we had corn for supper, (complete with our own stick of butter and salt shaker) acorn squash in season we'd have, you guessed it, acorn squash.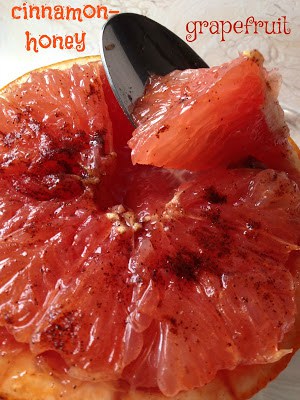 Broiled So Good
I can't say that I really liked grapefruit back then but  I did like all the sugar we dumped on the top. I also enjoyed scraping my spoon down the inside of the grapefruit to make a sugary, sweet juice with pulp.  Now I enjoy a honey sweetened grapefruit with just a hint of cinnamon. Gone are the days of the over sugared grapefruit halve. Did I mention this grapefruit is also broiled? Yes sirree. When you broil grapefruit it adds an extra layer of sweetness and warm grapefruit drizzled with honey with a sprinkle of ground cinnamon ontop well, it just tastes good.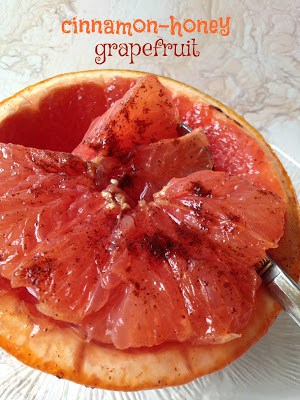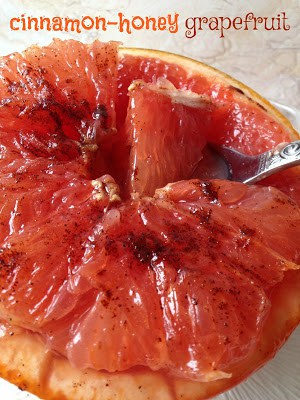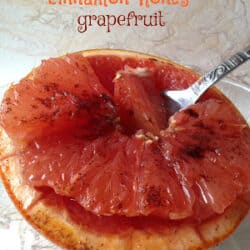 Cinnamon-Honey Grapefruit
Super easy and yummy breakfast option.
Ingredients
1

grapefruit, halved

2

teaspoons

honey

dash of cinnamon
Instructions
Place grapefruit halves, cut side up, in an oven-proof baking dish.

Loosen grapefruit sections. Drizzle each half with 1 teaspoon honey.

Sprinkle with cinnamon.

Broil 2 to 3 minutes or until bubbly.

Serve warm.
Nutrition
Serving:
1
g
,
Calories:
146
kcal
,
Carbohydrates:
38
g
,
Protein:
2
g
,
Fat:
1
g
,
Saturated Fat:
1
g
,
Sodium:
1
mg
,
Potassium:
332
mg
,
Fiber:
4
g
,
Sugar:
28
g
,
Vitamin A:
2829
IU
,
Vitamin C:
77
mg
,
Calcium:
54
mg
,
Iron:
1
mg