Broccoli Bacon Cherry Salad
We may earn money or products from the companies mentioned in this post.
Broccoli Bacon Cherry Salad
Broccoli Bacon Cherry Salad is one of our favorite salads. The perfect anytime salad. Doesn't it look good! I'm not positive but I think I got this recipe from my sister Mary, way back in the early 90's. This isn't the exact recipe Mary gave to me many moons ago. I have tweaked it a little and the result is this version of her salad. The addition of red onion, dried cherries and sunflower seeds are my tweaks. The end result is super delicious.
The Original
The original recipe for broccoli bacon cherry salad was made with fresh broccoli and cauliflower, bacon and cheddar cheese. We took out the cauliflower (dental issues) and doubled the broccoli, added sunflower seeds and dried cherries. We also added red wine vinegar which wasn't in the original either. The end result is this super salad that everyone loves. Over the years I've moved over to the Hellman's Mayonnaise side of the fence vs Miracle Whip. It just tastes better.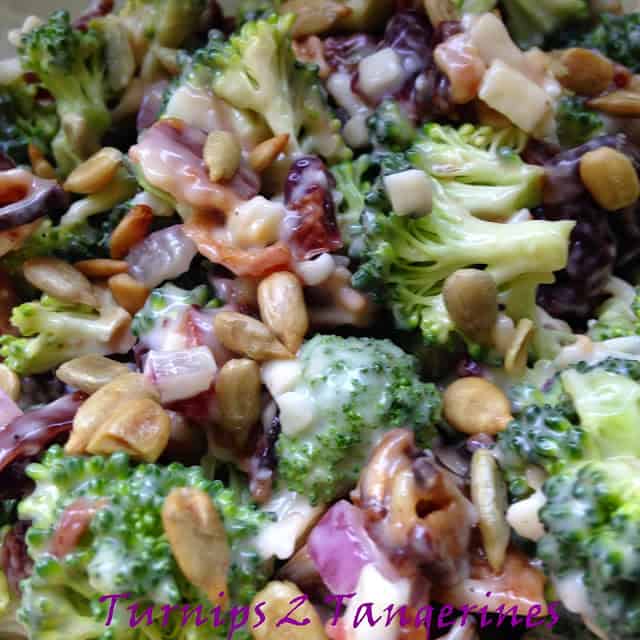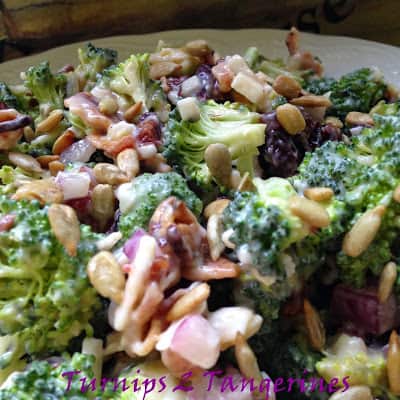 The Dressing 
The dressing for this salad is super easy and super good. This simple dressing could be used as a dressing for pasta salad or even potato salad. If your going to use it as a dressing for potato salad and a tablespoon of Dijon mustard. It's made with Hellman's Mayonnaise, white sugar, red wine vinegar, (purchase a good one) salt and pepper. The end result is a slightly sweet, slightly tart dressing, just the way we like it!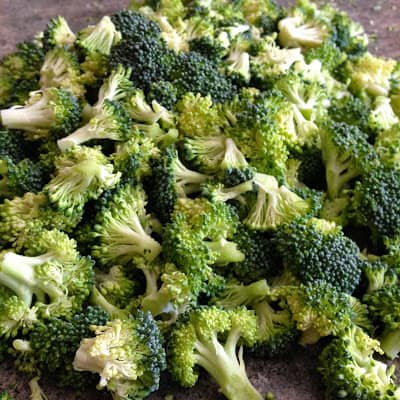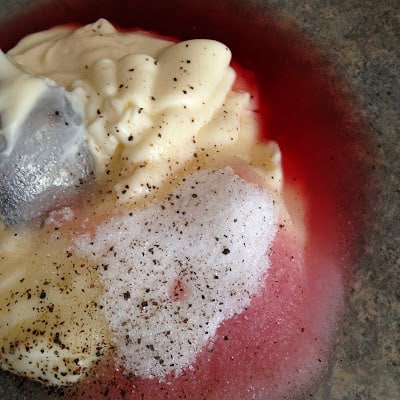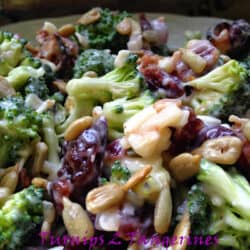 Broccoli Bacon Cherry Salad
A family favorite for years!
Ingredients
5

cups

broccoli florets, cut into 1/2 inch pieces

1/2

cup

chopped red onion

1

cup

shredded sharp cheddar cheese, white

1

cup

cooked and crumbled bacon

1/2

cup

sunflower seeds

3/4

cup

dried cherries, coarsely chopped

1

cup

miracle whip or mayonnaise

1/4

cup

sugar

2

tablespoons

red wine vinegar

1/2

teaspoon

salt

1/4

teaspoon

pepper
Instructions
Combine all salad ingredients in a large mixing bowl; mix well. Combine dressing ingredients in a small mixing bowl. Mix until thoroughly combined using a fork or wire whisk. Add dressing to salad and mix well. Refrigerate 1 hour.
Recipe Notes:
Surprise Carrot Cake is a super delicious carrot cake made in a bundt pan. What sets this recipe apart from other carrot cake recipes, is the cream cheese center. Yes, ladies and gents, this carrot cake has a cream cheese filling running through it. This recipe for Broccoli Bacon Cherry Salad is made with  Hellman's Real Mayonnaise.