Blueberry Peach Crisp
We may earn money or products from the companies mentioned in this post.
Blueberry Peach Crisp
Last summer when I put bags of fresh whole blueberries and sliced sweet peaches in my freezer, I definitely had this recipe in mind. I knew I would make this wonderful dessert on a cold, snowy day! Well today is the day. It's a balmy -6 here in the Northwoods of Wisconsin. With a light breeze coming down from our Northern Canadian neighbors, thus making it feel like a very chilly -25 below zero. Ouch! Today I'm going to make me some blueberry peach crisp and enjoy a spoonful of summer!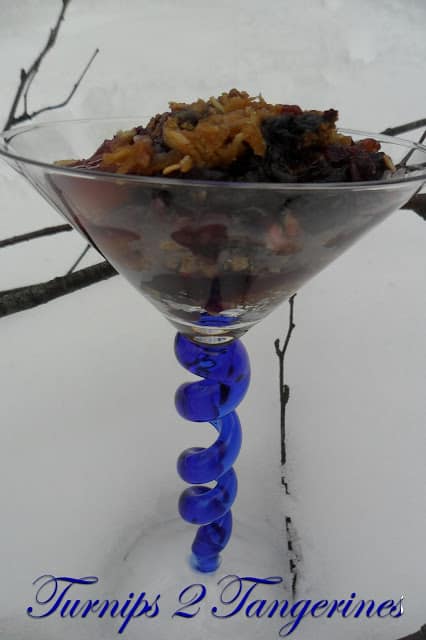 Add Some…
To make this dessert extra special, add a scoop of vanilla ice cream or a dollop of whipped cream. Making blueberry peach crisp for your significant other?? Serve this yummy crisp in a decorative martini glass. We went with a set of glasses that I bought on one of my many thrift store expeditions. I paid $2.00 for 4 glasses. You might be able to tell from the photos that these glasses are really quite gorgeous in 'person.'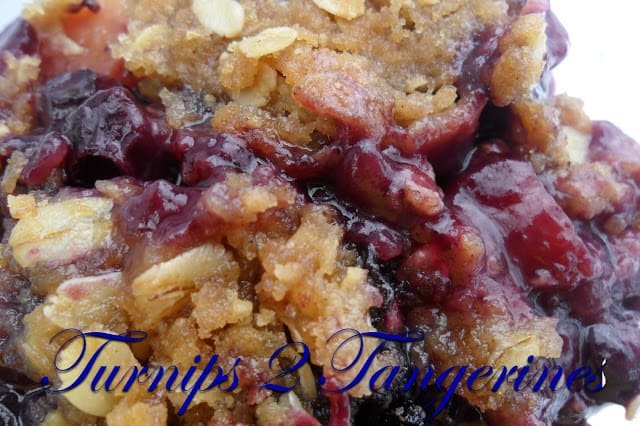 An Afternoon Outside
After a long afternoon on the lake ice fishing, make this recipe for to fry up your 'catch of the day' Pan Fried Perch   and fry up your 'catch of the day.' For dessert serve Blueberry Peach Crisp. When summer fruit is in season, you can't beat this fast and easy crisp using fresh picked fruit. But during the long cold months of winter, fresh picked summer 'frozen' fruit will do just fine. Don't forget the ice cream!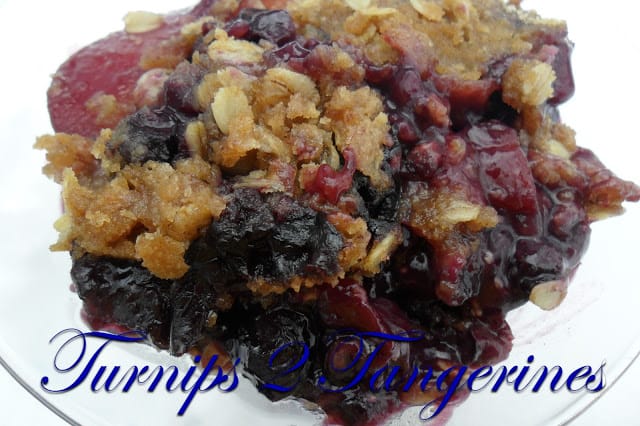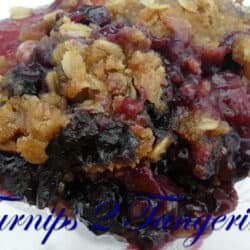 Blueberry Peach Crisp
Make this delicious crisp when fresh fruit is in season or make frozen fruit. Another option, when fresh fruit is in season freeze it and make this dessert on a cold, snowy day.
Ingredients
3

tablespoons 

flour

2

tablespoons 

sugar

3

cups

blueberries, fresh or frozen

3

cups

sliced peaches, fresh or frozen

1/2

teaspoon

almond extract

1/4

cup

lemon juice

1

cup

packed brown sugar

1

cup

flour

1

cup

rolled oats

1

teaspoon

cinnamon

1/4

teaspoon 

salt

1/2

cup

cold butter, cubed
Instructions
In a large bowl stir together;  3 tablespoons flour and 2 tablespoons sugar. Add the blueberries, peaches, almond extract and lemon juice; toss gently to combine. Spread berry mixture evenly in a 2 quart rectangular baking dish; set aside.

For topping: combine the brown sugar, flour, oats, cinnamon, and salt. Using a pastry blender, cut in butter until mixture resembles coarse crumbs. Sprinkle topping evenly over berry/peach mixture. Bake at 375º for 35 to 45 minutes or until topping is golden brown and edges are bubbly. Serve warm with ice cream or whipped topping.