Blueberry Pancake Fritters
We may earn money or products from the companies mentioned in this post.
Blueberry Pancake Fritters
Blueberry Pancake Fritters are great for kids of any age.  Even adults will like these doughnut-style fritters. Made with blueberry buttermilk complete pancake mix and water, they couldn't get any easier. After allowing the mixed batter to sit for 10 minutes, the batter is dropped into hot oil using a small ice cream scoop or cookie dough scoop. The blueberry pancake dough fritters are deep-fried until crisp. After the fritters are removed from the oil, they are rolled in a mixture of cinnamon-sugar while warm.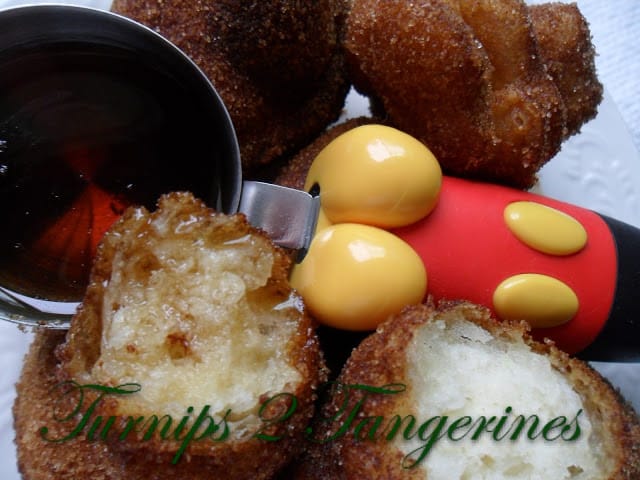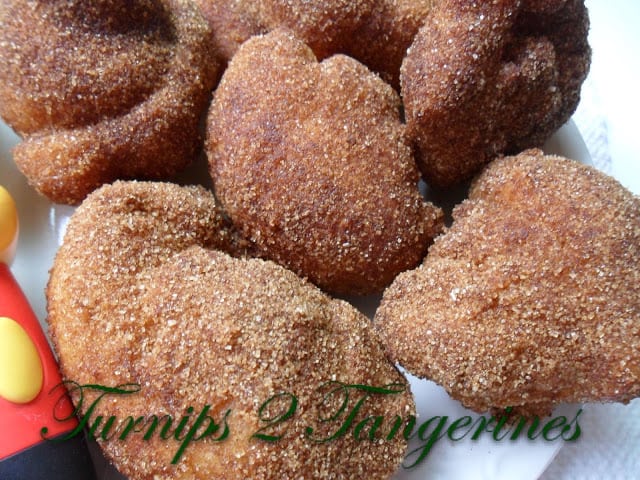 Doughnut Holes
Blueberry fritters are very similar to doughnut holes. Light and tender on the inside and crispy, crunchy on the outside. We rolled the warm fritters in cinnamon-sugar but you can also roll them in powdered sugar or in a vanilla glaze. My grandson insisted on dunking his fritters into maple syrup. He said it was was super good. I think he might be on to something here!
Fritters or Doughnuts
A fritter is a small, sweet or savory, deep-fried cake. Made either by combining chopped food with a thick batter or by dipping pieces of food into a similar batter. Some of the more popular foods used for fritters are apples, corn and crab. Doughnut; a small, typically ring-shaped pastry that is usually leavened with yeast or baking powder. Doughnuts can be baked but are generally fried in hot oil.
The traditional doughnut shape is formed by using a special doughnut cutter that cuts out the center hole in the dough. Fried doughnut holes are favorites with children and adults alike. There is a small grocery store in Crandon Wisconsin called Schaefers IGA This small grocery store in the north woods of Wisconsin has the very best doughnuts and doughnut holes I have ever eaten. (and I've eaten my fair share of both) If you ever get a chance to stop at Schaefer's in Crandon WI, stop in and grab a doughnut!!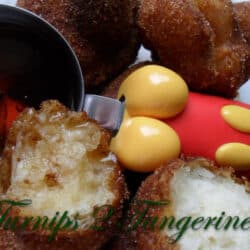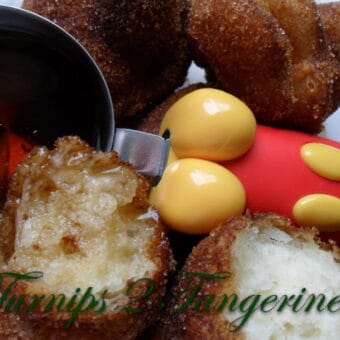 Blueberry Pancake Fritters 
Children and adults alike will love these easy blueberry fritters made super easy with a blueberry flavored buttermilk-pancake mix.
Ingredients
2

cups

blueberry buttermilk complete pancake mix

1

cup

water

4

cups

oil for frying

1/2

cup

sugar

2

teaspoons

ground cinnamon

maple syrup
Equipment
Cast Iron Dutch Oven

Deep Fryer
Instructions
Preheat oil to 350º in a deep fryer or large deep skillet.

Stir together sugar and cinnamon, set aside.

Stir together pancake mix and water, Set aside for 10 minutes.

Use a small ice cream scoop to drop batter into hot oil.

Fry for 2 to 4 minutes or until golden brown.

Remove from oil with large slotted spoon.

Drain on paper towels for about 30 seconds.

Roll in cinnamon sugar mixture. Serve with warm maple syrup.
Nutrition
Serving:
1
g
,
Calories:
286
kcal
,
Carbohydrates:
30
g
,
Protein:
3
g
,
Fat:
18
g
,
Saturated Fat:
13
g
,
Cholesterol:
31
mg
,
Sodium:
221
mg
,
Potassium:
86
mg
,
Fiber:
1
g
,
Sugar:
17
g
,
Vitamin A:
110
IU
,
Vitamin C:
0.2
mg
,
Calcium:
100
mg
,
Iron:
0.6
mg
Recent Recipe: Cherry Almond Twist with Almond Glaze
Make Some Fritters
Clam Fritters with Spicy Cocktail Sauce is another fantastic 'fritter' recipe. For this recipe we used Aunt Jemima Blueberry Complete Pancake Mix. You can substitute plain pancake mix for the blueberry pancake mix. Use a plain buttermilk complete pancake mix and add a handful of mini chocolate chips.