Blueberry Cake Studded with Candy
We may earn money or products from the companies mentioned in this post.
Blueberry Cake Studded with Candy
A Beautiful Blue-Berry Cake. This blueberry cake looks so impressive yet it's so simple and easy to make. Made with a boxed white cake mix, a can of blueberry pie filling, a can of vanilla frosting and the star of this cake…..multi-colored nonpareils candies. You will wow your guests with this cake! They'll never know how easy it was to make, unless you tell them.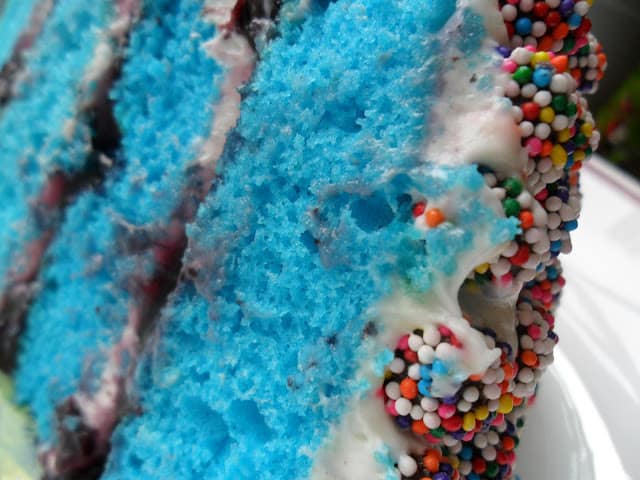 Tinted Blue
For this recipe we tinted the white cake mix blue with a blue gel food coloring from AmeriColor The Worlds Finest Food Color. I started using Americolor food coloring gel a few years ago and I have to admit it's the best coloring gel I've ever used. This isn't a plug or anything, I just like it and thought you'd like to try it too. It seems to me that with gel food coloring, you don't need as much either. So give it a try and see what you think!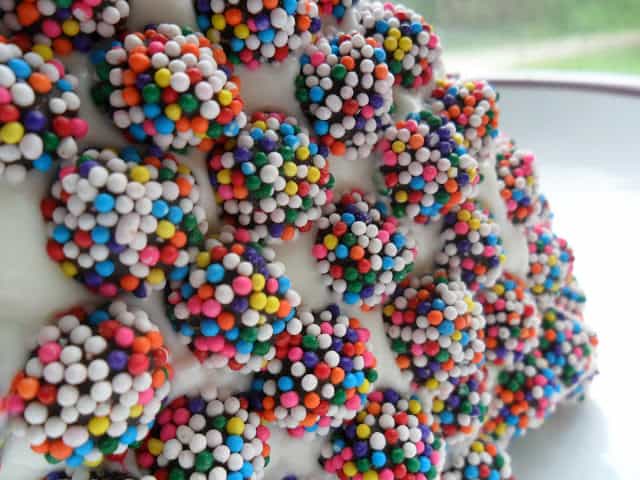 Make From Scratch
This recipe is made with several convenient products, such as a boxed cake mix, canned frosting and canned blueberry pie filling. You can certainly make this whole ensemble from scratch. Make your favorite vanilla or white from scratch cake, make a vanilla buttercream frosting and if you have homemade blueberry pie filling laying around, by all means use it! Better still, take a picture of your creation, send it to me and I'll post it here!
Why Nonpareils?
You might be wondering why I decided to use nonpareils to decorate this cake. The answer is a simple one. My husband loves nonpareils and since he is my primary taste tester….you get the point! I have to confess, I have made this cake once before. The first time I made a chocolate cake with white frosting and Sno Cap nonpareils. The cake was delicious but it was very lackluster. I decided to make this cake again after I found these pastel colored sno-cap nonpareils at Sweet Memories Candy Shoppe.
Nonpareils
Nonpareils are dark chocolate discs that are sprinkled with small, white candy balls. The name actually refers to the small candy balls and is from the French word for "without equal." Sno Caps are a smaller version of the larger discs. Nonpareils are a decorative confection in the shape of tiny balls made with sugar and starch. Traditionally white but are now available in many colors. Nonpareils were often used by bakers to decorate wedding cakes in the early 1900's through the 1960's.
Recent Recipe: Taco Soup and How to Roast Peppers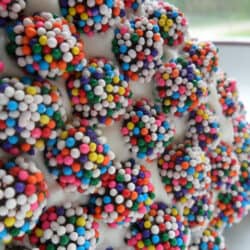 Blueberry Cake Studded with Candy
A delicious cake that is fast and easy to make.
Ingredients
1

18 oz package

classic white cake mix

1 1/4

cups

water

1/3

cup

vegetable oil

4

egg whites

4-6

drops

blue gel food coloring

1

21 oz can

blueberry pie filling

2

16 oz cans

classic vanilla frosting

multi-colored nonpareils candy

,

 
Instructions
Preheat oven to 350º Lightly spray bottom and sides of three 8-inch round baking pans with non-stick cooking spray. Set aside.

Mix cake mix, water, oil and egg whites in a large bowl until moistened. Beat with mixer on low speed for 2 minutes, beat on medium speed 2 minutes longer. Stir in blue gel food coloring, 2 to 4 drops. Divide batter between prepared pans. Tap pans on counter top to remove air bubbles.

Bake at 350 for 15 to 20 minutes. Cake is done when a toothpick inserted in middle comes out clean. Remove from oven. Cool in pans 5 minutes. Carefully remove cake(s) from pans and cool completely on wire racks.

With serrated knife, cut off uneven tops from cakes. Place one cake round on cake pedestal.

Lightly frost top of cake, with slotted spoon, spoon blueberry pie filling on frosting. Place second cake layer on top of first layer, frost, with slotted spoon, spoon blueberry pie filling on frosting layer.

*Tip: you might need to insert wooden skewers into cake to keep the cake layers stable. Lightly frost top and sides of cake. Set frosting aside.

Refrigerate cake until frosting is set. Remove from refrigerate and finish frosting top and sides of cake. Start adding multi-colored non-pareils to top of cake, until top of cake is covered in candies. Repeat adding candies to sides of cake. Keep cake in refrigerator until ready to serve.