Blueberry Banana Sourdough Scones
We may earn money or products from the companies mentioned in this post.
Blueberry Banana Sourdough Scones with Lemon Glaze
Blueberry Banana Sourdough Scones with Lemon Glaze are delicious. Made with sourdough starter, mashed bananas and fresh blueberries. The scones are topped with almonds and a lemon glaze. There are a lot of flavors in these scones but that's what makes them so delicious. Fresh blueberries add freshness. The sourdough starter adds that slight tang all sourdough lovers love.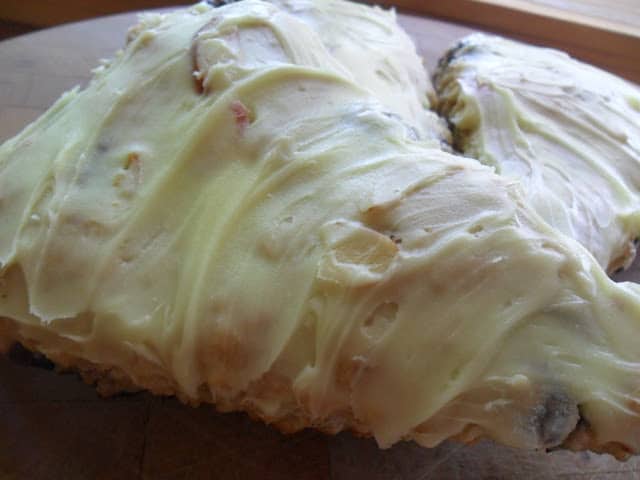 Lemon Glaze and Almonds
A light, lemony glaze tops these already delightful scones. With just a hint of sweetness and tangy flavor from the sourdough. The sliced almonds add a slight crunch and the almonds look nice sitting on top of the scones. Blueberry Banana Sourdough Scones with Lemon Glaze are super delicious with tons of flavor.
UP NEXT: Best Teas for Detoxing Your Body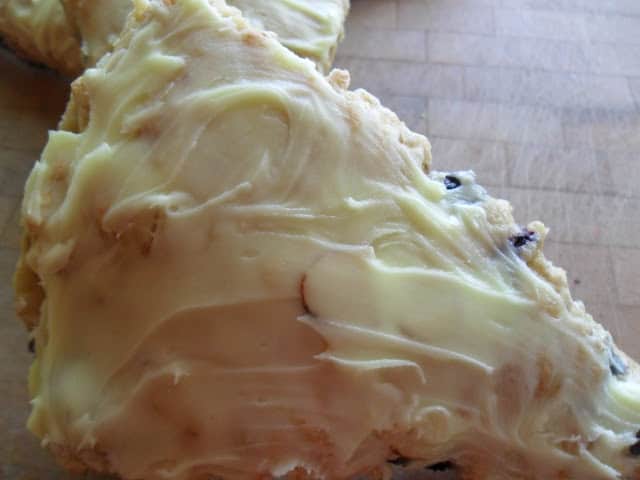 Scones
Scones are super simple to make and can be made in just about any flavor combinations. My favorite ways to make scones is with fresh or dried fruit. Even though I have been experimenting with the savory scone versions also. Savory scones are super with stew and/or stews. They can also be used in place of a roll or bun in sandwiches. With so many different ways to make scones, you could make a different scone for every day of the year!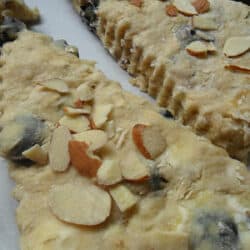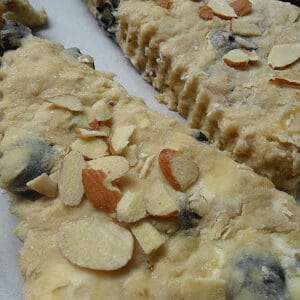 Blueberry Banana Sourdough Scones with Lemon Glaze
A light and lemony blueberry sourdough scone.
Ingredients
2 1/2

cups

flour

1/2

cup

rolled oats

3

teaspoons 

baking powder

1/4

teaspoon

salt

1/3

cup

butter, cold and cubed

1

cup

fresh blueberries, rinsed and patted dry

1

cup

mashed bananas

1/3

cup

packed brown sugar

3/4

cup

sourdough starter

1

egg

sliced almonds, for the top of scones

Lemon Glaze

1 1/2

cups

confectioners' sugar

2

teaspoons

fresh lemon juice

1/2

teaspoon

lemon zest

1/2

teaspoon

vanilla extract

1 to 2

tablespoons

milk
Instructions
Preheat oven to 375 degrees.

Combine flour, oats, baking powder, and salt. Cut in butter until mixture resembles coarse crumbs. Stir in blueberries, toss to coat.

In a medium bowl stir together, bananas, brown sugar, sourdough and egg.

Stir banana mixture into dry ingredients until moistened. Turn dough onto well floured surface.

Knead 5 to 10 times (dough will be very sticky) Pat into a 12 inch circle. Cut into 10 to 12 scones. Transfer scones to a baking sheet lined with parchment paper. Place a few sliced almonds on top of each scone, press down lightly,

Bake at 375 degrees for 12 to 15 minutes or until golden brown. Remove scones from oven, transfer to wire racks, cool slightly.

Make Lemon Glaze: Whisk together confectioners' sugar, lemon juice, lemon zest and vanilla extract. Whisk in enough milk to reach desired drizzle consistency.

Drizzle scones with Lemon Glaze.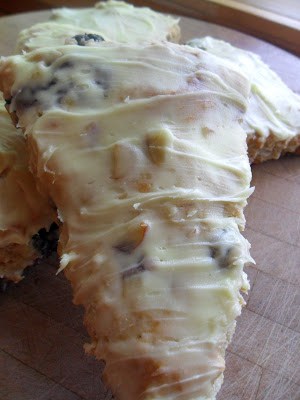 Recipe Note:
This recipe is slightly adapted from the wonderful blog 
Life on Cloake Hill. 
I found this blog in my quest to find a scone that used sourdough and blueberries in the recipe. While there, I was amazed at the amount of scone recipes I found  on their blog. Many, if not all of them, were definitely worth trying. Stop by Life on Cloake Hill and check it out. Tell them Lynn sent you:)