Blood Orange Upside Down Cake
We may earn money or products from the companies mentioned in this post.
Blood Orange Upside Down Cake
Recently while I was grocery shopping, in the produce department, I saw a huge white sign. Written in big, red-orange letters were the words:
BLOOD ORANGES, Get them before they're Gone! Well, I marched right over to the big cardboard bin and I picked up two 5 lb bags of blood oranges before they were all gone. I also picked up five, 16 oz bags of cranberries, for $.99 a bag before they too were gone.
Now What?
Once I got home and unpacked my groceries, I said to myself, "Lynn, What in the heck are you going to do with all of these oranges!" "I mean, you can only eat just so many oranges, right?" I decided to put on my thinking cap, I thought and I thought. Finally, a light bulb went on in my head, "I'm going to make a Blood Orange Upside Down Cake," I said out loud to myself.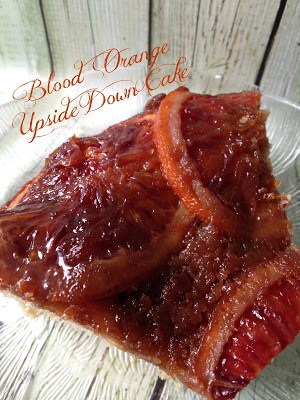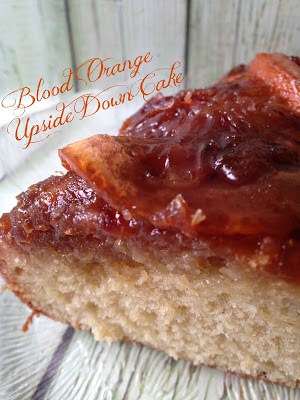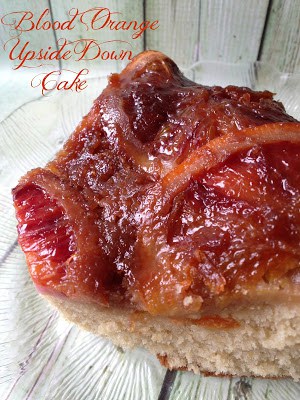 Upside Down Cake
I am so glad I decided to make this delicious Blood Orange Upside Down Cake. This cake is light and fluffy, the oranges were nice and sweet and the dark brown sugar/butter topping had a nice caramel, buttery taste. I was super surprised at how tender and sweet the blood orange rind became. It was very similar to 'candied' orange rind sweet, tender and bursting with a refreshing, citrus flavor.
Boxed Mix
Blood Orange Upside Down Cake is perfect on a blistery, cold, winters day. Really any upside down cake is perfect on a blistery, cold winters day! I was going to make a 'from scratch cake' but many of the recipes I looked at called for cornmeal, which I didn't have, some of the recipes called for buttermilk, didn't have any of that either and a few of the recipes called for sour cream or yogurt, it was a 'no' to both. What I did have was a box of cake mix. I went with the boxed cake mix.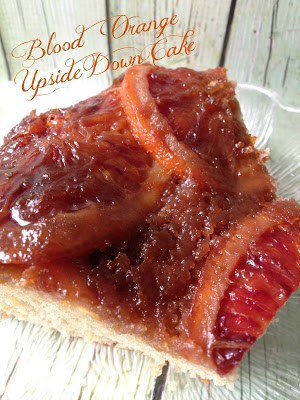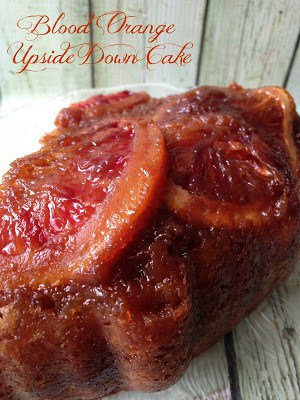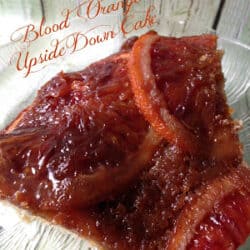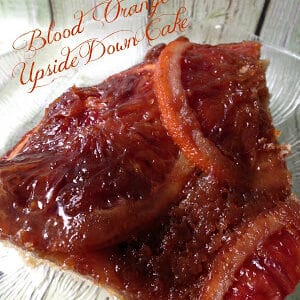 Blood Orange Upside Down Cake
Delicious, tart and sweet.
Ingredients
1

15.25 oz box

butter golden cake mix

3/4

cup

blood orange juice

7

tablespoons

softened butter

3

large

eggs

1

teaspoon

blood orange zest

Upside Down Topping:

1/4

cup

butter

1/3

cup

dark brown sugar

2

tablespoons

blood orange juice

1

teaspoon

blood orange zest

2 to 3

thinly sliced blood oranges
Instructions
Preheat oven to 350º F. for metal and glass pan(s) 325º F. for dark or coated pan(s).

Making topping: Melt 1/4 cup butter in a 10-inch x 2-inch deep round baking pan. Remove pan from oven, sprinkle dark brown sugar over butter. Drizzle 2 tablespoons blood orange juice over brown sugar/ butter mixture. Lay blood orange slice on top of brown sugar/butter/ juice mixture. Sprinkle 1 teaspoon blood orange zest over blood orange slices, set aside.

Make cake: blend cake mix, blood orange juice, softened butter and eggs in a large bowl at low speed until moistened, about 30 seconds.

Beat at medium for 4 minutes. Stir in 1 teaspoon orange zest.

Carefully pour the batter into prepared pan, over the orange slices.

Evenly spread the batter over the top.

Bake for 45 minutes.

Remove from oven and let the cake rest for 5 minutes in the pan. Run a knife around the edges. Invert onto a cooling rack and tap lightly to release cake.

Serve cake warm with whipped cream.

Store cake in refrigerator.
Nutrition
Serving:
1
g
,
Calories:
219
kcal
,
Carbohydrates:
13
g
,
Protein:
3
g
,
Fat:
18
g
,
Saturated Fat:
11
g
,
Cholesterol:
121
mg
,
Sodium:
172
mg
,
Potassium:
102
mg
,
Fiber:
1
g
,
Sugar:
12
g
,
Vitamin A:
661
IU
,
Vitamin C:
17
mg
,
Calcium:
28
mg
,
Iron:
1
mg
Products used in the recipe: