Blarney Stones a.k.a. Peanut Squares
We may earn money or products from the companies mentioned in this post.
Blarney Stones a.k.a. Peanut Squares
I have wanted to make this recipe for "Blarney Stones" a.k.a. Peanut Squares since the first time I saw the recipe in a Taste of Home Annual Cookbook. That was back in 2003. Better late than never! Where is the Blarney Stone and How do you kiss it?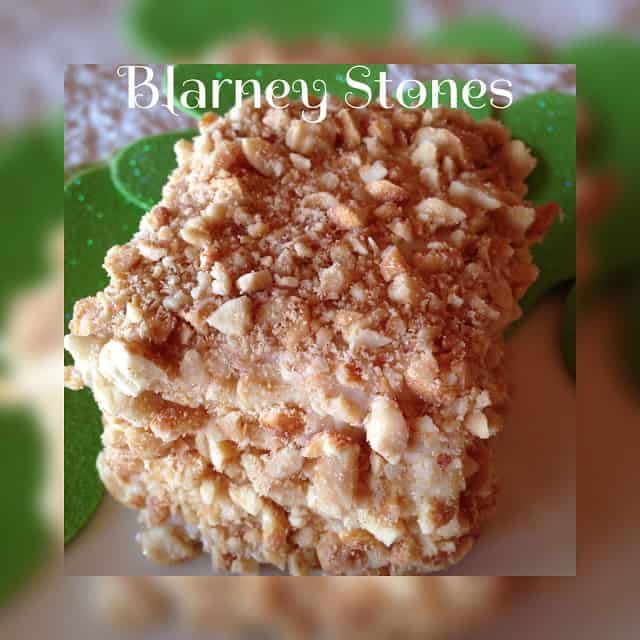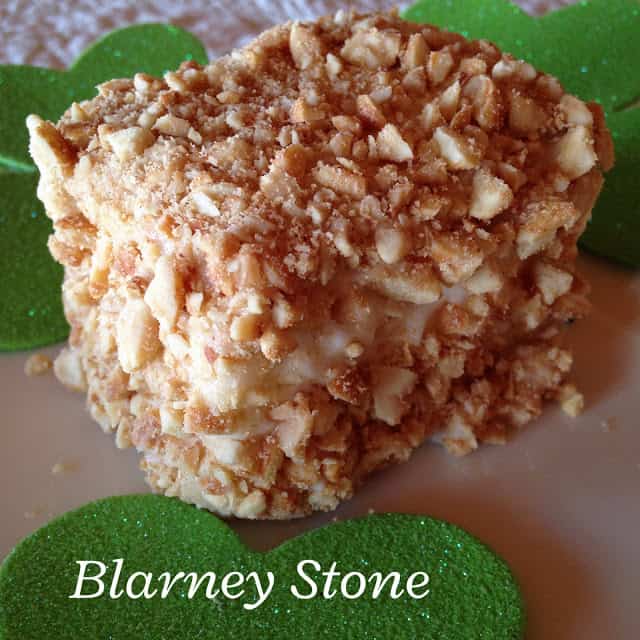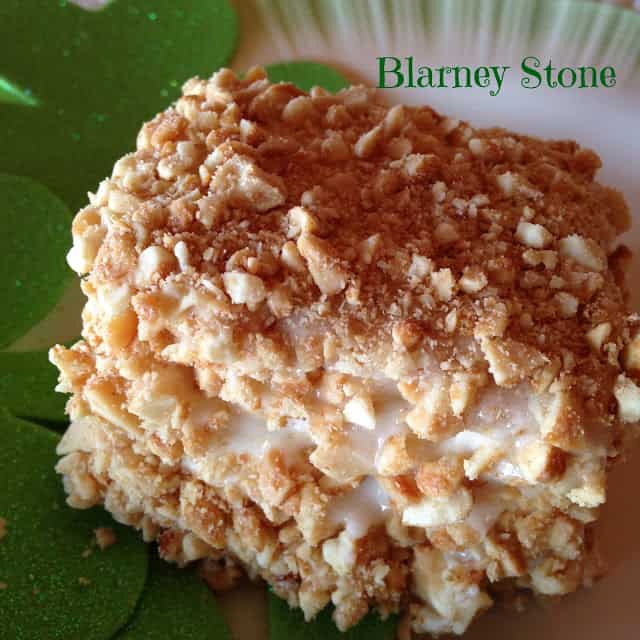 How to Kiss the Blarney Stone
After doing some research on the Blarney Stone and after watching a few videos on where the Blarney Stone is located and after learning how you have to go about 'kissing' the stone I can say without hesitation Hell No to That! Let me back up here, I would love to visit Ireland, the Emerald Isle someday. With it's rocky coastline, lush green  countryside and folklore, it's both a beautiful and magical place.
The Blarney Stone
Back to the Blarney stone, I'm positive, I could sit down on a ledge, lean backwards, grab onto some iron bars with my head held upside down and
looking backwards, kiss a rock/stone (while some complete stranger held on to my feet/legs) I'm pretty sure I can do that But the clincher here is?
The famous Blarney Stone is located at the top of the Blarney Castle, I mean at the very top and I'm deathly afraid of heights. I mean "terrified" or maybe "petrified" might be the right word to use. No, I think the best word to use would be "paralyzing fear." Knee-knocking, dizzy feeling, out of body experience, disorientated fear. Stuck-in-place fear, can't move fear.
That being said, my chances of ever kissing the Blarney Stone are pretty slim to none and I'm ok with that. I'll leave the kissing of the stone to my husband, who isn't afraid of heights, while I stand on the ground and wave up to him. Heck, I'll even hand over my camera, so he can take some pictures.
Purpose of Kissing the Blarney Stone?
The purpose of kissing the "Blarney Stone" is to gain the gift of eloquence. Which means to speak and or write with "eloquence." In the Irish culture this holds a lot of significance. It's said to help you in telling a story or tale, depending on how you look at it I guess. With all that being said, I will stick to making these "Blarney Stones" a.k.a. "Peanut Squares" while I have both feet planted firmly on the ground. With one bite of these delicious 'Blarney Stones', you'll be kissing these stones instead. That's how good they are.
The Blarney Stone, The Stone of Eloquence
For over 200 years, world statesman, literary giants, and legends of the silver screen have joined millions of pilgrims climbing the steps to kiss the Blarney Stone and gain the gift of eloquence. Its powers are unquestioned but its story still creates debate.
"Once upon a time, visitors had to be held by the ankles and lowered head first over the battlements. Today, cautious of the safety of the visitors, the stone itself is still set in the wall below the battlements but to kiss is, one has to lay down, lean backwards, holding on to an iron railing, while someone else hangs on to you, and you kiss the stone. The prize is a real one as once kissed the stone bestows the gift of eloquence."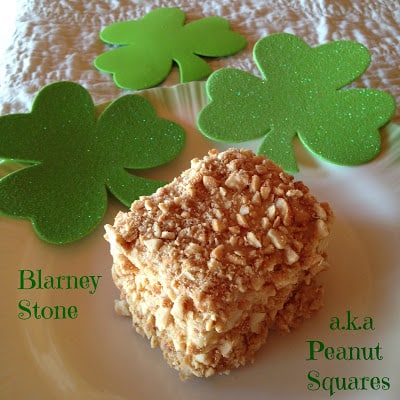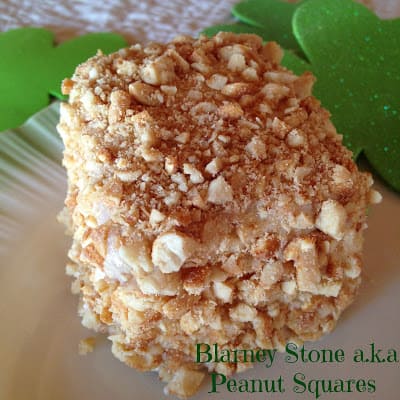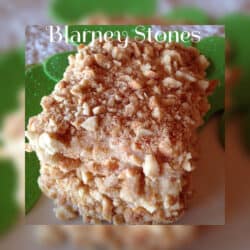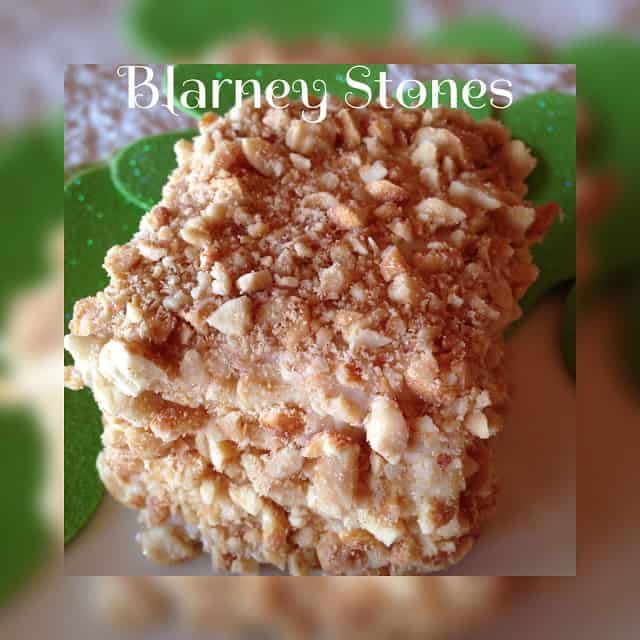 Blarney Stones a.k.a. Peanut Squares
Super Delicious! A Must Try.
Ingredients
4

eggs

1 3/4

cups

sugar

1

teaspoon

vanilla extract

1 3/4

cup

flour

3

teaspoons

baking powder

1/2

teaspoon

salt

1

cup

milk

1/4

cup

butter, melted

2

pounds

confectioners' sugar

2/3

cup

milk

2

teaspoons

vanilla extract

1/8

teaspoon

salt

6

cups

finely chopped honey-roasted peanuts
Instructions
In a mixing bowl, beat the eggs, sugar and vanilla until thick and lemon-colored, about 4 minutes.

Combine the flour, baking powder and salt; add to the egg mixture.

Beat on low speed just until combined.

Add the milk and butter; mix well. Pour into a greased 13 x 9 inch baking pan.

Bake at 350º for 30 to 35 minutes or until a toothpick inserted near the center comes out clean.

Cool on a wire rack.

Cut cake into squares. Cover and freeze overnight.

For the Frosting:

In a mixing bowl, combine confectioners' sugar, milk, vanilla and salt; beat until smooth.

Frost the top and sides of frozen cake squares; roll in chopped peanuts. Place on wire racks to dry.
Serve Blarney Stones after a meal of Yogurt Dill Dip with Guinness Beer Bread, Irish Beef Stew and Green Beer.