Black Bottom Banana Bars
We may earn money or products from the companies mentioned in this post.
Black Bottom Banana Bars
We have wanted to make this recipe from Taste of Homefor a long time. We changed the recipe slightly, adding some spice and less banana. The bars turned out moist with a nice blend of chocolate and banana flavors. Black bottom banana bars can be compared to what I would guess a slice of banana bread with a chocolate bottom would taste like. (If that makes sense) Feel free to frost the bars but we ate them with a scoop of vanilla ice cream.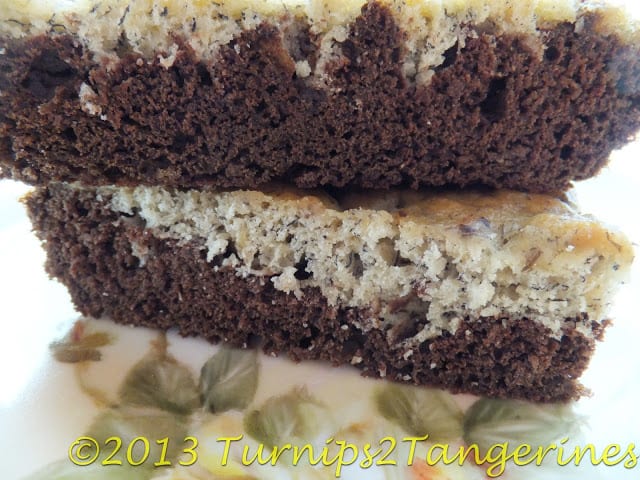 Did You Know?
Grown in the warm, humid tropics, Bahamas are picked and shipped green. Contrary to nature's norm, bananas are one fruit that develops better flavor when ripened off the bush. Banana bushes mature in about 15 months and produce one 50-pound bunch of bananas apiece. Each bunch includes several "hands" of a dozen or so bananas (fingers). There are hundreds of banana species but the yellow, arched Cavendish (or common) banana is America's favorite. Choose plump, evenly colored yellow bananas flecked with tiny brown specks, (a sign of ripeness). Avoid those with blemishes, which  usually indicates bruising. Bananas that are still greenish at the tips and along the ridges will need further ripening at home.
To Ripen
To ripen, keep uncovered at room temperature. For speedy ripening, enclose bananas in a perforated brown paper bag. Ripe bananas can be stored in the refrigerator for several days. The peel will turn brown but the flesh will remain unchanged. Bananas also freeze exceptionally well. Bananas can be frozen in their peel or peeled. Simply place the bananas, peeled or unpeeled in a ziplock freezer bag. Freeze for up to one year. Once exposed to air, a peeled banana will begin to darken. To avoid discoloration, brush with lemon juice.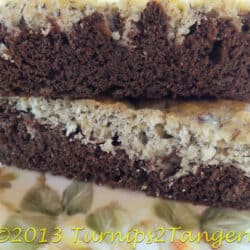 Black Bottom Banana Bars
A delicious bar that taste like a slice of banana bread with a chocolate bottom.
Ingredients
1/2

cup

butter, room temperature

1

cup

sugar

1

egg

1

teaspoon

vanilla extract

1

cup

mashed ripe bananas

1 1/2

cups

flour

1

teaspoon

baking powder

1

teaspoon

baking soda

1/2

teaspoon

salt

1/8

teaspoon

allspice

1/4

cup

baking cocoa

1/2

cup

chopped walnuts
Instructions
n a large bowl, cream butter and sugar. Add the egg and vanilla. Beat until thoroughly combined. Blend in the bananas. Combine the flour, baking powder, baking soda, salt, and allspice. Add to creamed mixture and mix well. Divide batter in half. Add cocoa to one half and chopped walnuts to the other half, spread into a greased 13 x 9 baking pan.

Spoon remaining batter on top and swirl with a knife. Bake at 350º for 25 minutes or until toothpick inserted near the center comes out clean.

Cool in pan on wire rack.
This is another recipe that showcases 'bananas' in a whole new light. Banana Brownies with Chocolate Peanut Butter Glaze