Bisquick Cinnamon Raisin Biscuits
We may earn money or products from the companies mentioned in this post.
Bisquick Cinnamon Raisin Biscuits
I always like to have a box of Bisquick™ on hand, just in case my hubby wants biscuits. He's a huge fan of biscuits, I mean huge fan! Since I have yet to master the art of making from scratch biscuits. (I have no idea what I'm doing wrong) I go the Bisquick™ route. Why? because the biscuits always turn out and there are like a gazillon things you can make with Bisquick.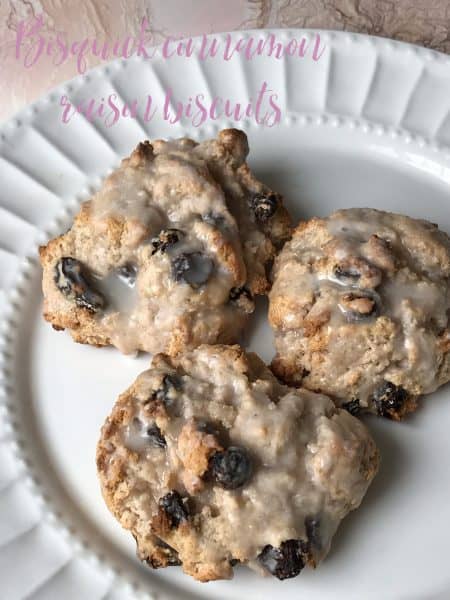 Biscuits
Like I've started, my hubby is a huge biscuit fan. He loves the biscuits from Hardee's and so do I! I mean, who doesn't. I have no idea how they make their biscuits but if and when Hardee's ever decides to put a boxed biscuit mix on the market, I'll buy it. Many restaurants have gone that route in the past few years. In fact, Olive Gardens Italian Salad Dressing is a favorite in my house.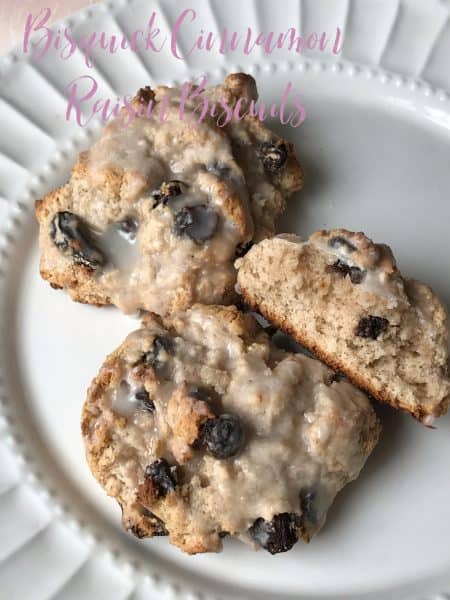 Pinterest
When I saw this recipe floating around Pinterest  and read the ingredient list, I thought to myself, "I can make those!" and that's exactly what I did. The reviews on Pinterest said that these biscuits tasted like the cinnamon raisin biscuits served at Hardee's. Well, I've eaten a few cinnamon raisin biscuits from Hardee's in the past and they're damn good. That sealed the deal for me, cinnamon raisin biscuits it is.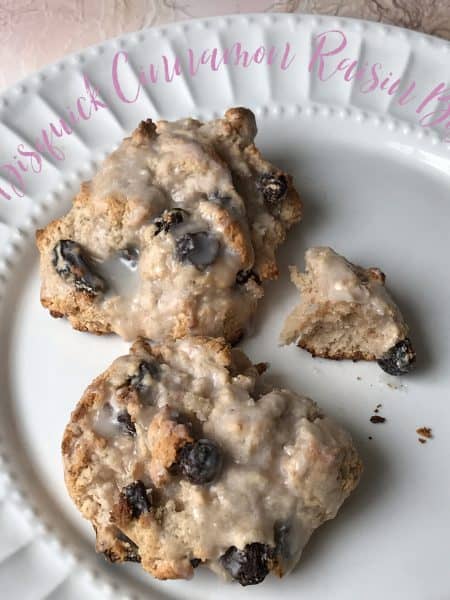 Recipe Note:
Even though Bisquick Cinnamon Raisin Biscuits weren't as good as Hardee's, (which I didn't really expect them to be, I mean not exactly) they were actually very, very comparable. My hubby loved them, which was no surprise and I really liked them too. Which is good for him because if I like something, I'll make it over and over again!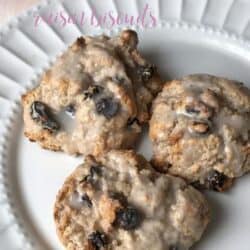 Bisquick Cinnamon Raisin Biscuits
So simple and easy, yet so delicious.
Ingredients
2

cups

Bisquick

1/3

cup

sugar

1/2

cup

half and half or milk

1/3

cup

raisins

1

teaspoon

ground cinnamon

1

cup

powdered sugar

2-4

tablespoons

half and half or milk

1

teaspoon

almond extract
Instructions
Heat oven to 425 degrees

In a medium bowl stir together bisquick, sugar, half and half or milk, raisins and ground cinnamon. Blend just until moistened. Drop by spoonfuls onto ungreased baking sheet.

Bake for 12-15 minutes and light golden brown.

Meanwhile, stir together powdered sugar, half and half or milk and almond extract until smooth.

Remove biscuits from oven a transfer to a wire rack. Drizzle with almond glaze. Serve warm.
Broiled Cinnamon Honey Grapefruit  and Amish Style Baked Oatmeal  are a welcome sight when served for breakfast.
For this recipe we used Bisquick