Beer Battered Haddock with Tarter Sauce
We may earn money or products from the companies mentioned in this post.
Beer Battered Haddock with Tarter Sauce
If you are from Wisconsin, you know all about our Friday Night Fish Fry. This is my version of that Classic Wisconsin Friday Night Tradition. To find out more about this Wisconsin Tradition, stop here: Come Fry With Me. Beer Battered Haddock with Tarter Sauce is one of many recipes we use for fish. Our fish of choice is haddock. A light and mild white fish, that fries up wonderfully. Our Recipe Box is swimming with fish recipes!
Fish Fry Experience
For the Classic Wisconsin Fish Fry experience serve beer-battered haddock with homemade tarter sauce, creamy coleslaw, potato salad, buttered rye bread and lemon wedges. An ice cold beer is optional but for some reason deep fried fish tastes better with an ice cold beer to wash it down with. Of course, there is always the classic brandy old-fashioned to sip on while your frying or enjoying your favorite fish fry.
Looking For More?
Looking for more recipes that are made with a beer batter? Try Beer Battered Deep Fried Mushrooms. We also have Deep Fried Cheese Curds, Buttermilk Batter-Fried Onion Rings and Beer Battered Pickles. Like I always say, once you take out the deep fryer or whatever vehicle you use to deep-fry. You might as well knock yourself out and fry, fry, fry away! Products used in this recipe: Icelandic Fresh Frozen Haddock Fillets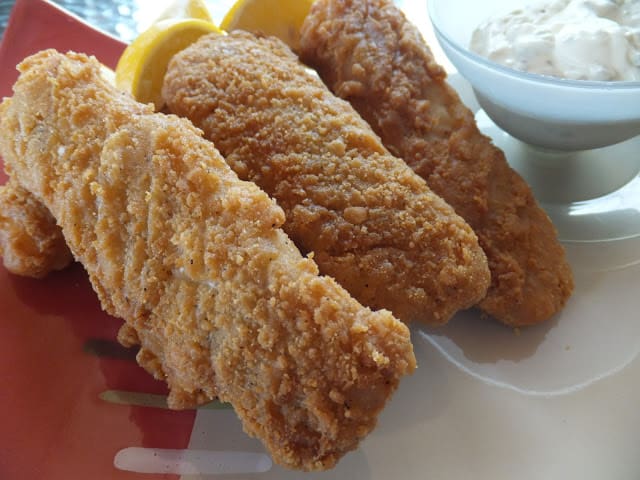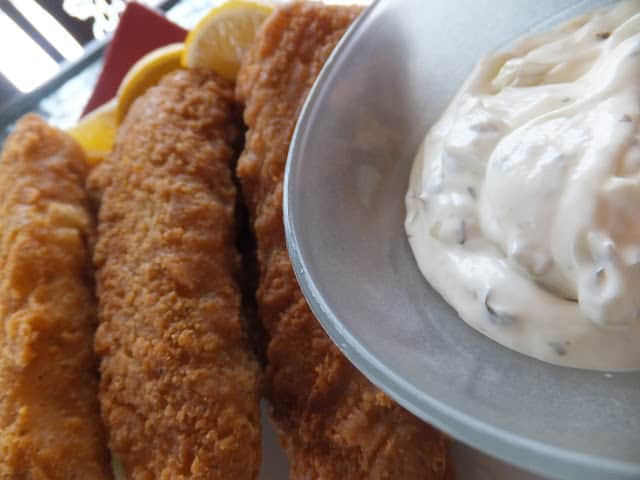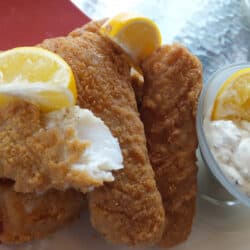 Beer Battered Haddock with Homemade Tartar Sauce
Join me in enjoying a Wisconsin Classic, Friday Night Fish Fry.
Ingredients
2

pounds

haddock fillets

1

egg

1

cup

beer

1

tablespoon

hot sauce

1

teaspoon

lemon juice

1 1/2

cups

flour

2

teaspoons

baking powder

2

teaspoons

old bay seasoning

salt and pepper to taste

vegetable oil for frying

Homemade Tarter Sauce

1

cup

mayonnaise

2

tablespoons

finely chopped sweet pickle

1

tablespoon

finely chopped red onion

1

tablespoon

fresh snipped parsley

1/2

teaspoon

lemon zest

2

teaspoons

lemon juice

1 1/2

teaspoon

snipped fresh dill or 1/2 teaspoon dried dill weed

1/2

teaspoon

paprika
Instructions
Make Homemade Tartar Sauce:

In a medium bowl, combine mayo, sweet pickle, red onion, fresh parsley, lemon peel, lemon juice, fresh dill, and paprika. Chill 1 to 2 hours before serving.

Makes about 1 1/4 cups.

Make Haddock:

In a bowl, stir together flour, baking powder, old bay seasoning, salt and pepper. Reserve a quarter of the dry mix. Set aside. In another bowl, beat the egg, beer, hot sauce and lemon juice. Combine with the flour mixture. Mix well. In a deep fryer, heat oil to 375º

Cut fillets into serving pieces (sticks) and pat dry with paper towels. Dip haddock pieces (sticks) into flour mixture, then dip in egg mixture, then back into flour mixture, submerge in hot oil and fry until golden brown. Remove from fryer and drain on paper towels.

Serve with homemade tartar sauce.
Notes
*I like to double the dry ingredients and the wet ingredients. This will assure you don't run short on batter/coating ingredients. I hate when that happens!