Beefy Noodle Soup
We may earn money or products from the companies mentioned in this post.
Beefy Noodle Soup
If you're roughly the same age as I am, born anytime in the 50's or early 60's, you might remember that Campbell's made a Beefy Noodle Soup. Very similar to their famous chicken noodle soup only made with beef broth, small cubes of beef and noodles. I always preferred the beef version vs the chicken version. Just my luck, Campbell's doesn't make Beef Noodle Soup anymore and probably hasn't for years! With the weather getting chilly here in Northern Wisconsin and my thoughts turning to soups, I remembered how much I enjoyed Beefy Noodle Soup and decided to make my own version of this once loved soup. So here goes….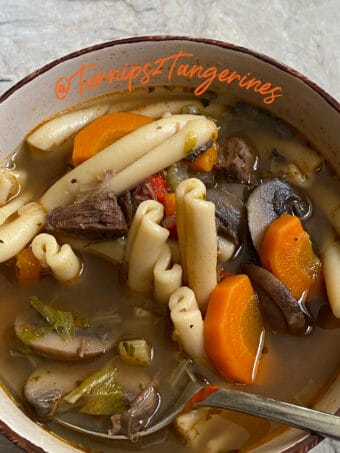 Carton or Homemade?
That seems to be the $100,000 question? Should I use store -bought, pre-made, sometimes salty carton stock or broth? Or should I take the extra time it takes to make homemade stock or broth? I'm sure that there are many people that are on one side of the fence with this one. Purists will say that, "only homemade will do," while others will say, "I don't have time for all of that."  Then, there are a few people like myself that swing both ways. Yes, there are some recipes that taste much better when made with a homemade broth; beef stew or beef beef bourguignon to name a few. Whereas, French Onion Soup, in my humble culinary opinion, will taste fine using a low-sodium, carton variety of beef broth. (we like College Inn) If you have never made homemade beef stock before, give this recipe a try; Brown Beef Stock.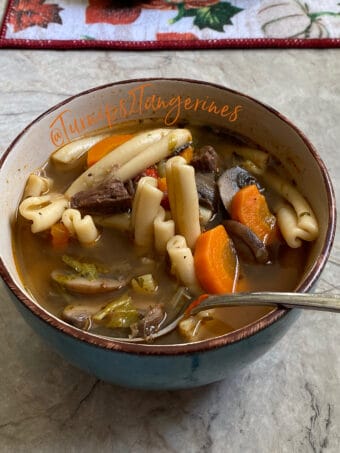 Beef Soup Bones
With the prices of beef, meat in general soaring, we were lucky enough to have purchased our beef just in time. Each fall we order our beef from Roskom Meats located in Kaukauna WI. I always have them save me several pounds of meaty beef bones so I can make beef broth. Meaty beef soup bones can oftentimes be hard to come by. Not all large grocery stores or large supermarkets carry beef soup bones. You most likely need to go to a grocery store that has an "in house" butcher. Or you might need to stop at the local meat market. Different times of the year will also be a factor in carrying meaty beef bones. Winter vs Summer, for instance. A few years ago a buddy of my hubby gave him some meaty venison bones. Of course I made venison broth, and froze it for when I wanted to make soup. It turned out super delicious I might add. So ladies, if your hubby or significant other deer hunts, (here in Wisconsin that day is fast approaching) tell him or her to Save the Bones!!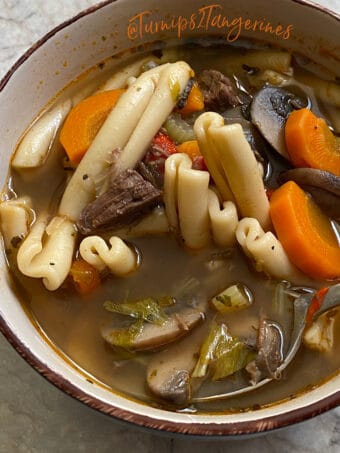 UP NEXT: Venison Stock
Here are more Beefy Recipes you'll surely want to make: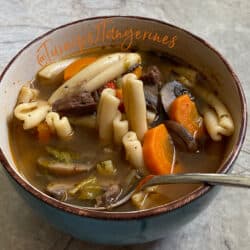 Beefy Noodle Soup
A delicious and comforting soup.
Ingredients
Make Broth:

3-3 1/2

lbs.

meaty soup bones or short ribs

2

tablespoons

olive oil

1

teaspoon

salt

½

teaspoon

pepper

2

cups

red wine

12

cups

water

Make Soup:

2

tablespoons

olive oil

(2 1/2- 3 lbs. beef stew meat)

2

onions, chopped

4

garlic cloves, minced

2

tablespoon

tomato paste

1

teaspoon

dried thyme

(12 cups beef broth or stock, canned or carton)

2

lbs

cremini mushrooms, trimmed and sliced

6

carrots, peeled and sliced

4

celery ribs, chopped

4

tablespoons

soy sauce

4

bay leaves

2

tablespoons

dried parsley

Salt and pepper, to taste

6

ounces

wide egg noodles or pasta of choice
Instructions
DIRECTIONS

In a large sauté pan, heat oil until hot. (Brown beef stew meat) add onions, garlic, tomato paste, and dried thyme. Stir until onions are softened, about 5 minutes. Add onion mixture to broth.

(In large stock pot add broth, beef stew meat,) onion mixture, mushrooms, carrots, celery, soy sauce, bay leaves and dried parsley. Season with salt and pepper, to taste.

Cover and simmer until vegetables are tender, 1-1 1/2 hours. (Transfer beef stew meat to a cutting board, let cool slightly, then shred into bite-size pieces. Transfer beef back to stock pot) Discard bay leaves. Heat back to a simmer, add egg noodles or pasta of choice. Simmer until pasta is tender. Season with salt and pepper and serve.
Notes
Directions for using beef stew meat and canned or carton broth or stock are in ( )