Bean and Beef Enchilada Bake
We may earn money or products from the companies mentioned in this post.
Bean and Beef Enchilada Bake
This recipe comes to you from a recipe booklet via the checkout line at your local grocery store. While standing in line one day, waiting for the "new" checkout girl to become familiar with the difference between kale and spinach, I picked up a recipe booklet called: Pillsbury Most Requested Recipes™. I started to leaf through it. This is something I often do when standing in line, waiting. Bean and Beef Enchilada Bake immediately jumped out at me.
Let Me Explain
First off I want to explain, I usually do purchase the recipe booklet/magazine I flipped through. Secondly, I have stood in the shoes of the "new girl" behind the checkout counter, many times. So instead of tapping my foot, rolling my eyes and grumbling under my breath, I look through a magazine. After all, we have all been the "new person" on the job at least once in our lives, right?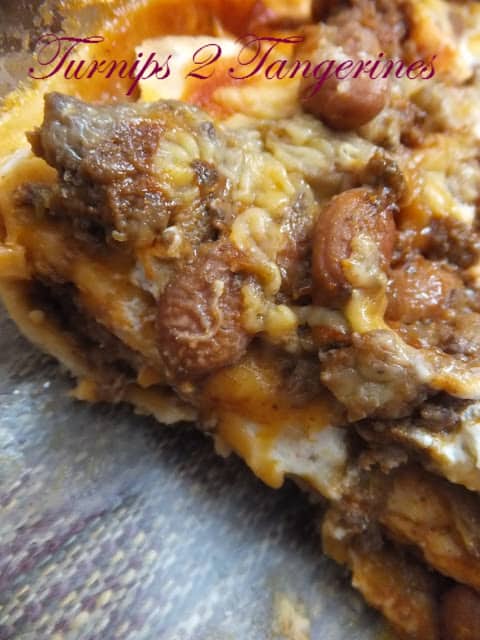 Layered Casserole
Bean and Beef Enchilada Bake is a layered casserole featuring the tasty ingredients that make-up traditional enchiladas. Ground beef and onion are cooked together. Taco seasoning mix, pinto beans, refried beans and diced green chilies are added and this mixture is simmered ten minutes. Flour tortillas, sour cream, shredded cheese, enchilada sauce and the meat mixture are layered in a baking dish and baked. Sounds delicious, doesn't it?!?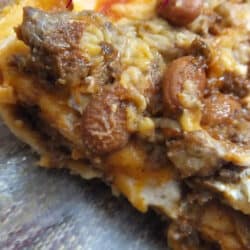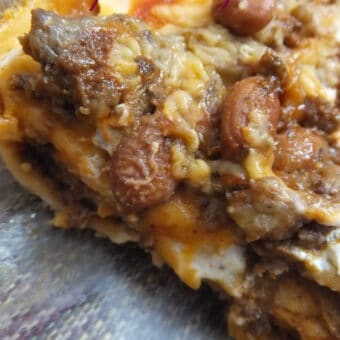 Bean and Beef Enchilada Bake
Ingredients
1

pound

ground beef

3/4

cup

chopped onion

1

package

taco seasoning mix

3/4

cup

water

2

15 oz cans

pinto beans, drained and rinsed

1

15 oz can

can refried beans

1

4 oz can

diced green chilies, undrained

1 1/2

cups

sour cream

3

tablespoons

flour

1/2

teaspoon

garlic powder

12

6-inch

flour tortillas

2

10 oz cans

enchilada sauce

2

cups

shredded cheddar cheese
Instructions
In a large skillet cook, ground beef and onion until meat is brown and onion is tender. Drain off fat. Stir in taco seasoning mix and water; cook and stir 10 minutes over medium heat. Stir in pinto beans, refried beans, undrained diced green chili peppers, cook 10 minutes. Set aside.

In a small bowl stir together sour cream, flour and garlic powder; set aside.

Place half of the tortillas in the bottom of a lightly greased 3-quart rectangular baking dish, cutting to fit and overlapping if necessary. Top with half of the meat mixture, half of the sour cream mixture, and half of the enchilada sauce. Repeat layers.

Bake, covered in a 350º oven for 35 to 40 minutes or until heated through.

Uncover and sprinkle with cheese.

Bake about 5 minutes more or until cheese is melted.
For a delicious dinner serve Baked Sweet and Sour Chicken  over Jasmine rice. Add some fortune cookies and sake for a whimsical touch.