Bavarian Bratwurst Wrapped in Bacon
We may earn money or products from the companies mentioned in this post.
Bavarian Bratwurst Wrapped in Bacon
Serve Bavarian Bratwurst Wrapped in Bacon with an assortment of your favorite mustard. The name "Bratwurst" most often refers to a sausage made from pork. It's in a natural casing and is grilled or fried in a pan. Bratwurst are a favorite in Germany, with each region having its own specialty. Here in Wisconsin, bratwurst and sausage is deeply embedded in our German Heritage. Nuremberg Bratwurst Three on a Roll is another super recipe made with Bavarian bratwurst.
All Kinds
Bratwurst are sold fresh (raw),while others are sold pre-cooked. It is important to know this so that they are properly prepared before eating. Be sure to check with your butcher or deli about the Bratwurst they have available. Bratwurst come in many different taste sensations such as: Reuben, Portabello Mushroom, Onion, Jalapeno, Cheddar Cheese and Bacon Blue, Cranberry Wild Rice to name a few. Most if not all grocery store meat departments and specialty meat stores have many varieties to choose from.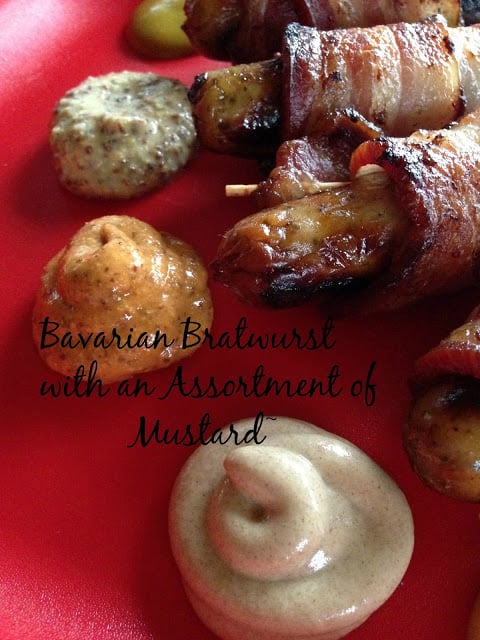 A Word About Bratwurst
Pre-Cooked Bratwurst: Pre-cooked bratwurst are the most widely available. Their shelf-life is longer and they are easier and faster to grill. They are pale, stiff in appearance and fully cooked. Simply brown the bratwurst in a pan or on the grill.
Fresh (raw) Bratwurst: Fresh (raw) Bratwurst are pink in color. Most often cooked on the grill, they must be fully cooked inside without burning the outside. That requires the bratwurst to be par-boiled first. Raw bratwurst can be par-boiled in water or beer for 5-10 minutes. Once fully cooked inside, brown the bratwurst on the grill or in a pan.
Over 50 Kinds Available in Germany
Bratwurst [BRAHT-wurst; BRAHT-vursht] A German sausage made of pork and veal seasoned with a variety of spices including ginger, nutmeg, and coriander, caraway or marjoram. Though it is now available precooked, bratwurst is generally found fresh and must be well grilled or sautéed before eating.
Every Region
Each region in Germany has its own version of Bratwurst. Over 50 kinds are available in Germany, ranging and/or differing in size, seasonings, and texture. Below are some of the more well-known Bratwurst that are available throughout Germany.
Coburger Bratwurst: A Bratwurst originating in the city of Coburg in Bavaria. It is made from a minimum of 15% veal or beef and the seasonings include salt, pepper, nutmeg, and lemon zest. It is coarse in texture and measures about 10 inches in length. Traditionally it is grilled over pinecones and served in a Brötchen (bread roll).
Fränkische Bratwurst: A relatively long bratwurst, 4-8 inches, it's a thick, coarse sausage. Originating from the Franconia (Franken) region in Bavaria, it dates back to 1573. The Fränkische Bratwurst is traditionally served with sauerkraut or potato salad, but with no mustard.
Kulmbacher Bratwurst: The Kulmbacher Bratwurst, from the city of Kulmbach in Bavaria. It's made mainly from finely ground veal. They are long and thin.
Nürnberger Rostbratwurst: A small, thin bratwurst from the city of Nürnberg. It is no longer than 3-4 inches and weighs no more than 1 oz. They are traditionally served as sets of 6 or 12 and served with horseradish and sauerkraut or potato salad.
Nordhessische Bratwurst: The Nordhessische Bratwurst, from Northern Hessen, is similar to the Thüringer Rostbratwurst in taste. It is made from coarsely ground pork and is heavily seasoned. It measures around 8 inches in length. Traditionally, it is grilled over a wood fire an served on a cut-open Brötchen with mustard.
Rote Wurst: The Rote Wurst is a favorite Bratwurst of the Swabian region. It is similar to the Bockwurst, and is made from finely ground pork and bacon. Its taste is spicy. To prevent splitting during grilling or pan frying, an X is cut into the ends of the sausage. The ends open during cooking, but the rest of the sausage remains in tact, giving it its traditional shape.
Thüringer Rostbratwurst: The Thüringer Rostbratwurst is a spicy sausage from Thüringen. It is long (6-8 inches) and thin in shape. Traditionally, it is grilled over a wood fire and eaten with mustard and bread.
Würzburger Bratwurst:  The Würzburger Bratwurst, also known as the Winzerbratwurst, comes from the city of Würzburg. It's size is similar to the Thüringer Rostbratwurst, but its ingredients include white Franken wine.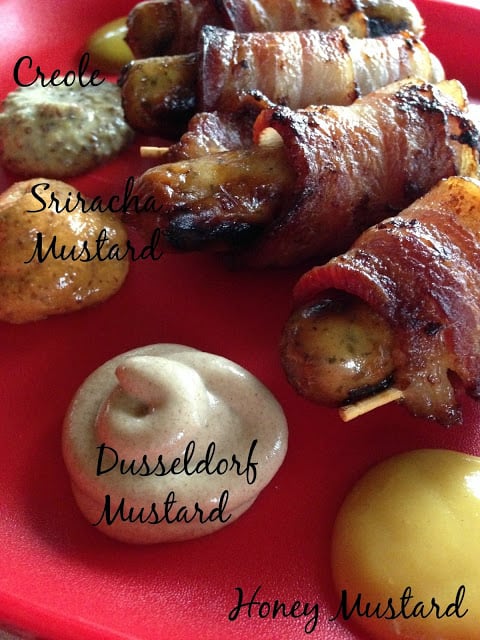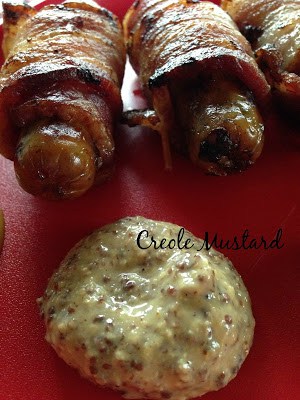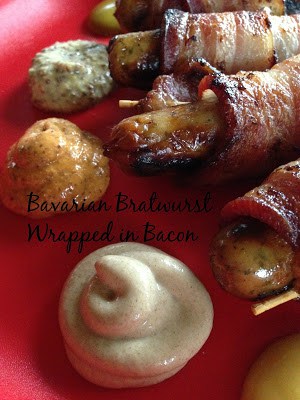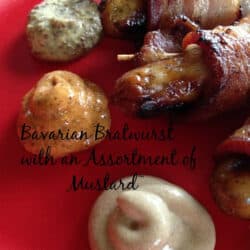 Bavarian Bratwurst Wrapped in Bacon
Super Easy and Super Delicious!
Ingredients
16

Bavarian Thuringer, Rostbratwurst or Nurnberger Bratwurst

16

slices

thick bacon

3 to 4

different

types of mustard of your choice
Instructions
Grill bratwurst on a griddle until browned on all sides.

Wrap one slice of bacon around each bratwurst.

Secure with a toothpick.

Continue with remaining bacon and bratwurst.

Place bacon wrapped bratwurst on a baking sheet with sides.

Bake at 375º for 35 to 45 minutes or until bacon is crisp.