Barley, Corn and Pepper Salad
We may earn money or products from the companies mentioned in this post.
Barley, Corn and Pepper Salad
The warmer temperatures are a sure sign that its time to take your grill out of hibernation. Grillin' season is under way and nothing goes better with grilled meats than salads. Instead of making the usual potato and pasta salads this grillin' season, try this easy and different recipe for Barley, Corn and Pepper Salad.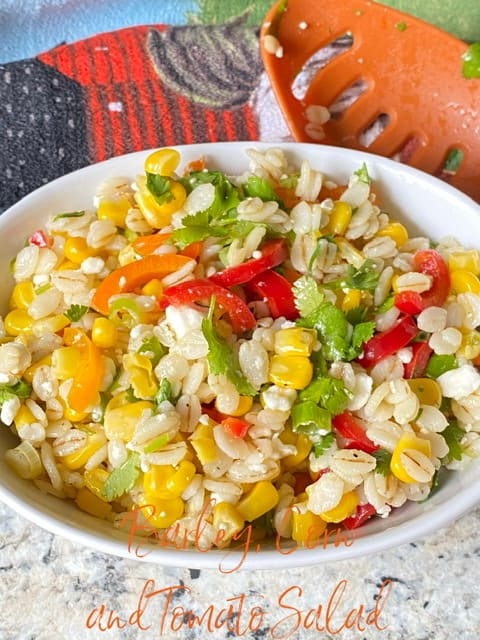 Fresh Corn
This recipe calls for using frozen sweet corn. It's a great alternative to using fresh corn off the cob but this summer when fresh corn on the cob is in season, remember this easy and delicious salad. In fact I can't wait to make this salad using fresh corn. Fresh corn on the cob is usually ready in my area at the end of July through August. Each year we purchase several dozen ears of corn at our favorite farm stand. I enlist the help of my hubby and grandkids to shuck the ears of corn. I then spend the day cutting the fresh corn off the cob, and then dividing the shucked corn between freezer baggies. In the freezer the baggies go until I want to make this recipe.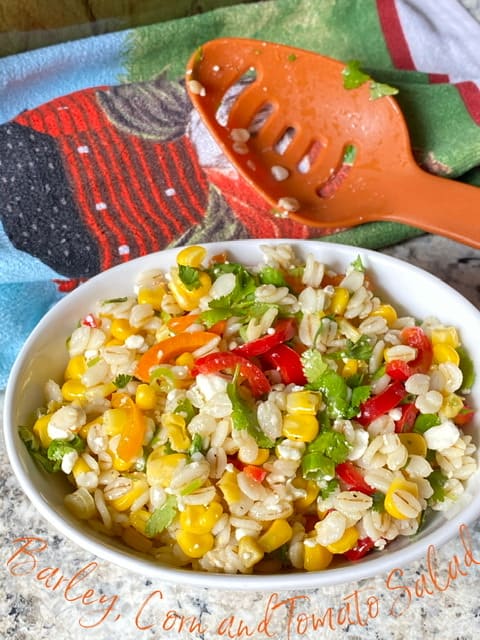 What is Barley?
This hardy grain dates back to the Stone Age and has been used throughout the eons in dishes ranging from cereals to breads to soups. Most of the barley grown in the Western world is used either for animal fodder or when malted, to make beer and whiskey.
Hulled Barley also called whole-grain has only the outer husk removed and is the most nutritious form of the grain.
Scotch Barley is husked and coarsely ground.
Barley  Grits are hulled barley grains that have been cracked into medium-coarse pieces. Hulled and Scotch Barley and Barley Grits are generally found in natural or bulk food stores.
Pearl Barley has had the bran removed and has been steamed and polished. It comes in three sizes: coarse, medium and fine.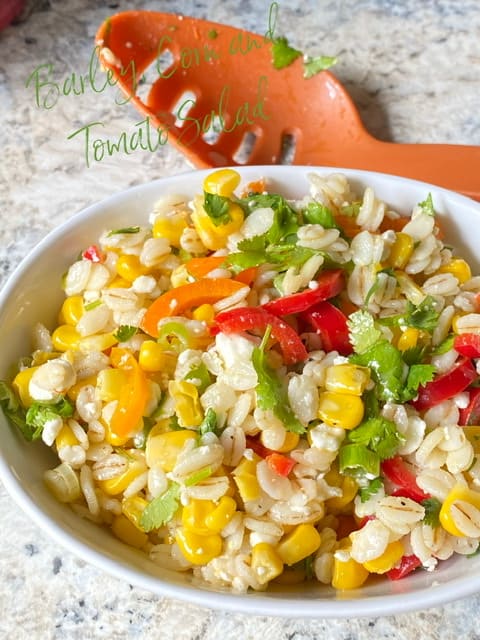 Mini Sweet Peppers
For this recipe we went with multi-colored mini sweet peppers that you can purchase at any grocery store. Mini sweet peppers are super in my opinion and we put them in anything and everything possible. These slightly sweet peppers are a great way to add flavor and color to soups, salads, dips and casseroles. Another fun way to serve mini peppers is to stuff them. Stuffed Mini Peppers and Goat Cheese Stuffed Mini Peppers are just two of our favorite ways to serve stuffed mini sweet peppers.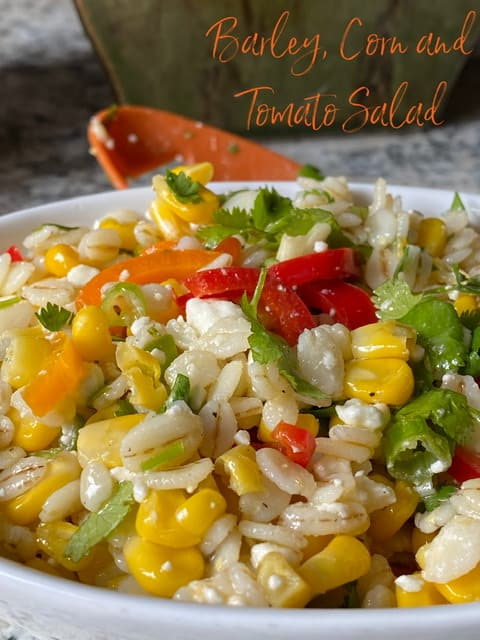 Garden Vegetables
This summer take advantage of farm fresh corn-on-the-cob, vine-ripe tomatoes, crisp peppers and peppery green onions. From your herb garden, fresh cilantro. Living in America's Dairyland, I of course added cheese to this recipe:) For this salad try feta cheese or blue cheese. Both will work equally well in this recipe.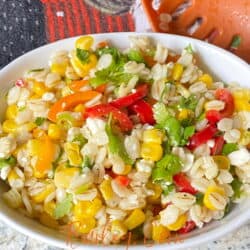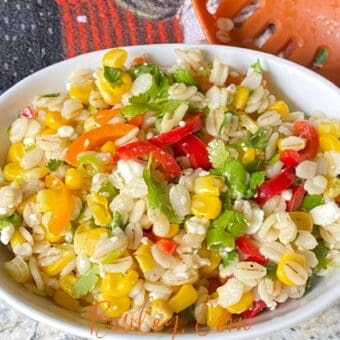 Barley, Corn and Pepper Salad
Try something different this summer with this super easy salad.
Ingredients
1

cup

uncooked medium pearl barley

1 1/4

cups

frozen whole kernel corn

1/2

cup

mini red sweet peppers

,

sliced

1/2

cup

mini yellow sweet peppers

,

sliced

1/2

cup

sliced green onions

Dressing

1/4

cup

olive oil

1/4

cup

lemon juice

1/4

cup

chopped fresh cilantro

1/2

teaspoon

salt

coarsely ground black pepper

1

cup

crumbled feta cheese
Instructions
Cook barley as directed on package. Drain; rinse with cold water. Cook corn as directed on bag. Drain; rinse in cold water.

In large bowl, mix barley, corn and remaining salad ingredients.

In jar with tight fitting lid, shake dressing ingredients well. Pour salad dressing over salad; toss gently to coat. Serve at room temperature or chilled. Store in the refrigerator.