Barbecue Style Snack Mix
We may earn money or products from the companies mentioned in this post.
Barbecue Style Snack Mix
Barbecue Style Snack Mix is sure to spice up your next party. The barbecue seasoning gives this mix great flavor. Mini pretzels, cheese flavored snack crackers, wheat chex and corn chex. Melted butter, soy sauce, chili seasoning and barbecue seasoning blend are mixed together, poured over the cereal/pretzel/cheese crackers mixture in a large roasting pan and baked. They only thing left to do, is too Enjoy!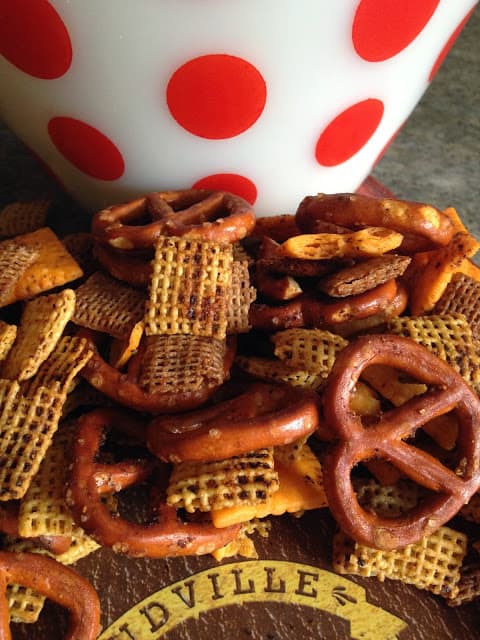 Chex Party MixV.
There are so many different varieties of chex party mix that it's hard to keep track of them all. We have several different recipes here on Turnips 2 Tangerines. We went on a chex party mix "party" with one version being just as good if not better than the one before. I have never met anyone who hasn't like some kind of chex party mix. It really is the ultimate snack food at any party. Don't believe me? Set out a bowl and see what happens!
History of Chex Cereal
Wheat Chex cereal was introduced in 1937 with Rice Chex in 1950 by Ralston Purina. In 1952, an advertisement for chex party mix appeared in Life Magazine. The advertisement included a recipe which featured Wheat and Rice Chex. In 1958, Corn Chex was introduced and added to the recipe. However, it wasn't until 1985 that pre-packaged products were introduced commercially by Ralston Purina.
Holiday Favorite
Chex party mix become popular as a holiday treat in 1955. The wife of a Ralston executive in St Louis served the snack at a holiday function. With the introduction of television in the 1950's, Chex party mix was one of several TV snacks introduced to the viewing audience. It was one of many snacks that could be consumed while watching TV. Jiffy pop popcorn is another such snack that comes to mind.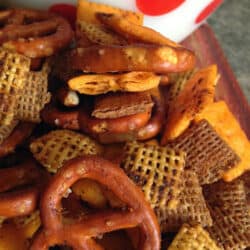 Barbecue Style Snack Mix
Ingredients
5

cups

miniature pretzels

3

cups

cheese flavored baked snack crackers

4

cups

wheat chex

4

cups

corn chex

6

tablespoons

butter

2

tablespoons

soy sauce

3

teaspoons

chili powder

2

teaspoons

barbecue seasoning blend
Instructions
In a large roaster, combine the pretzels, crackers and chex cereals.

In a small microwave proof bowl, melt the butter on high 40 seconds.

Add the soy sauce, chili powder and barbecue seasoning.

Microwave on high 40 seconds longer.

Pour over cereal mixture and toss to evenly coat.

Bake at 250º for 1 hour, stirring every 15 minutes.

Spread out on wax paper to cool.

Store in airtight containers.
Nutrition
Serving:
1
g
,
Calories:
568
kcal
,
Carbohydrates:
93
g
,
Protein:
13
g
,
Fat:
17
g
,
Saturated Fat:
6
g
,
Cholesterol:
35
mg
,
Sodium:
1337
mg
,
Potassium:
163
mg
,
Fiber:
6
g
,
Sugar:
4
g
,
Vitamin A:
900
IU
,
Vitamin C:
5.8
mg
,
Calcium:
174
mg
,
Iron:
11.5
mg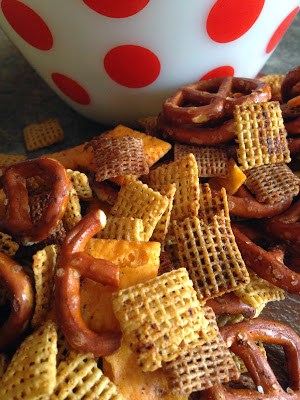 Kitchen Tip: To save time and add flavor, use smoked pork chops in place of regular pork chops in recipes. Look for smoked pork chops near the fresh meats. Smoked pork chops add a smokey flavor to dishes and because they are smoked, they only need to be thoroughly heated before serving, saving time.