Barbecue Baked Beans
We may earn money or products from the companies mentioned in this post.
Barbecue Baked Beans
Summertime is the perfect time to make, to serve beans and to eat baked beans. Barbecue Baked Beans are Smokey, Spicy and Sweet which equals the perfect recipe for making great beans. Here on Turnips  2 Tangerines we love our baked beans. A summertime back-yard barbecue just isn't the same without some sort of baked beans on the menu.
Has It All
This recipe has it all, smokiness from the bacon and liquid smoke, sweetness from the brown sugar, maple syrup, and molasses and the spiciness comes from the sriracha sauce, Worcestershire sauce and spices. Last but not least, the tomato flavor comes from the bbq sauce and tomato sauce. Depending on what type of bbq sauce you use, you can make these beans super spicy or mild. For barbecue baked beans we like to use any flavor of Sweet Baby Rays barbecue sauce.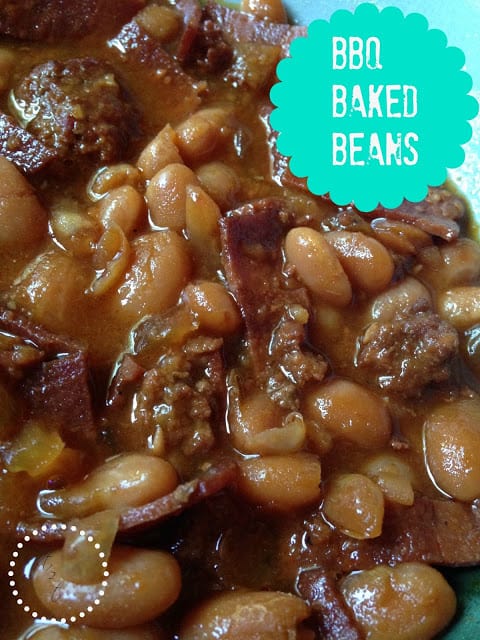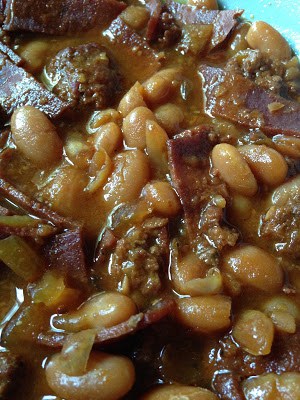 Ingredients
1 pound




dry great northern beans, sorted and soaked overnight

1 teaspoon




baking soda

1 pound




turkey bacon, cubed

1 pound




ground beef, cooked and drained

1 small




onion, chopped

1 cup




barbecue sauce

1 cup




brown sugar

1/2 cup




maple syrup

1 (8 oz) can




tomato sauce

1/2 cup




molasses

2 tablespoons




Worcestershire sauce

1 tablespoon




sriracha sauce

1 teaspoon




garlic powder

2 teaspoons




liquid smoke

1/4 cup




yellow mustard

1/2 teaspoon each




salt and pepper

2 cups




bean water
Cooking Directions
Sort beans. Place in a dutch oven and cover with water. Let beans soak overnight.
When ready to prepare beans, drain beans and cover with fresh water. Add 1 teaspoon baking soda, bring beans to a boil, boil for 5 minutes. Remove from heat, set a colander over a large glass bowl, drain beans, save water and set aside.
Place beans in a large earthenware bean pot.
In large bowl, mix remaining ingredients, stir until smooth. Pour over beans in bean pot. Pour 2 cups bean water over all or to cover.
Bake at 325º 4 to 6 hours or until beans are tender
If you hot and spicy food, you'll love this recipe for Hot as Hell Baked Beans.