Bandito Dogs on Pretzel Buns
We may earn money or products from the companies mentioned in this post.
Bandito Dogs on Pretzel Buns
Today we are going to celebrate the Milwaukee Brewers 12th straight win with some slow cooker style hot dogs. If you have been following any baseball games that are taking place right now, the Milwaukee Brewers are playing the LA Dodgers for a spot to play in the World Series. Yesterday the Brewers played the Dodgers in Milwaukee and they won they're 12th straight game. The Brewers play LA in Milwaukee today and then they are off to LA. Best out of 7.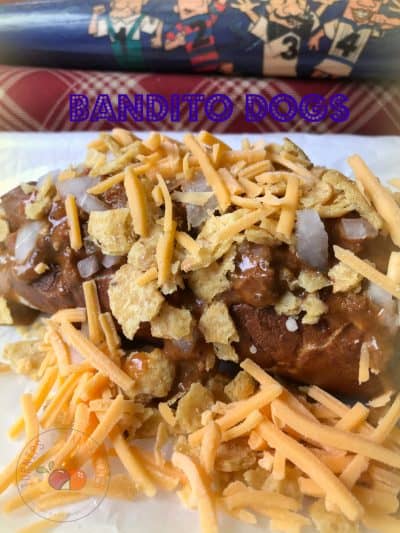 If… the Milwaukee Brewers
If the Milwaukee Brewers head to the World Series, you can bet your bottom dollar that me and my husband will be in the stands at Miller Park! The Brewers haven't gone to the World Series since 1982, so chances are this will be the last time, in my life time anyway, that we would be able to attend. Hopefully, they will make it to the World Series but even if they don't, we will continue to root for the Milwaukee Brewers. Why? Because we're baseball nuts!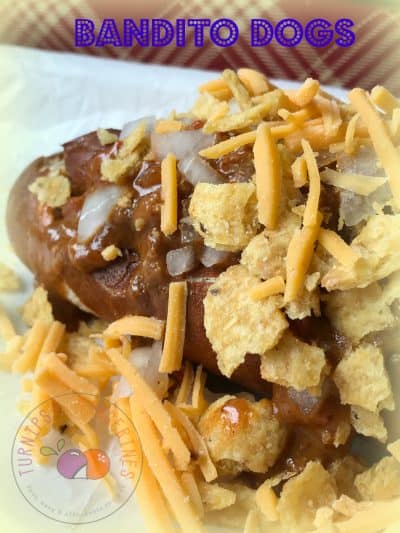 On to the Recipe
I saw this recipe years ago in one of my many, many, Taste of Home recipe cookbooks. I have always wanted to make it, but for some reason or another, I never have. This recipe would be great to bring to tail-gate parties, football or baseball parties. This recipe is super easy to make and this recipe is made in the slow cooker. A dump and go kinda recipe and let's face it, everyone likes a chili dog once in awhile!! (You know you do:) Personally I like eat my dog without a bun, just plop it on a plate and smother it with the fixins' (fork needed)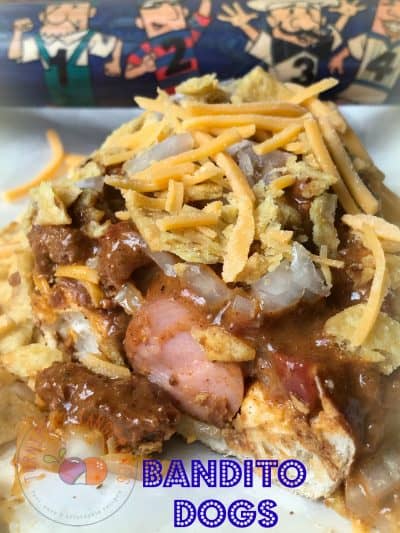 I have made several changes to the original recipe, which you can find on the Taste of Home website. I added extra chili sauce to the recipe, diced tomatoes with green chilies and cheese sauce instead of canned cheddar cheese soup, simply because its hard to find in my area. Some products used in this recipe are: Velveeta Cheese, Hormel Chili and Patterson's Beef Hot Dog Sauce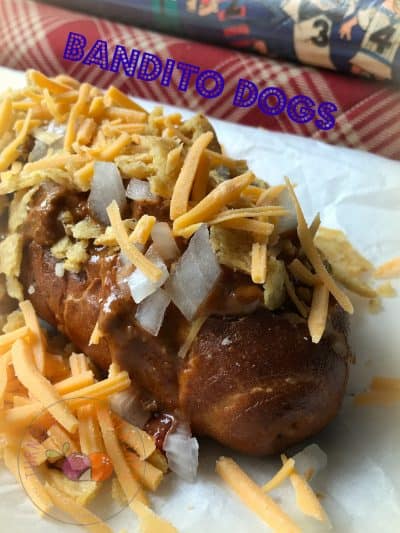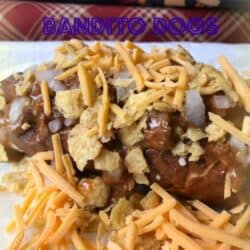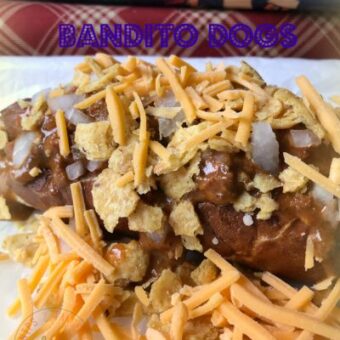 Bandito Chili Dogs in Pretzel Buns
Made in the slow cooker, Bandito Chili Dogs can be toted anywhere!
Ingredients
2

16 oz

packages hot dogs

2

15 oz cans

chili with no beans

2

oz

envelopes Velveeta cheese sauce

2

10 oz cans

diced tomatoes w/green chilies, drained

2

4 oz

hot dog chili sauce

,

Patterson

20

pretzel hot dog buns, split

1

medium

onion, chopped

1 - 2

cups

corn chips, coarsely crushed

,

Fritos

1

cup

shredded Velveeta cheese
Instructions
Place hot dogs in a 3-qt. slow cooker. In a large bowl, combine all remaining ingredients; pour over hot dogs. Cover and cook on low for 4-5 hours.

Serve hot dogs in buns; top with chili mixture, onion, corn chips and cheese.
Here are a few more recipes you might also enjoy! Smashed Multicolored Little Potatoes, Stuffed Chicken Breasts Reuben Style and Slow Cooker Bananas Foster, Slow Cooker Spicy Mac n' Cheese, #Choctoberfest 2018 with Imperial Sugar.