Banana Sour Cream Mini Bundt Cakes
We may earn money or products from the companies mentioned in this post.
Banana Sour Cream Mini Bundt Cakes
Banana Sour Cream Mini Bundt Cakes are super moist and delicious. The sour cream adds moisture and texture while the bananas add flavor. Chopped candied cherries from Paradise Fruit Co. adds that extra layer of sweetness. The mini Bundt cakes are drizzled with cream cheese frosting. Let's face it people, cream cheese frosting could make a dog turd taste good!! The whole cherry on the top completes the picture.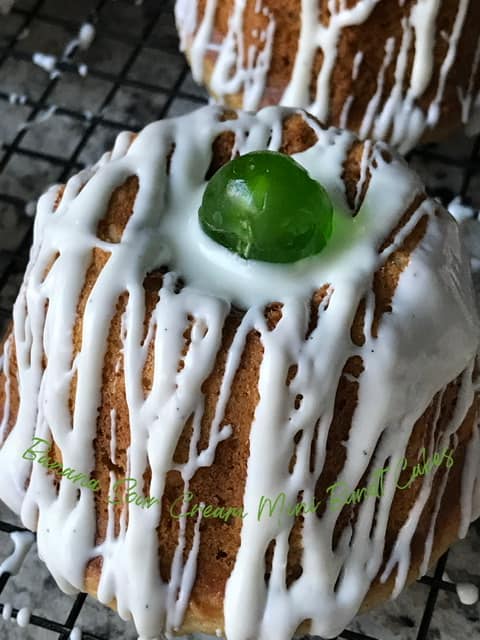 Mini Bundt Pan
I bought my mini Bundt cake pan at my favorite thrift store located in Wabeno WI. One that I miss desperately since this virus has temporarily closed their doors. When it opens back up again, hopefully very soon, I'm going to pack me a lunch and spend the whole day there! Anyway, I purchased my mini Bundt pan at the thrift store for $1.50. The pan is a  Wilton  and makes six mini Bundt cakes. Wilton also makes a mini Bundt cake pan that makes 12 cakes. I wasn't sure when I'd use the pan but for a $1.50 I thought what the heck and bought it.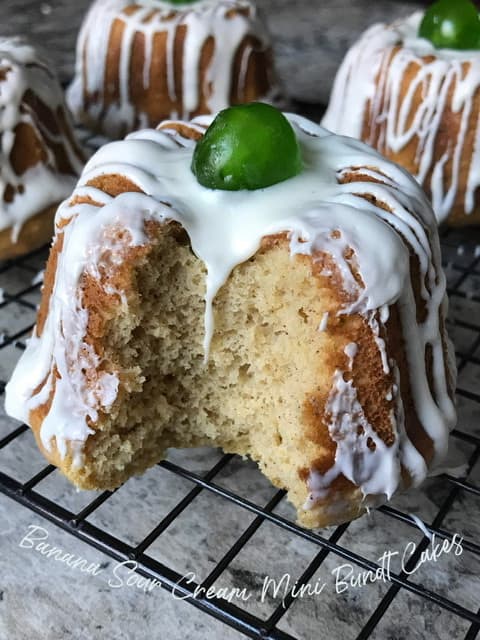 History of Banana Cake
Banana cake is a type of moist and sweet baked cake made with mashed bananas. It's usually topped with a cream cheese frosting, (like a carrot cake)caramel icing or icing of your choice. Banana cake is delicious served unfrosted as well. Whipped cream, whipped topping or ice cream fills in nicely for the frosting. Banana cake is often served as a snack cake or even a sheet cake. It's a simple cake that is big on flavor.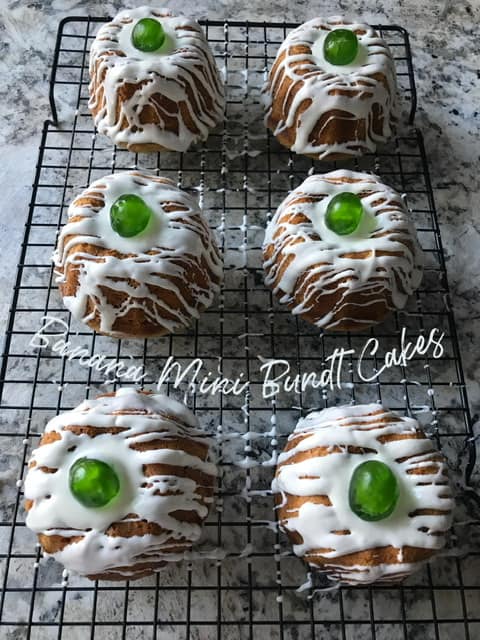 Overripe Bananas
According to history, banana cake was invented during the Depression era of the 1930's. During this time, baking soda and baking powder was starting to become popular which was a key ingredient in making cake. Since this was the depression era, every grocery store sold overripe bananas for practically next to nothing and still do. Free recipes for using overripe bananas was given away with purchase. Recipes for quick bread, muffins, pancakes and cake.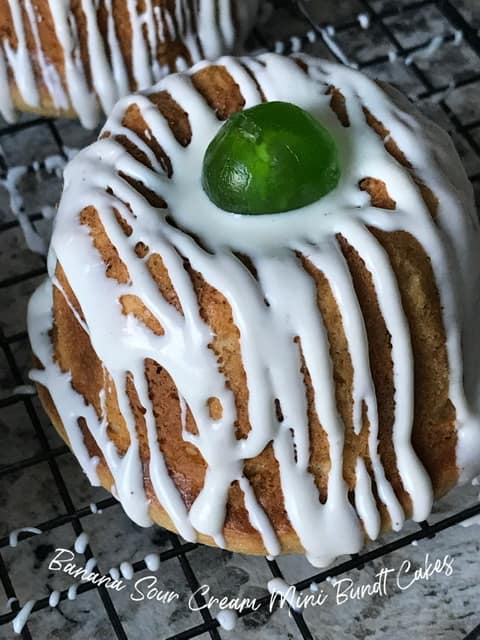 Popularity of Banana Cake
The popularity of recipes made with overripe bananas didn't become highly popular until cookbooks started to publish recipes for banana cake, bread and everything in between. In the 1960's, banana cake grew in popularity again. Another factor that made this cake popular was due to the simplicity of its preparation, readily available ingredients and the fact that every cookbook had a recipe for banana bread and/or cake. Banana cake is the perfect "beginners" cake. There really isn't any way to mess it up:)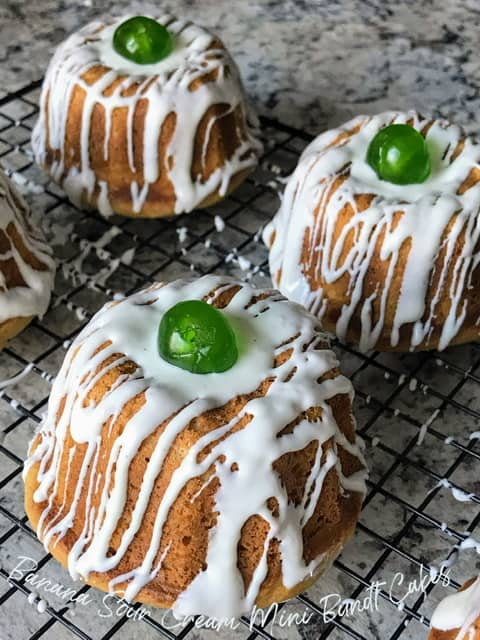 More Bundt Cake Recipes
Bananas
When purchasing bananas for using in baked goods, look for the bananas that are totally blacken. The more overripe the bananas are, the better. If the bananas look like they should have been thrown out last week, have fruit flies and are beyond mushy, they're perfect and are ready to be put into baked goods. To freeze overripe bananas, simply toss them into a freezer baggie and freeze until needed. When you're ready to bake, take them out of the freezer, remove from baggie and place into a strainer. When you are able to peel the partially thawed bananas, transfer to a second bowl and lightly mash the bananas and use in recipes. (bananas can also be peeled before freezing)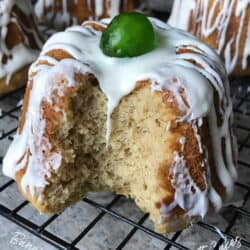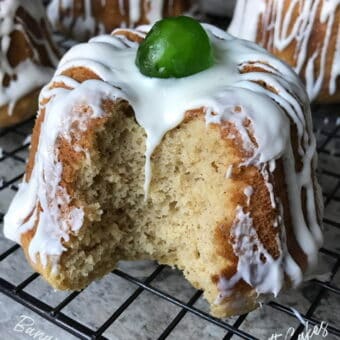 Banana Sour Cream Mini Bundt Cakes
Banana Sour Cream Mini Bundt Cakes with Cream Cheese Frosting and Dried Chopped Cherries
Ingredients
1/3

cup

dried cherries, chopped

1

tablespoon

flour

8

whole

dried cherries

1

pkg. (2-layer size)

yellow cake mix

,

1

cup

mashed ripe bananas, (about 3)

1

cup

sour cream

3

eggs

1/4

cup

oil

1/2

teaspoon

ground cinnamon

1/2

cup

butter, softened
Instructions
Heat oven to 350°F. Grease and flour mini Bundt pan. In a small bowl toss together chopped dried cherries with flour. Set aside 8 whole dried cherries for garnish.

Beat first 6 ingredients with mixer on low speed just until moistened, stopping frequently to scrape bottom and side of bowl. Beat on medium speed 2 min. Fold into batter, chopped cherries.

Divide batter between prepared mini Bundt pan. Bake at 35 min. or until toothpick inserted in center comes out clean. Cool in pan 10 to 15 minutes. Turn Mini pan over and carefully shake pan to remove cakes. Cool completely on wire rack.

Beat cream cheese and butter in large bowl with mixer until blended. Gradually add sugar, mixing well after each addition.

Drizzle frosting over mini cakes. Top each mini Bundt cake with a whole cherry.