Banana Prune Muffins
We may earn money or products from the companies mentioned in this post.
Banana Prune Muffins
Banana Prune Muffins are wonderful. We made them in our jumbo muffin pan but you can easily use a regular size muffin pan. This recipe made a believer out of me, prunes or "dried plums" are delicious and wonderful. Step aside raisins, prunes are back and they're here to stay. Prunes aren't just for old people anymore! Prunes are nutritious, delicious and relatively inexpensive. If you haven't tried prunes in sometime, what are you waiting for!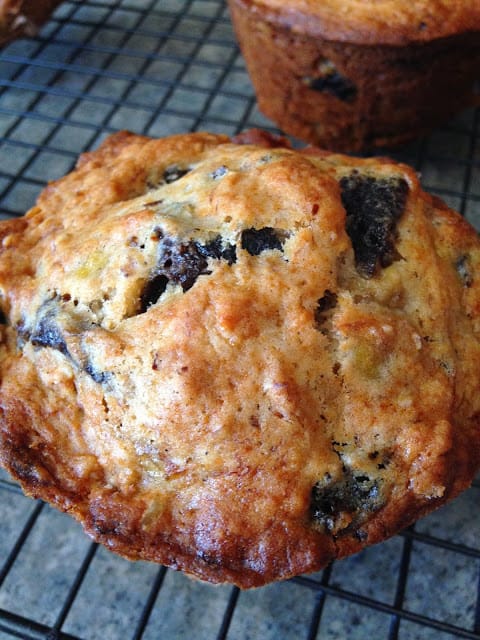 What are Prunes?
A prune is simply a dried plum, the word coming from the Latin prunum for "plum." The French, however, call a fresh plum prune, while their word for prune is pruneau. To further complicate matters, after this dried fruit had been known as a prune for centuries, in 2001 American prune growers got Food and Drug Administration approval to call prunes "dried plums." Which of course they always have been. Confusing to say the least.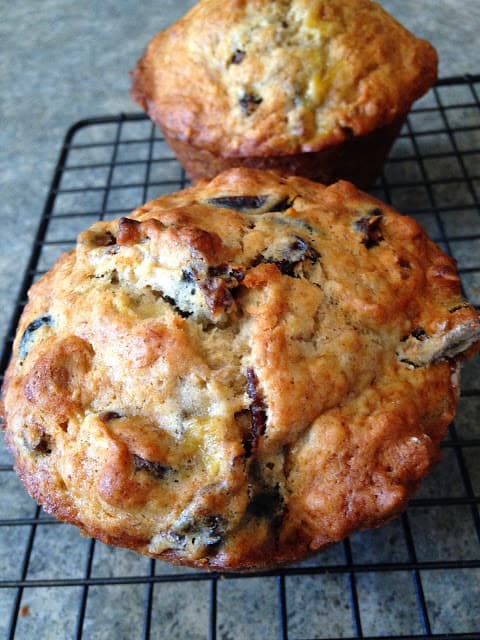 Perfect for Breakfast
If you like to eat breakfast on the run, you'll love these grab n' go muffins. Made with mashed ripe bananas, chopped prunes and chopped walnuts, they're perfect. Packed full of flavor and good for you ingredients, banana prune muffins have everything you want in a muffin and more. Enjoy them with jam, jelly or apple butter and of course a cup of hot coffee or tea.
Plums and Prunes
Although any plum can become a prune, those with the greatest flavor, sweetness and firmness are best suited for that use. Commercial dehydration has replaced sun-drying as the primary production method. Though the best prunes are found in the fall, they're available year round and come in various sizes. Small, medium, large, extra large and jumbo.
Purchasing Prunes
When purchasing prunes look for those that are slightly soft and somewhat flexible. They should have a bluish-black,  skin and be blemish-free. Store them airtight in a cool, dry place or refrigerator for up to six months. Prunes can be eaten out of hand or used in a variety of savory or sweet dishes. Prune purée which can be found in jars in most supermarkets, is a great fat substitute. In baked goods, substituting prune purée for butter or other fat can reduce cholesterol to zero and calories by 30%.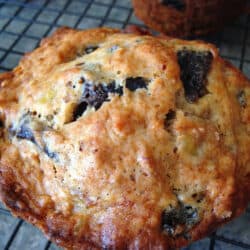 Banana Prune Muffins
Ingredients
1/2

cup

sugar

1/4

cup

vegetable oil

1

egg

1

cup

mashed ripe banana

1

teaspoon

vanilla extract

1 1/2

cups

flour

1

teaspoon

baking powder

1/2

teaspoon

baking soda

1/4

teaspoon

salt

1/4

teaspoon

ground cinnamon

1/4

teaspoon

allspice

1/2

teaspoon

lemon zest

1/2

teaspoon

lemon juice

1

cup

chopped prunes

1/2

cup

chopped walnuts
Instructions
Preheat oven to 350 degrees. Grease a jumbo muffin pan or regular muffin pan.

In a large bowl, combine sugar, oil, and egg. Beat until smooth. Blend in banana and vanilla.

Mix together flour, baking powder, baking soda, salt, cinnamon and allspice. Stir into egg mixture just until moistened. Gently fold in the lemon zest, lemon juice, prunes and pecans.

Do Not Over Mix. Spoon into prepared muffin pan.

Bake for 25 to 30 minutes or until toothpick inserted comes out clean.
Nutrition
Serving:
1
g
,
Calories:
426
kcal
,
Carbohydrates:
67
g
,
Protein:
7
g
,
Fat:
17
g
,
Saturated Fat:
8
g
,
Cholesterol:
27
mg
,
Sodium:
201
mg
,
Potassium:
456
mg
,
Fiber:
4
g
,
Sugar:
31
g
,
Vitamin A:
280
IU
,
Vitamin C:
2.7
mg
,
Calcium:
60
mg
,
Iron:
2.3
mg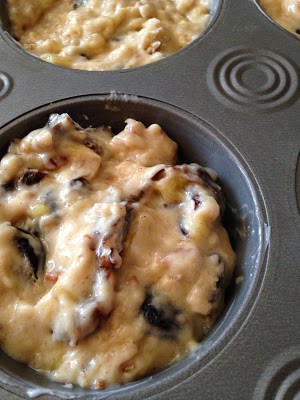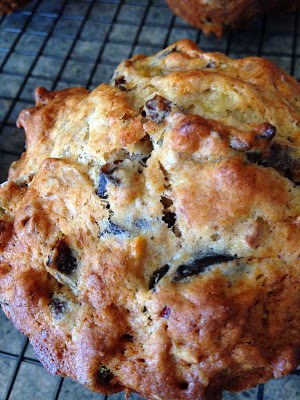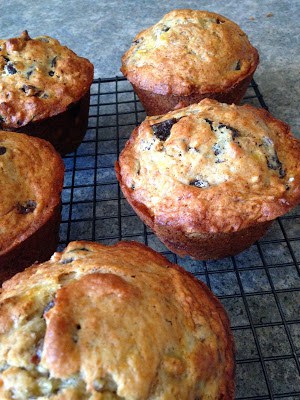 Kitchen Tip~ Take your time with risotto….the secret to the creamy texture is a combination of slowly adding the liquid and constant stirring.
For more prune information read: Let's Talk Prunes