Banana Bundt Cake with Maple Rum Butter Glaze
We may earn money or products from the companies mentioned in this post.
Banana Bundt Cake with Maple Rum Butter Glaze
A delicious Banana Bundt Cake with Maple Rum Butter Glaze. If your looking for a delicious banana cake recipe, you don't need to look any farther. This is the banana cake recipe your looking for. Let's face it ladies, how many different ways can we make banana bread with over-ripe bananas! I've made my fair share, that's for certain. Next time, why not make a banana bundt cake with your over-ripe bananas. Your family will thank-you for it!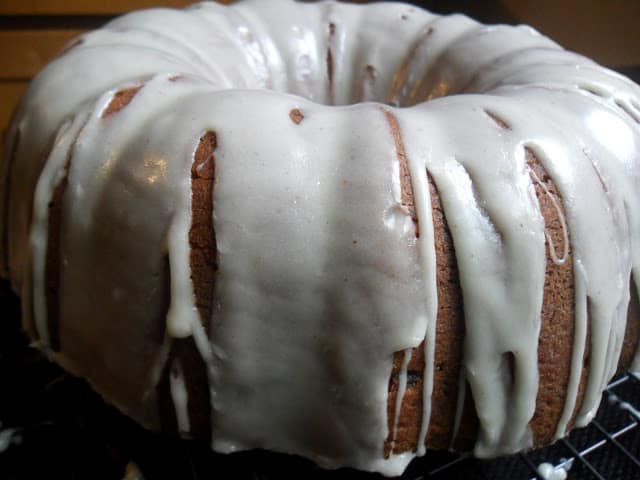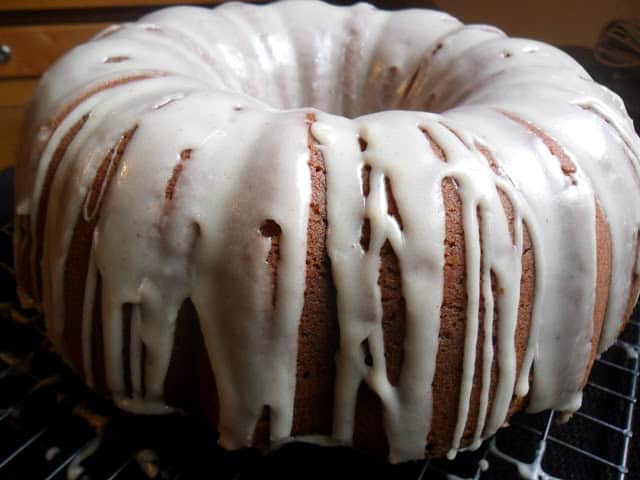 Dig out Your Bundt Pan!
Ladies and Gents, you know its been awhile since you used your bundt pan, so dig out that pan from the back of your cupboard and make this cake. It's fast, easy and about as affordable as it gets. Plus, everyone loves a home-made cake now and then. Anyone who reads Turnips 2 Tangerines is well aware that I am a huge fan of boxed cake and brownie mixes but this banana bundt cake is absolutely delicious and turns out every single time.
Maple Rum Butter Glaze
The real secret to this delicious banana cake is the maple rum butter glaze. This glaze is fantastic and would be great drizzled over just about anything, including your finger! Made with pure maple syrup, rum extract, although you could use the "real" rum, browned butter, powdered sugar and milk. Banana bundt cake with maple rum butter glaze will soon become your family's favorite cake!
UP NEXT: Great Ways to Serve Grilled Fish
Bundt Cake Pan

Don't have a bundt pan? You can pick one up just about anywhere. I bought mine at Walmart a few years ago for less than $10.00. I can't think of a better way to use my bundt cake pan than to make banana bundt cake with maple rum butter glaze. Well actually I can..looking for more Bundt Cake Recipes? Here are a few you might want to try. Surprise Carrot Cake with Cream Cheese Frosting and Strawberry Surprise Cake.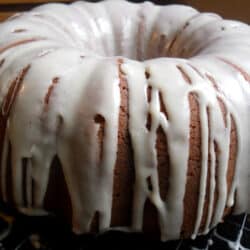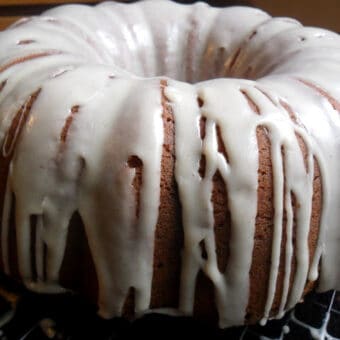 Banana Bundt Cake with Maple Rum Butter Glaze
A delicious home-made banana cake topped with a yummy maple rum brown butter glaze.
Ingredients
1

cup

butter

4

eggs

3

cups

all-purpose flour

2

teaspoons

baking powder

1

teaspoon

salt

1/4

teaspoon

baking soda

1 1/2

cups

sugar

1/2

cup

mashed ripe banana

1/2

cup

sour cream

1/2

cup

milk

1

teaspoon

vanilla extract

Maple Rum Butter Glaze

4

tablespoons

butter

1 1/2

cups

sifted powdered sugar

1/4

cup

pure maple syrup

1 to 2

teaspoons

rum extract

2 to 4

tablespoons

milk
Instructions
Instructions for Glaze:

Melt butter in a small saucepan over medium-low heat for 7 to 10 minutes or until light golden brown. Remove from heat. Whisk in sifted powdered sugar, maple syrup and rum extract. Whisk in as much milk as needed to make of drizzling consistency.

Instructions for Cake:

Allow butter and eggs to stand at room temperature for 30 minutes.


Meanwhile, grease and flour a 10 inch fluted tube pan.

In a medium bowl stir together the flour, baking powder, salt and baking soda. Set aside.

In a large mixing bowl, beat butter with an electric mixer on low to medium speed about 30 seconds.

Add sugar; beat until fluffy, add eggs one at a time, beating well after each addition.

In a small bowl combine banana, sour cream, milk and vanilla extract.

Alternately add flour mixture and banana mixture to butter mixture.

Beat on low speed after each addition. Beat just until combined.

Spoon batter into prepared pan.

Bake at 350º for 55 to 65 minutes or until a wooden toothpick inserted near the center comes out clean.

Cool in pan on a wire rack for 10 minutes. Remove from pan. Cool completely on wire rack.

Drizzle with Maple Rum Butter Glaze
Pineapple Cherry Zucchini Bread is a delicious quick bread made with Door County's very own dried cherries, canned pineapple and home-grown zucchini. You can never have too many zucchini  bread recipes and this one is a real winner.