Banana Bread Scones
We may earn money or products from the companies mentioned in this post.
Banana Bread Scones
Banana Bread Scones are similar to banana bread in flavor. They're made with mini chocolate chips but you can substitute raisins or walnuts. You can even use a combination of all three if you like. Another great addition to banana bread scones would be cinnamon chips or even butterscotch chips. A light vanilla glaze would be perfect to top these scones with which will add just a hint of sweetness.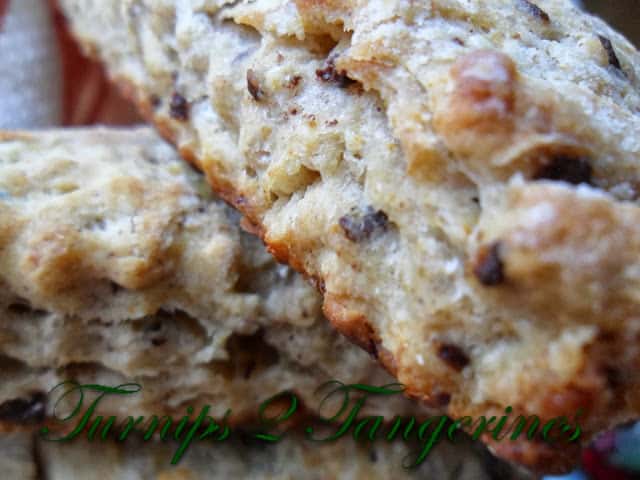 What is a Scone?
This Scottish quick bread is said to have taken its name from the Stone of Destiny, the place where Scottish Kings were once crowned. The original triangular-shaped scone was made with oats and griddle-baked. Today's scones are more often flour-based and baked in the oven. They come in various shapes including triangles, rounds, squares and diamonds. Scones can be savory or sweet. Sweet scones are usually eaten for breakfast or with tea.
Quick Bread
Most people are familiar with banana bread but did you know that banana bread is a quick bread. A quick bread is one that is quick to make because it doesn't require kneading or rising time. That's because the leavener in such a bread is usually baking powder or baking soda, which when combined with moisture, starts the rising process immediately. In the case of double-acting baking powder, oven heat causes a second burst of rising power. Eggs can also be used to leaven quick breads. This genre includes most biscuits, muffins, popovers, and a wide variety of sweet and savory loaf breads.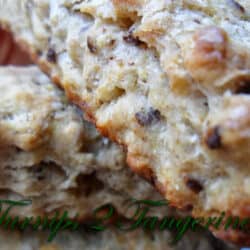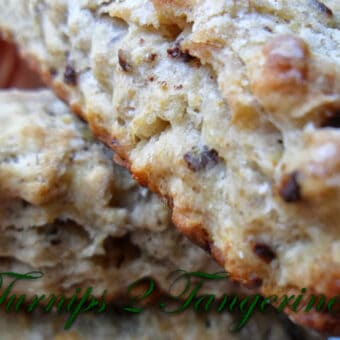 Banana Bread Scones  
The taste of banana bread in a scones
Ingredients
1

cup

mashed ripe bananas

1/2

cup

nonfat plain yogurt

4

tablespoons

sugar

2 1/2

cups

flour

2

teaspoons

baking powder

1/2

teaspoon

salt

1

teaspoon

ground cinnamon

4

tablespoons

butter, chilled and cubed

1/2

cup

mini chocolate chips
Instructions
Preheat oven to 400º

Combine the banana, yogurt and sugar in a small bowl and set aside.

Combine the flour, baking powder, salt and cinnamon in a large mixing bowl. Using a pastry blender, cut in butter until mixture resembles coarse crumbs. Make a well in the center of the dry ingredients and then add the banana mixture. Stir just until combined. Turn dough out onto a floured surface. Sprinkle the surface with the mini chocolate chips and knead them into the dough using extra flour to keep the dough from sticking. Pat the dough into a 9 inch circle and cut into 8 wedges. Place wedges onto a baking sheet lined with parchment paper.

Bake for 20 to 30 minutes or until golden brown and firm to the touch.

Cool scones on a wire rack.
Nutrition
Serving:
1
g
,
Calories:
309
kcal
,
Carbohydrates:
52
g
,
Protein:
6
g
,
Fat:
9
g
,
Saturated Fat:
5
g
,
Cholesterol:
17
mg
,
Sodium:
217
mg
,
Potassium:
288
mg
,
Fiber:
2
g
,
Sugar:
18
g
,
Vitamin A:
220
IU
,
Vitamin C:
2.7
mg
,
Calcium:
98
mg
,
Iron:
2.1
mg
Bananas
For this recipe we used ripened 
Chiquita Bananas
. The best bananas for making banana bread or scones are bananas that are completely ripe. I mean black, black, fruit flies everywhere, ripe. For lack of a better word, rotten! You can usually pick up these bananas in the produce section of any grocery store for virtually nothing. Bring them home, throw them into a ziplock baggie and freeze until you're ready to make scones or bread. No need to peel either, unless you want too.