Baked Lemon Coconut Haddock
We may earn money or products from the companies mentioned in this post.
Baked Lemon Coconut Haddock
Now that summer has finally arrived, along with it came a burst of the hot and muggies. In Wisconsin, the super hot and muggy weather doesn't usually descend on us until July and August. However, this year the hot and muggy weather, with temps into the 90's, hit us the first week in June. I'm not a fan of hot weather, nor am I fan of the three S's; Sun, Sand and Sweat. As I've gotten older, I like the heat less and less. We have friends who can't wait until they can retire for 6 months out of the year to Florida. Not us! We'd much rather head to Alaska. We looked at property, not physically but online, in Florida and Texas and we just weren't sure. It's a few years down the rode but the way time flies by, it'll be here before we know it. Baked Lemon Coconut Haddock is a delicious way to make my favorite fish, Haddock.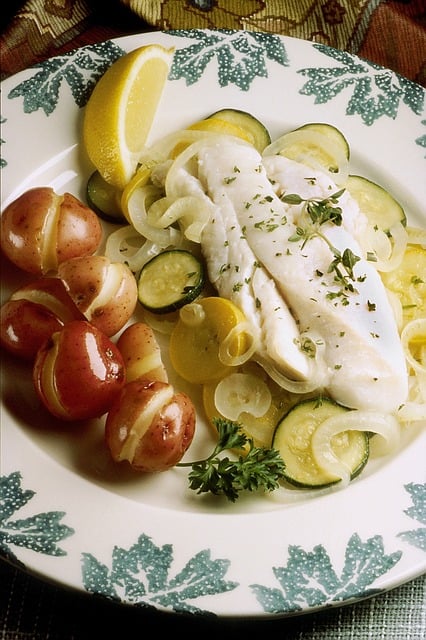 Cooler Meals are in Order
Warmer temperatures bring cooler meals. We tend to eat more sandwiches, pasta salads, lettuce salads and fruit. Sometimes a plate of fruit or vegetables with a nice dip is good enough for me for lunch or even for dinner. This will be my first summer with an air-fryer and I think that will help considerably. That's where fish comes in. Fish cooks fast and doesn't require a bunch of whoopla to taste good and fish turns out fantastic in an air-fryer. My favorite fish is haddock. Over the years I've made haddock every which way but baked is still my favorite. Now my hubby on the other hand loves salmon, especially in the air-fryer. This particular recipe for Baked Lemon Coconut Haddock I made in early May, long before the heat wave hit. Since it doesn't take long to bake, roughly 45 minutes, you can still whip this recipe up even though it's warm outside.
Serve With
This simple, full of flavor fish dish can be served in a variety of ways. Serve baked lemon coconut haddock over a bed of jasmine rice, couscous or orzo pasta. Roasted brussels sprouts, asparagus or my hubby's favorite, cauliflower. If you don't want to fool around with all of that, a simple side salad and a nice buttered roll would be plenty. If you're watching your carbs, you can leave out the bread or pasta altogether and double up on some vegetables. Learn some room for some fresh strawberries! It's almost strawberry picking time here in Wisconsin.
UP NEXT: Pickled Shrimp with Fresh Basil
What's Needed to Make this Easy Dish
 2 haddock fillets (I like only Icelandic Haddock)
Seafood Seasoning (Red Lobster or Old Bay)
1 or 2 sliced fresh lemons
a few sprigs of fresh dill
1/2 of a 14 oz. can coconut milk (Goya)
Looking for more haddock recipes? Take a look at these..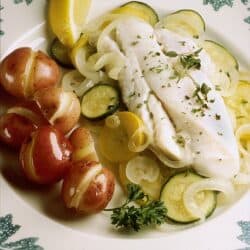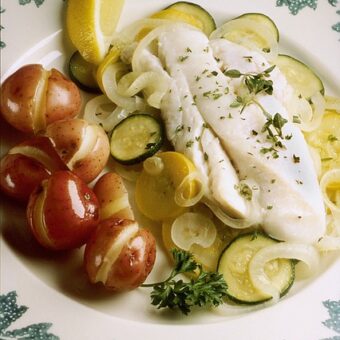 Baked Lemon Coconut Haddock
An easy and super delicious recipe for making haddock.
Ingredients
2

tablespoons

olive oil

2

haddock fillets, thawed

2

teaspoons

seafood seasoning, or to taste

1

lemon, sliced

2

sprigs fresh dill

1/2

14 oz can

coconut milk
Instructions
Preheat oven to 375° Drizzle olive oil in the bottom of a 2 quart baking dish. Lay haddock fillets on top of olive oil.

Sprinkle each fillet with 1 teaspoon of seafood seasoning. Lay lemon slices on top of each haddock fillet. Top each fillet with a few sprigs of fresh dill.

Cover pan tightly with foil. Bake at 375° for 45 minutes to an hour or until fish flakes easily with a fork. Serve