Baked Haddock with Creamed Leeks
We may earn money or products from the companies mentioned in this post.
Baked Haddock with Creamed Leeks
Haddock is very versatile and can be substituted in any recipe where a firm white fish is called for making haddock one of our favorite fish to use in recipes. One of our favorite ways to prepare haddock is lightly breaded, deep fried and served with tartar sauce. Of course, Baked Haddock with Creamed Leeks is at the top of our list of favorites. In fact, it is our favorite way to eat haddock.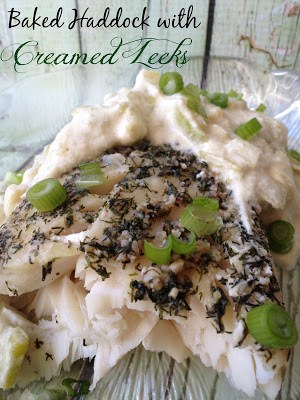 Haddock is Very Affordable
Over the years, haddock has made an appearance on our table many times. We purchase haddock in 5 pound boxes. The haddock fillets are quick (single) frozen, boned, skinless fillets. We get roughly 3 to 6 meals from one 5 lb. box of haddock. This really depends on how we prepare the haddock fillets but usually one fillet will feed the both of us. This averages to roughly 4 oz. of haddock. The cost for one 5 lb. box is anywhere between $35.00 to $42.00, depending on the time of year.
Stock Up
During Lent, 5 lb. boxes of haddock are reasonably priced sometimes on sale for as little as $25.00 per box and that's when I usually stock up. If you do some adding, subtracting and dividing, haddock becomes a very economical dinner choice. Let's say you have a family of four, one haddock fillet divided in half, will serve 2 people. Add a baked potato or rice, your choice of steamed vegetable, a dessert of fresh fruit with whipped topping and you have a very inexpensive and good for you dinner option.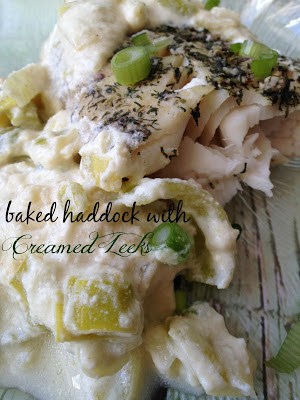 Haddock at it's Best
Haddock is best served as simple as possible. This allows the mild flavor of haddock to shine through. This recipe is the perfect example. Haddock fillets are lightly seasoned with dill weed and lemon-pepper seasoning then baked in a mixture of  lemon juice, lemon zest, water, green onions and minced garlic. A delicious mixture of cream, leeks and Dijon mustard are whisked together then spooned over the baked haddock. Baked haddock and creamed leeks is absolutely delicious. It is one of our favorites and I hope it becomes your family's favorite too.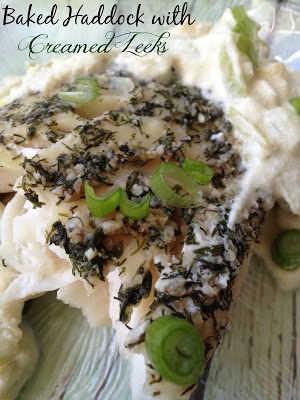 White Fish
If haddock or fish in general isn't your thing, no problem. Substitute the haddock with cod or tilapia and/or any white fish you like. Grilled boneless, skinless chicken breast will work in this recipe too. You can also do what we often do, serve creamed leeks over a baked potato for a delicious 'vegetarian' option.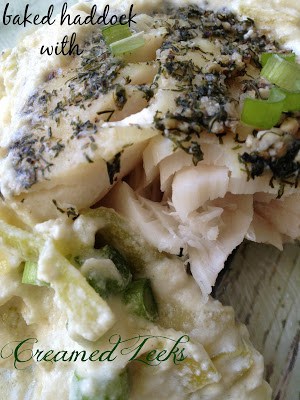 My Favorite Meal
Baked Haddock with Creamed Leeks is delicious served with a baked potato, a small salad or your choice of steamed vegetables. Then for dessert, you can serve a slice of angel food cake topped with macerated mixed fruit. Just reading that description is making me hungry! The combination of creamed leeks with a baked potato is my favorite way to eat haddock. Serve this delicious haddock dinner with a crisp light white wine such as a French Sauvignon Blanc.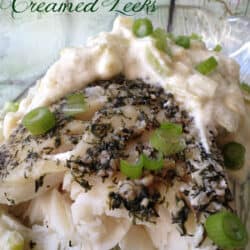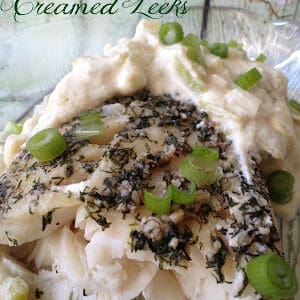 Baked Haddock with Creamed Leeks
A light and delicious way to prepare haddock or cod.
Ingredients
1/4

cup

butter, melted

1/4

cup

lemon juice

1

tablespoon

lemon zest

1

tablespoon

water

1/4

cup

sliced green onions

1

clove

garlic. minced

1

pound

haddock fillets, cut into serving pieces

1/2

teaspoon

dried dill weed

1/2

teaspoon

lemon-pepper seasoning

1

large

leek, cleaned and sliced

1

tablespoon

vegetable oil

1

tablespoon

water

1/4

teaspoon

salt

1

cup

half and half

1

tablespoon

Dijon mustard
Instructions
In an un-greased 11-in x 7-in x 2-in baking dish, combine the butter, lemon juice, lemon zest, water, green onions and garlic. Add fish fillets; turn to coat. Sprinkle fillets with dill weed and lemon-pepper seasoning. Loosely cover and refrigerate for one hour. Remove from refrigerator, let stand for 10 minutes. Bake at 350º for 45 minutes.

While fish is baking make creamed leeks; in a small saucepan heat oil over medium heat. Add leeks, water and salt. Cook for 8 to 10 minutes, stirring often. Turn heat to medium-high, slowly whisk in the half and half, whisking constantly. Whisk in the Dijon mustard, reduce heat to low and simmer for 5 minutes.

Remove fish from oven. Spoon creamed leeks over fish. Return fish to oven and bake, uncovered, for 10 to 15 minutes longer or until fish flakes easily with a fork.
Crispy Coated Fried Haddock is another favorite recipe of ours. Serve with homemade tarter sauce.