Baked Caramelized Onion Dip
We may earn money or products from the companies mentioned in this post.
Baked Caramelized Onion Dip
Baked Caramelized Onion Dip is a fantastic "baked" dip with lots of cheesy, creamy, oniony goodness. The cheesy part comes from the Swiss cheese and Parmesan cheese and the creaminess is from a combination of sour cream, mayonnaise and cream cheese. The star of the recipe; caramelized onions. Onions saute' in melted butter until sweet and golden brown.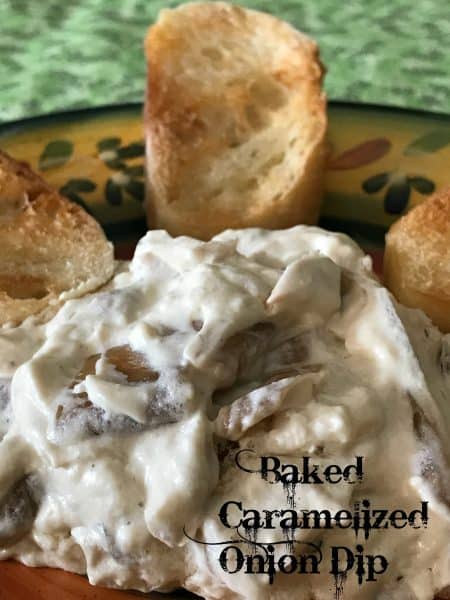 Caramelized Onions
This recipe calls for using caramelized onions. Yesterday I posted a recipe for Slow Cooker Caramelized Onions with this recipe in mind. Making caramelized onions in your slow cooker is fast and easy. The hardest part is slicing all the onions, which really isn't difficult just a little 'tear jerking.' Once that part is over and done with, you'll have great tasting caramelized onions and a great smelling house.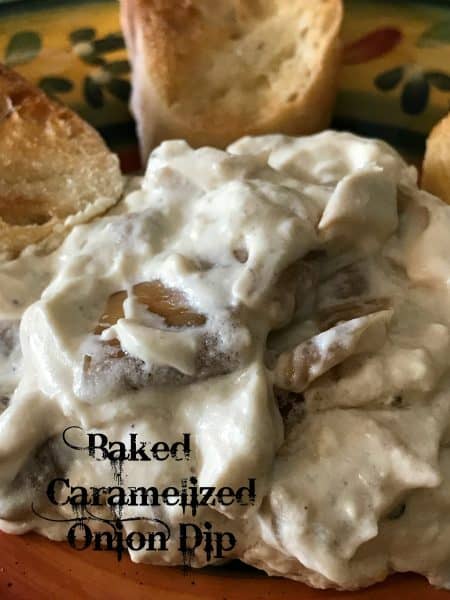 Serve with
Serve caramelized onion dip with your favorite pretzels, chips, corn chips or crackers. Our favorite way to serve this warm dip is on lightly toasted baguette slices, with or without an ice cold beer. Since I generally only use sweet onions, such as a Vidalia onions, this recipe was made with what else, my favorite Vidalia sweet onions but you can easily use Walla Walla onions, yellow onions or even a combination of yellow and sweet onions.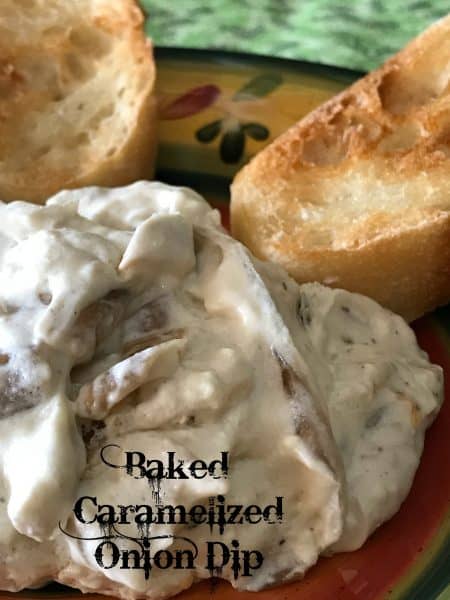 Looking For More
Looking for more "Dip" recipes? Dip into this recipe for Radish Dip and/or this recipe for Vampire Dip  C'mon, Let's Get Cooking!
Baked Caramelized Onion Dip
Author:
Prep time:
Cook time:
Total time:
This delicious dip is fast and easy to prepare. This dip will disappear fast.
Ingredients
4 bacon strips
2 sweet onions halved and thinly sliced
1/4 teaspoon sea salt
1 tablespoon red wine
1/4 teaspoon Tabasco
1/2 cup sour cream
3 oz cream cheese, room temperature
1/2 cup mayo
1 cup shredded Swiss cheese
1/4 teaspoon freshly ground black pepper
1/2 cup shredded Parmesan cheese.
Instructions
Preheat oven to 400 degrees.
Cook bacon in a large nonstick skillet.
Remove to a paper towel lined plate to cool. Crumble.
Add onions and salt to bacon fat in the skillet and cook over medium-high heat for about 5 minutes. Reduce heat to medium and cook, stirring often, until onions turn a deep golden brown color. This can take as long as 20 minutes. If onions start to burn, turn heat down to medium-low.
Add wine and cook 1 minute. Stir in tabasco. Remove from heat.
Mix together sour cream, cream cheese and mayo in a medium bowl. Add crumbled bacon, Swiss cheese, onion mixture, and black pepper. Mix together well and transfer to a 4-cup baking dish. Sprinkle top with shredded Parmesan cheese.
Bake 20 minutes, or until bubbly and golden brown on top.
For more information on Vidalia Sweet Onions