Baked Blueberry French Toast
We may earn money or products from the companies mentioned in this post.
Baked Blueberry French Toast
Welcome!! It's Mother's Day today. What could be better than to serve mom breakfast in bed. Start off mom's special with a breakfast of Baked Blueberry French Toast topped with whipped cream and a bowl of fresh strawberries. Add a glass of Mimosa, some fresh flowers, chocolates and mom will be one happy camper.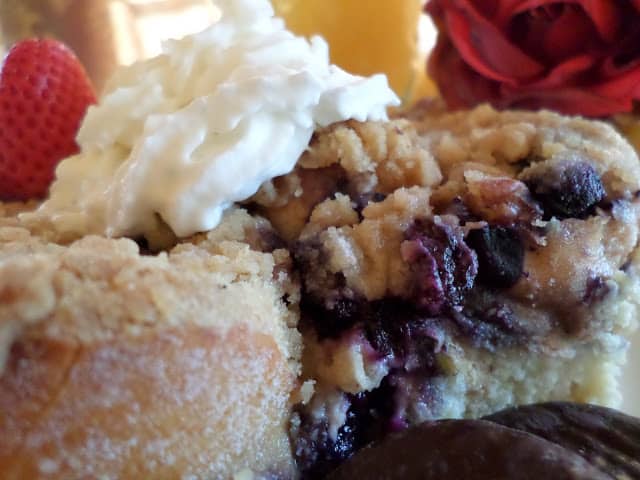 French Toast
French Toast is a breakfast dish made by dipping bread into a milk-egg mixture, then frying it until golden brown on both sides. It's usua served with syrup, jam or powdered sugar. In England, French toast is called "poor knights of Windsor." The French call it "pain perdu" (lost bread) because it's a way of reviving French bread, which becomes dry after only a day or two. 
What is a Mimosa?
Mimosa [mih-MOH-suh] a mimosa is one of two things. It can be a garnish so named because it resembles the yellow mimosa flower. Consisting of finely chopped, hard-cooked egg yolk, it is sprinkled over salads and vegetables. Or mimosa is a cocktail of equal parts champagne and orange juice, served icy cold but not over ice. It's a brunch favorite.
Mimosa
Ingredients
1 bottle




champagne

1 carton




orange juice

triple sec
Cooking Directions
Fill half of a champagne flute with chilled sparkling wine or champagne.
Top it off with chilled orange juice. Stir gently.
Add a splash of triple sec.
Decorate rim of the glass with sliced strawberries.
Baked Blueberry French Toast
Ingredients
1 (8 oz) loaf




French bread, cut into 3/4 inch slices

4




eggs, beaten

2 cups




milk

1/4 cup




sugar

1 tablespoon




vanilla extract

2/3 cup




flour

2/3 cup




packed brown sugar

1/2 teaspoon




ground cinnamon

1/4 cup




butter

2 cups




fresh blueberries

blueberry




syrup

whipped




topping
Cooking Directions
Lightly grease a 3-quart rectangle baking dish. Arrange bread slices in baking dish.
In a large bowl, stir together eggs, milk, sugar, and vanilla. Slowly pour over bread, press lightly with the back of a large spoon to moisten bread. Cover and chill in the refrigerator for 8 to 24 hours. Let stand at room temperature for 30 minutes before baking. When ready to bake, combine flour, brown sugar and cinnamon. Using a pastry blender, cut in butter until pieces are the size of small peas. Sprinkle blueberries over bread. Sprinkle flour mixture over berries.
Bake uncovered, at 350º for 25 to 30 minutes or until knife inserted off-center comes out clean. Let stand 5 minutes before serving.
Top with whipped topping and/or blueberry syrup, optional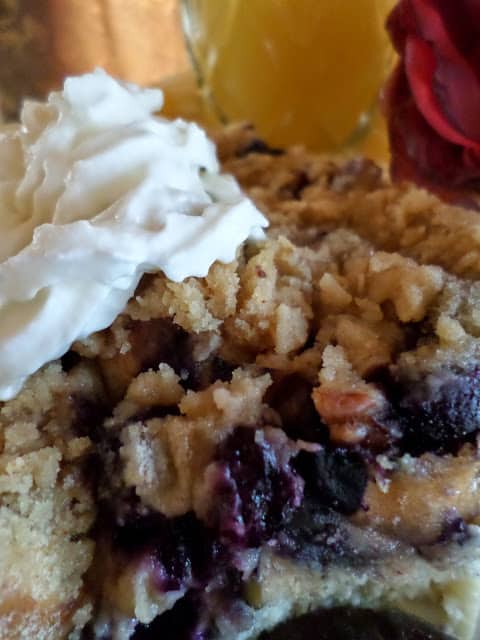 Slow Cooker Apple Fritter French Toast Bake is another French toast recipe you'll love. Give it a try.
Recent Recipe: Oatmeal Scotchie Muffins